A workflow consists of a series of activities in every business, like creating, documenting, and monitoring. The tasks vary in every organization, but every business requires a workflow management system software.
As the world is peaking in terms of ideas, the old methods no longer stand a chance in running an organization in front of the newest forms of technology. Stakeholders are constantly seeking the best solutions to improve business management.
Workforce software are the perfect way to tackle the competitors and the demanding era where everything needs to be done with a click.
Workflow management software
A workflow management software takes care of the entire business process and ensures error-free workflow that isn't possible when done manually. It saves time and money and overall improves business performance.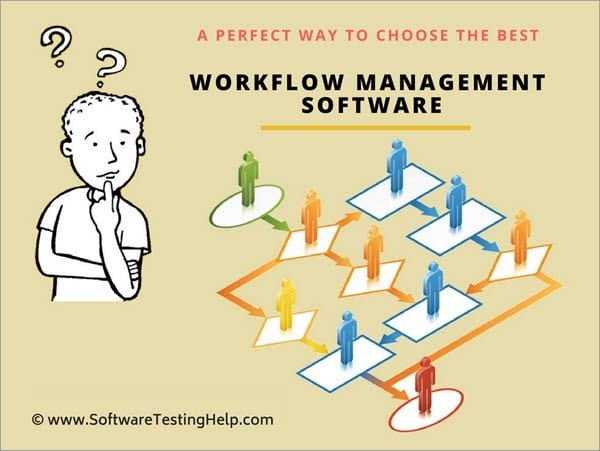 Source: Software testing Help
Choosing a workflow management system software for your business requires extensive research and understanding of your business needs. Although it looks challenging, it doesn't have to be.
Before boiling down to a particular option, it is advisable to read a lot about the softwares available in the market. Finding a compatible partner that fits your business is easy if you first figure out your exact requirement.
Before we go further, let's look at the challenges faced by workflow management.
Challenges of workflow management
Every business is either a service provider or sells items and must keep a record of clients, leads, and the software they use. This is a heap of information that, at some point, would require a wizard to manage it with no errors.
Manual workflow is always at risk of a security breach. If you have data lying around in your workplace, it is not impossible to access it.
Whether expanding the workplace or updating the systems in the office, every update is a heavy expense.
Work pace needs to catch up with the current fast-paced routines but manually doing things is always time-consuming.
Productivity is low due to obstacles created by traditional workflow systems. The old systems are not customizable, making it hard for businesses to perform freely.
To beat these challenges, an organization needs the right software to run its functions. In this article, we will discuss the tips for choosing the best workflow management system software.
The tips you need to know while choosing your software.
Source: Muvi
Let us look at some points to help find the right software for your business.
Types
The correct way to choose your software requires you to understand the types of software available. There are two types of workflow management system software:
One is function-based software, a system that chooses a person responsible for a given task.
The other is the one that replaces all manual work.
Automation
Automation helps businesses in several ways:
The benefit of compliance- The compliance programs in workflow system software management help track requirements, schedule events, and set alerts for tasks. This keeps all the employees updated about their work schedule at all times.
HR onboarding and offboarding- The software replaces the manual paperwork that HR is responsible for, so all the documentation is error-free.
Effective project management- The software gives tasks to the employees based on their potential resulting in the best outcomes. It sends alerts to the employee and tracks the project's status.
Automate invoice process- The software takes care of the entire payment process with automated invoice processing. It automates budget reconciliation, invoice approval, and payment.
Elements
Look for these elements in your workflow management software before giving the nod. As this software helps create your customized templates and web forms, you need to know how many customizable features it has. Such as:
Features like WYSIWYG form designer.
A drag and drop interface for creating workflow diagrams.
Customizable dashboard creator to add your segments and sections.
Automated processes like running analytics and reports, initiating, intaking and launching projects.
Learn how much automation can be done in processes like financial tracking, accounting, account payable, business notifications, access control, workflow routing, etc.
Consider looking at its cloud repository. If it is cloud-based software, look for company content management, digital document managerial features, automated asset management, and a scalable mobile platform.
General functions
General functions are known to all, yet we often miss out on the obvious. Here is what you need to look for:
Its ability to build apps
The number of users that can use it at the same time
Its compatibility with other cloud services
Make sure it's user-friendly
The support that it offers
Most important features
Different kinds of businesses require different features for workflow systems. However, here are the key features that a workflow management system software must offer to be considered for business management.
Find out if the software you want to purchase is cloud-based. Many softwares take months to install, but cloud-based softwares are easy to set up and are user-friendly. They offer the best solutions for all kinds of businesses and reduce training time.
Look for easy drag and drop workflow design software. Some management software requires heavy training and coding experience, no employee wants the burden of learning new software, and its time consuming and expensive for businesses to train the employees.
It should support web-based integration. There are mainly three types of integration: in-built integration, REST API, and service provider integration. Check if the software has a strong integration capacity, without which you cannot enjoy its full potential.
Make sure it's worth the price that you are paying. It must meet your company's expectations and, at the same time, be under your budget.
FAQs
Q) What is workflow management software?
Ans: Workflow management software automates and improves an organization's business process. It eliminates errors, cuts costs, increases productivity, and reduces the time taken to complete tasks.
Q) Should every business get workflow management software?
Ans: Yes, you can't lag behind your competitors by following archaic business methods in the digital era. Workflow management software has become a fundamental part of business management. It is required for a faster and more organized work system in every company.
Q) Do small businesses require workflow management software?
Ans: Workflow management software is available for all sizes of enterprises. Small businesses that depend on workflow management software can increase productivity and expand faster.
Q) Should my workflow software be cloud-based?
Ans: Yes, cloud-based software for workflow management is the most capable and reliable software. They are easy to integrate and use.
Q) What is cloud-based workflow management software?
Ans: Cloud-based workflow management software stores your data in the cloud with maximum security and helps authorized individuals access the data from anywhere. It runs automated functions and makes workflow easier for an organization.
Q) What are the types of workflow management?
Ans: There are three common types of workflow management: sequential workflows, state machine workflows, and rules-driven workflows.
What is the best workflow management software?
Some of the best workflow management software are ProofHub, Nintex, ProcessMaker, Proces Street, Backlog, nTask, Bit.ai, etc.
Q) What are workflow tools used for?
Ans: Workflow tools are used to run business processes in a company.
Q) Are workflow management software reliable?
Ans: Yes, absolutely, but you must find a reputed and reliable service provider with excellent quality products and features so you can trust them with your business.
Final statement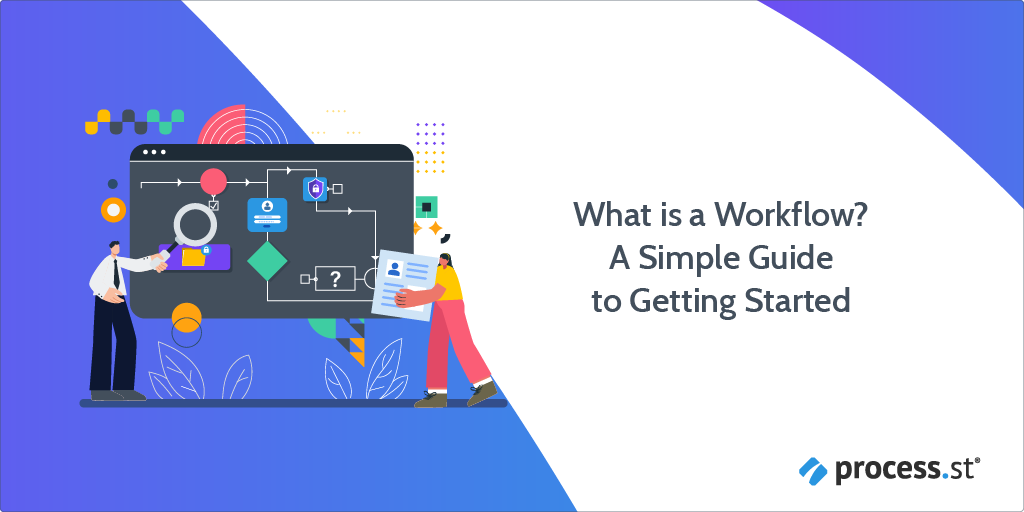 Source: Process.st
A workflow management software is not hard to find in the market. There are several types of software available for businesses if you just Google. The right way to shortlist should first depend on your business process needs, the budget and if it is cloud-based.
Workflow management software instantly improves business performance, so it is a worthy investment for any business owner. Picking a compatible software is not as scary as it sounds; you only need to know what to look for and what you want.
Considering all the above factors should help you figure out how to find suitable software for your company based on the business tasks, size, etc.
It seems challenging when you think of moving your entire business to a new system, but with cloud-based workflow software, there is no need to worry about that matter. It is easy to install and understand and runs seamlessly with other cloud devices.
It doesn't interfere with your workflow nor requires excessive training. Even employees with no coding experience can use it. The right software for your business will improve everything immediately, and you will never look back.