There's much to be said about developing an effective email marketing automation strategy. If you go and hold a global survey, you'll find that approximately 65% of marketers automate their email campaigns.
There's more. Almost 75% of the revenue generated from email marketing comes from campaigns that have been automated.
But why exactly is automation so popular now in the marketing world? More importantly, why emails?
The answer is simple: Emails are quick, cheap, can be sent out en masse and are great for establishing consistent communication with prospects. The real question is: How do you build a successful email automation workflow?
This article provides a detailed answer and also explores some of the nuances of how such strategies work. Let's get right to it!
How exactly does Email Marketing Automation work?
At its core, an email marketing automation strategy relies on 'triggers'. These are pre-determined actions or conditions that must be met before a marketing message (the email) is sent out. Consider the example below to understand this better.
Say, Customer X visits your e-commerce site, adds a few products to their cart and then proceeds to checkout. However, for some reason, they abandon the cart just before confirming the payment. Subsequently, your system sends a message, i.e., an email, SMS or push notification regarding the cart abandonment.
The trigger in that example is the customer abandoning the cart, and the delivered message is the conclusive part of the broader email marketing workflow. However, there is another essential piece missing here—the delay.
The delay is simply the time between the trigger and the message. So, going back to the example above, the delay, in that case, would be almost non-existent.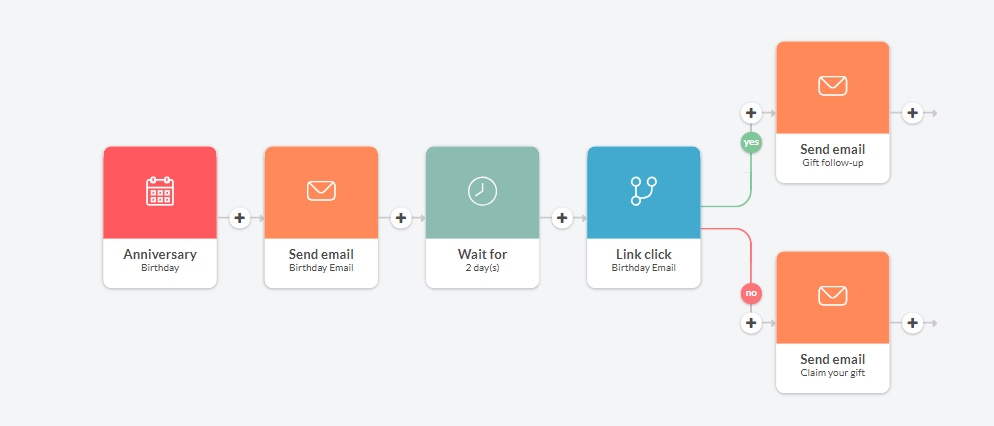 An example of an email automation workflow that depicts a customer's birthday as the 'trigger'
Source: automizy
Yet, in other situations, it's better to have a slightly higher delay period. For instance, during exclusive seasonal offers or high-priority events, it's helpful if there is an interim period of at least a day between the trigger and the delivered message.
That creates a sense of urgency and increases customer demand, thereby accelerating their progress through the conversion funnel. Nonetheless, you must conduct comprehensive market research before deciding on a delay period.
After all, different prospect segments will have varying preferences.
What can you do with an Email Marketing Automation Strategy?
While there are numerous benefits of adopting email automation tools, a few specific ones stand out above the rest.
So, here are three prominent things that you can do with automated email marketing:
1.     Significantly enhance customer retention rates
Customer retention is the most critical aspect of the broader marketing lifecycle. This is especially relevant considering that the acquisition cost for unverified prospects is five times higher than retaining your existing customers.
Fortunately, a streamlined email marketing automation strategy can alleviate this concern. Merely schedule your messages or stagger them in a manner that enables you to maintain consistent communication with your audience.
Acquiring new customers only boosts sales metrics in the short term
Source: expandcart
It's also helpful to curate messages to be more relevant to the individual context. For example, say the collected data points towards a prospect engaging with specific product pages. In such a case, an offer with a discounted price for the product in question would be much more effective than a generic global discount coupon.
2.     Deliver personalized content to your customers and prospects
The most popular belief in marketing is that customers love a personalized experience. And there's proof to back this assumption. In fact, a Statista report found that around 90% of consumers consider tailored content or experiences to be 'very or somewhat appealing'.
Now, personalized marketing isn't a new concept, but its association with email marketing automation is relatively recent. Regardless, the symbiotic relationship between the two offers you several benefits.
For example, you could build a chain of automated messages for specific customer groups and set designated triggers for each. That creates the illusion of individual actions being the focal point of the consumer experience.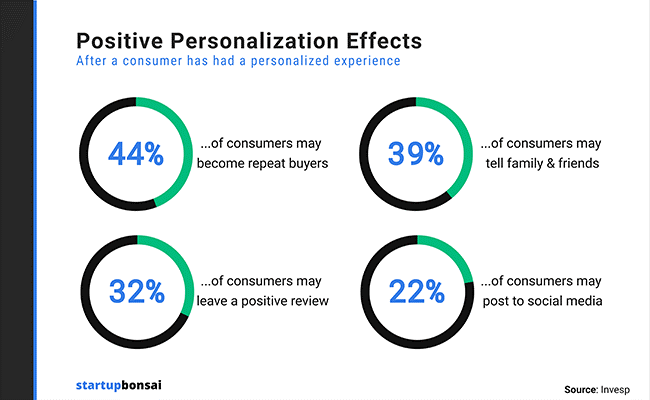 Delivering personalized marketing messages can increase the likelihood of new consumers becoming repeat buyers by 44%
Source: startupbonsai
Besides making a particular customer form a personal relationship with your brand, this strategy will also enhance your global marketing efficiency by eliminating manual input.
3.     Build scalable marketing strategies
As implied above, manually scheduling and compiling email lists and marketing messages can be incredibly time-consuming. Even worse, it limits your brand growth. How so? Well, you have to ask yourself this: How many new prospects can your in-house marketing team reach if they rely exclusively on manual input?
Whatever the answer is, it'll always be lower when compared to what email automation tools can do. In other words, when you opt for such platforms, you build your marketing reach to be scalable with your brand's growth.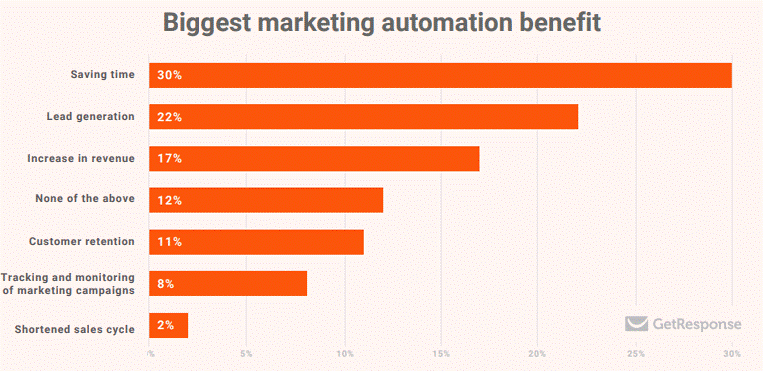 30% of marketers believe that adopting an email marketing workflow helps them save time and while 22% say it enables them to streamline their lead generation cycles
Source: getresponse
For example, when prospects sign up or subscribe to your site, they automatically activate a trigger and receive a curated message welcoming them. Even better, a staff member does not have to consistently monitor this process, making potential acquisition a hassle-free experience for all.
A Step-By-Step Guide to Developing a Successful Email Marketing Automation Strategy
Developing a streamlined automation strategy can seem daunting in the beginning. However, when approached systematically, the process is relatively straightforward.
So, here's what you need to do:
1.     Pick the appropriate email marketing automation tool
Tools do not always decide the quality of a craftsman. Yet, when it comes to devising a successful email marketing automation strategy, the tools you choose will make or break you.
Now, there have been several mentions of email automation platforms prior to this. However, what has yet to be discussed is what you need to look for when deciding on one. So, here's a brief list of things you need to consider:
Availability of a wide range of customization options for designing triggers
Integration with existing CRM software to leverage data from customer profiles
Pre-made, simplified and customizable email templates
Options for dynamic audience segmentation
Dedicated support and integration for e-commerce portals and payment gateways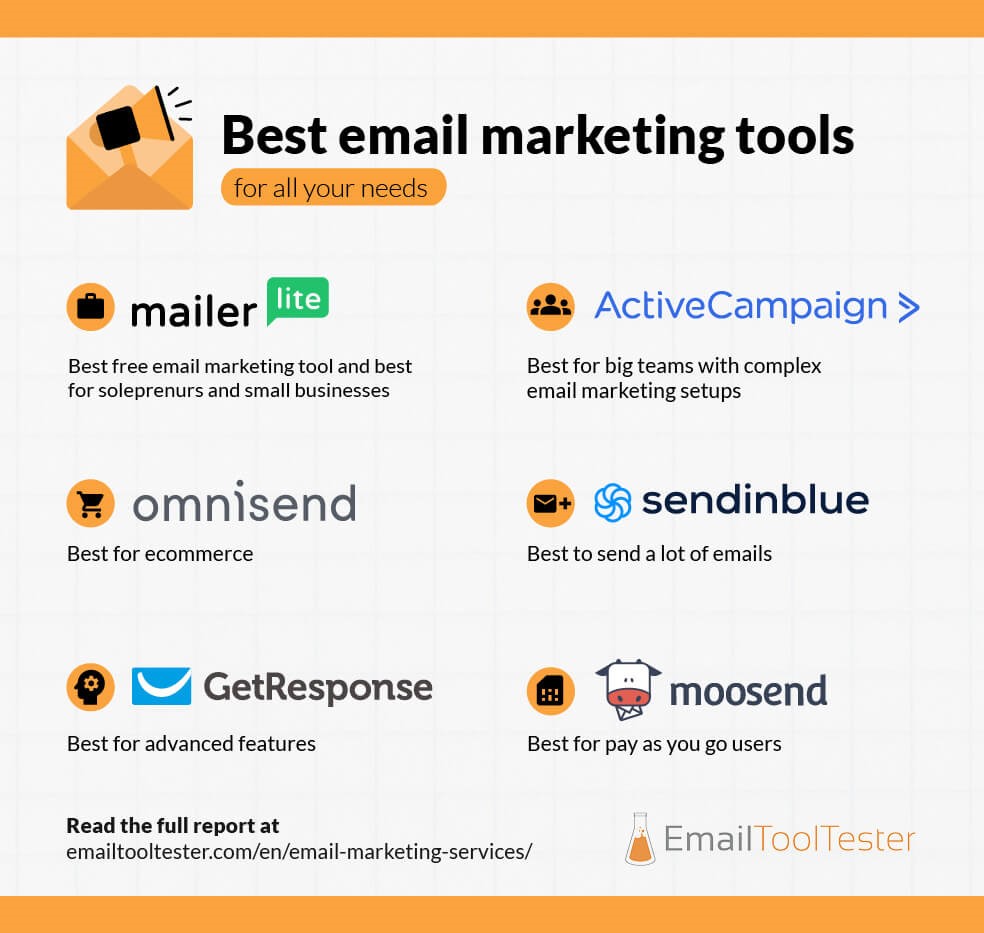 Some of the most popular automated email platforms include Mailer, Omnisend and GetResponse
Source: kopitoday
While the listed factors are all critical elements, there is one feature that you cannot overlook when choosing such tools—mobile optimization. Wondering why this is so crucial? It's simple: mobile devices make up 60% of email open rates.
2.     Create a structured outline before implementing anything
The modern marketing landscape requires brands to have a structured plan before deploying any campaign. This is especially relevant when designing an email marketing workflow.
Now, this step doesn't need to be a convoluted process. Instead, you can start by asking three simple questions:
What are you trying to achieve?
Are there any particular market metrics that you want to focus on?
Who is your intended target?
Depending on which sector you wish to capture, the mentioned questions will all have different answers. For example, trying to determine brand loyalty in a B2B market has no relevance. A more conclusive metric would be to analyze what the current demands are in the related industry.
It also helps to lay the foundation for a parallel social marketing strategy. That way, you can directly integrate your email campaigns with advertisements on online channels.
3.     Segment your audience into clearly defined groups
Each prospect will want different things from your product range. And that's precisely why you need to categorize your audience when designing an email automation workflow.
In fact, a segmented marketing list will be foundational to all the actions you take at later stages of the conversion funnel. So, it's best to have as many prospect groups as possible. You can even start this process with the most basic details, including:
Geographic location
Audience demographics
Device preference
Affinity towards particular products
Expenditure (based on previous purchases)
Most email automation platforms now have provisions, such as custom fields and integration with e-commerce sites and CRM systems, to help you dynamically generate segmented prospect lists.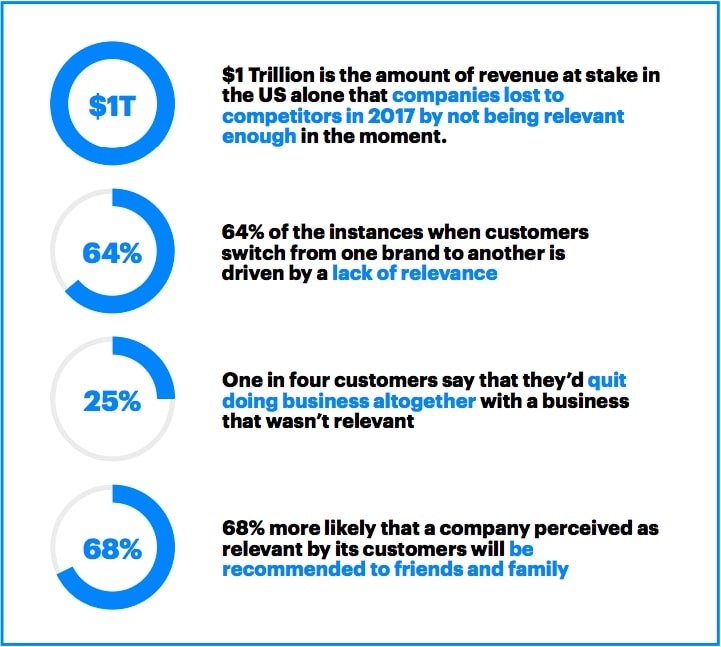 Dynamic audience segmentation keeps your brand relevant to prospects
Source: simmachines
This will be particularly useful when developing your email marketing automation strategy because the classification markers are based on audience behavior rather than arbitrarily chosen factors. In short, your customers will tell you what group they go into by simply engaging with specific touchpoints and then feeding that data back to your central repository.
4.     Assign automated workflows to each phase of the customer journey
You have chosen your preferred system from the available range of email automation tools. You also have a basic marketing outline in place that is targeted toward segmented prospect groups.
Now, you must assign dedicated workflows to each aspect of the customer journey. And understanding the nuances of specific instances is critical here.
So, take a look at some of the things you need to be mindful of:
·        Nurturing new leads
Regardless of how exceptional your product is, nurturing new leads will always take a lot of work. The primary issue here is related to consistent follow-ups.
Now, assigning an automated chain of messages to be sent as follow-up emails will mitigate some of the problems in the area. However, you can't be blatant or generic with what you send.
Thus, you must seek an Email Service Provider (ESP) with customizable templates. More importantly, your chosen ESP needs to have built-in APIs that seamlessly integrate with your existing CRM or sales platforms. That will give you access to crucial information, which you can then use in your subsequent communication attempts.
·        Increasing product adoption
Your email marketing automation strategy must accomplish two critical objectives if you want enhanced product adoption rates. They are as follows:
Highlighting product utility
Promoting customer action
So, how do you do this? Well, it's simple enough. You merely take the prospect group you wish to target and deliver personalized and relevant content. Don't get this wrong—this has nothing to do with offering discounted product prices. Instead, it's about providing value to your customers.
Take the example of a brand that sells alcoholic beverages. Now, sending out mass discount offers for specific drinks may work in a local setting. However, when that strategy is highlighted on an online channel, it comes off as incredibly crass.
A better solution would be to create a list of cocktail recipes that use the brand's signature beverages and send it out across the subscription lists. This method is significantly more nuanced, doesn't require superficial offers, and builds brand image.
·        Setting re-engagement parameters
Customers leave. It's just inevitable at one point or another. But that doesn't mean that you can't bring them back.
All you have to do is set designated dormancy triggers. In short, after a specific period of inactivity, your previous customers get a message that pushes a particular product that they were partial to.
Now, it's essential to refrain from bombarding your lost consumers when you deploy these re-engagement campaigns. In other words, frequency shouldn't be the sole criteria you focus on when dormancy triggers are activated.
In addition, it's better to include subtle promotional material instead of being too on the nose. Think back to the previous example of 'cocktail recipes'.
5.     Design landing pages that complement your campaigns
A successful email marketing automation strategy comes equipped with exceptionally designed landing pages.
Yet, there are polarizing opinions here. Several studies show that almost 77% of landing pages are just a site's homepage. However, 48% of marketers claim to create a separate page for each new campaign.
The irony is, as they say, dripping off the edge in this case. So, what do you do in this instance?
The answer is simple: You build contextual pages for each campaign separately.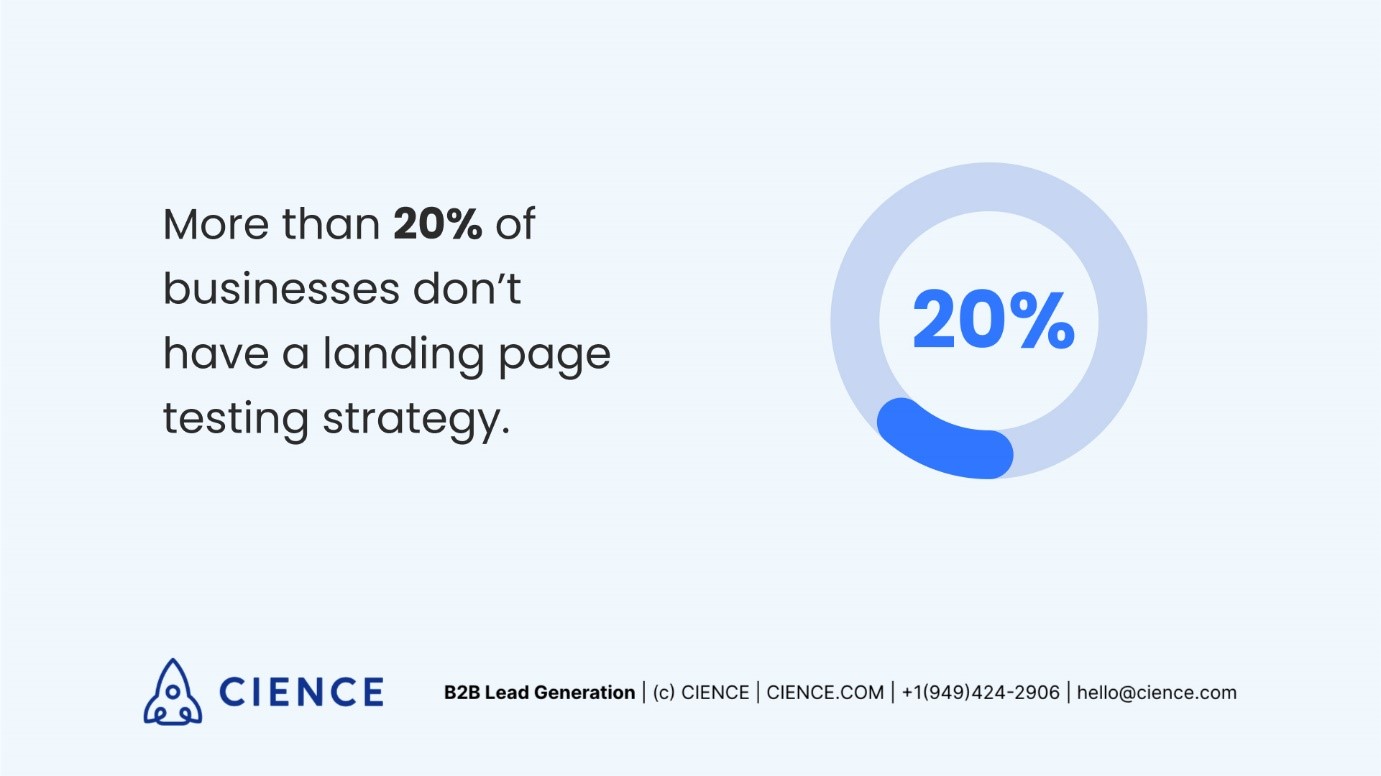 1/5th of modern businesses do not test the efficacy of their landing pages
Source: cience
Think about everything that has been discussed so far. From content personalization and customizable templates to creating a subtle value proposition and setting re-engagement parameters—everything has to do with catering to the individual context.
You throw all of that away when you link to a generic homepage. There is a straightforward example to understand this.
Say Person X comes across an advertisement with a specific color palette on a social media platform. They are interested in the product and, thus, click on the link. Person X is then directed to a homepage with markedly different colors than they saw in the initial advertisement.
Even such a minor detail can have a jarring effect on the prospect and break any immersion you have managed to build so far in your conversion funnel.
6.     Host a comprehensive evaluation process to optimize specific elements
There's no point to any of the previously mentioned pointers if you do not establish a practice of consistent re-evaluation. Only that will allow you to optimize your email automation workflow.
A simple tip here is to set up a test for each stage of the campaign, analyzing even the most minute elements, including:
The email triggers
The delay period
Message frequency
CTA relevance
Primary and secondary email content (Message body and subject lines)
The idea is to foster an environment of persistent improvement. It also helps if you incorporate A/B testing in your campaigns. That way, you can determine which email variants work exceptionally well across different prospect groups while recognizing open, click-through and view rates for specific audience segments.
Attaching UTM campaign codes to your peripheral promotional efforts can also help you identify where most of the traffic comes from and adjust your email marketing strategies accordingly.
Seamless automation, smarter promotions
Recent promotional trends have brought about a revolution in the broader marketing sector. As such, personalization is the key to deploying a successful email marketing automation strategy.
This isn't surprising, considering that tailored experiences have always had a profound impact on influencing customer decisions. However, it would be wrong to assume that the execution of successful email campaigns is entirely reliant on personalized content.
Instead, there are a host of factors that you need to consider here, including picking the right automation tool, designing an initial plan and segmenting your audience. Then, you automate every aspect of the customer journey while supporting your campaign with related conversion tools, such as landing pages.
Finally, you evaluate how successful you've been by analyzing all the collected data.
After all, success, just like sales and marketing, has measurable metrics.
Frequently Asked Questions
1.     How does automated email marketing work?
Automated email campaigns rely on triggers to activate. So, if a prospect engages in a specific activity (abandoning a cart, viewing a particular product, etc.), that will lead to a sequence of emails and messages being sent out after a designated delay period.
2.     What are some tasks that you should automate in your email campaigns?
While it's not feasible to list the entirety of it, a few elements that need automation in email campaigns include delivering downloadable content (e-books, reports, newsletters, etc.), cart abandonment follow-ups and content personalization.
3.     What is the difference between drip campaigns and email marketing automation?
Drip campaigns tend to be static, meaning that the delivered content will remain the same regardless of user activity. However, automated emails are significantly more personalized, dynamic, and based on recent prospect activity.