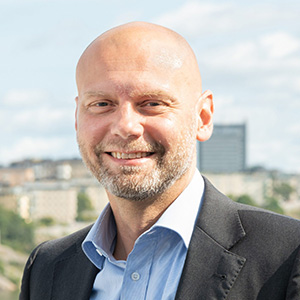 "Our standard-based collaboration hub – ShareAspace, helps companies form strong resilient value chains and control their product data while outsourcing their manufacturing"
Weda AB is a small company manufacturing robots for pool cleaning. They develop semi- and fully automated, submersible cleaning robots for different types of pools, from ordinary slightly larger public and commercial swimming pools to more customized solutions for industrial water reservoirs like nuclear power plants and water treatment plants. There are just under ten employees in the workshop and offices. In total, the production volume is about 100 pool robots a year, while the industrial area is about 20 units.
Weda has between 60 and 70 subcontractors on the component side, and handles the assembly of the robots themselves, most of which are exported. The robots are technically complex solutions involving mechanics, electronics/sensors, cameras, software, programmable PLCs, and more. Weda manufactures very little themselves and instead assemble all the components that are part of the products. Traditionally, the management of this extensive supply chain has been handled with manual entries, e-mails, and other ways. This has resulted in a supply chain that has been quite difficult to keep track of and manage.
ShareAspace Design to Manufacturing, the cloud based service used at Weda, now handle all robots, from the individual whole to the respective item's detailed level; in addition, with all information related to each article, such as drawings, suppliers, costs, delivery times (ETA, Estimated Delivery Time), etc. ShareAspace is used for all contacts with the subcontractors and Weda is not making any exceptions in this way of communicating.
In another instance, because Kongsberg supply RWS on performance based contracts, they need to have full control of design specifications and configuration of all systems at all times. They need to supply customers and government authorities with accurate configuration information for each individual RWS. This information was located in several Line of Business (LOB) systems.
The level integration between the internal and the supplier's systems did not support the increased complexity, and became a bottleneck as the business grew. Whenever sub- systems were returned from maintenance the information needed to be updated to reflect the change. The manual process caused long lead times in the maintainance, repair and overhaul (MRO) process.
The solution supports a consolidated view of all design specifications. All change requests and deviations of over 200 components per individual RWS is available through Eurostep ShareAspace PLM Collaboration platform. Relevant information is collected from the internal LOB systems including updates from external subcontractor systems. The complete and updated product configuration of the individual RWS is published to the customer and government authorities. The information model in ShareAspace is based on the ISO standard PLCS (Product Life Cycle Support) which ensures the applicability to current and further requirements.
Benefits
More agile and faster to market (TTM) – KPS can manufacture the RWS on the latest design specification, driving new innovations, improving product quality, reducing production cost and respond to market changes more quickly.
Customer satisfaction – Improved internal and external workflow between the business units and externalo stakeholders without changes in existing business processes, enabling more cost-effective preventive maintenance on delivered systems.
Improved quality – Up-to-date information from suppliers is consolidated with information across LOB-systems and reports are automatically created
Creating the Brand
Eurostep was founded 1994 by Håkan Kårdén and Torbjörn Holm from Digital Equipment. It is located in Sweden, UK, France, Finland and Germany and has around 80 employees. It has grown over the years right from its first project roll on with blue chip clients like Volvo, Swedish Defense, BAE Systems, Motorola, US Army and today serves clients in aerospace and defense, automotive, manufacturing, energy and AEC (architecture, engineering and construction).
Mattias Johansson has been appointed CEO for Eurostep Group from January 1st, 2019. Mattias Johansson has been with Eurostep since 2001 in several management positions, recently as COO for Eurostep Group. Håkan Kårdén will head up the new Cloud Solutions unit and remain responsible for Marketing at Eurostep.
The company provides innovative software and solutions for secure Product Lifecycle Management (PLM) collaboration. With immense potential in improved management of product information, Eurostep began its journey targeting the extended enterprise and collaboration between organizations. The need for a data sharing mechanism that is designed for PLM data was there from the beginning but has since grown with digitalization and global business. Eurostep expanded across Europe to be close to customers and is working with partners in US and Asia.
By working closely with clients and responding to their needs in the area of collaboration, Eurostep has established a position as innovator, delivering software and solutions in a way that their competitors don't. Right from its first day, Eurostep has worked on its aim to be a trusted supplier, with innovative software designed for critical business processes and attractive ROI.Â
Product Development
It was seen that traditional PLM (Product Lifecycle Management) vendors are offering far too complex solutions primarily designed for in-house use and not designed for external business networks, extended enterprise, joint ventures, and others. This is where Eurostep stepped in and launched an out-of-the-box solution to improve collaboration.
Product data is typically locked into a vendors proprietary format and this makes it hard to exchange and share with other organizations. Eurostep is addressing this and has participated in the development of international standards (STEP and PLCS) for data exchange and sharing. These form the base of Eurostep product, the award winning software, ShareAspace.
ShareAspace adds capabilities to the existing IS/IT landscape and lets collaboration partners keep existing systems or processes. It is easy to implement and deploy. Eurostep and its business partners complement the ShareAspace product suite with specialized services. It has received several awards and gained public acknowledgement with Microsoft Global Partner Award and has been named Cool Vendor by Gartner.
Eurostep's end user products: InReach, InControl and InLife, are all based on ShareAspace. InReach targets collaboration between people that need to share engineering information (PLM, ERP, MRO, etc.) with partners, suppliers and customers. InControl helps to automate the collaboration with data spread across several systems with a Master Data Management (MDM) approach. InLife handles product information regarding products that are in service, i.e. product individuals.
Challenging Factors
Eurostep has come a long way in excelling. But every organization faces some challenges at some point. Initially, Eurostep thought of a solution for sub-assemblies and less complex products would be meeting market needs but as it turned out the same need also existed for complete aircraft, ships, cars, buildings etc. This positioning to include the enterprise level has been a driving factor to constantly design for increased performance, stability and ease of use as well as continuous improvement of Eurostep's internal processes.
By overcoming these challenges, Eurostep has progressed over the years and transformed from a service company to a product company. The factors for this growth has been understanding the needs of industry, standards knowledge and influence, software design for scalability, skilled people and satisfied customers. In parallel, it also carefully follows IT trends and implement what will be important in the future such as cloud offerings. Eurostep has worked closely with Microsoft and has been a Gold Partner since many years.
Our standard-based collaboration hub – ShareAspace, helps companies form strong resilient value chains and control their product data while outsourcing their manufacturing. It allows for the secure exchange of information across the whole supply chain which leads to higher quality with the advantage of lower delivery and maintenance costs. The ShareAspace platform incorporates the best practices to improve supply chain transparency, protect IP and avoid vendor lock-in.
Full visibility & control of your supply chain data
Companies deal with an ever-increasing amount of supply chain data across the manufacturing industries. This generates a lack of traceability and transparency, longer lead times, miscommunication, data breaches, higher costs and production errors. With Eurostep's product suite ShareAspace, companies are able to connect internal PDM, ERP and other data systems to manage product and production data across their extended enterprise. ShareAspace is based on the PLCS standard that prevents vendor lock-in, provide PLM capabilities and integrates easily to any data system.
Towards the Future
Eurostep believes that any organization that needs to grow has to deliver a clear differentiator in order to succeed. As Eurostep intends to be global leaders in what it is doing, it listens to customers and tries to figure out what they need not only today, but also in the future. It then implements this vision in ShareAspace.
Eurostep has been consistent on its growth with good reputation. But everything can be made easier and with less friction and with this in mind it is developing ShareAspace for easy everything and close to the needs of industries and verticals.