INTRODUCTION
The days of grinding out 80-hour weeks in the office on top of a long daily commute are over. Whether it's flexible hours, flexible location, work-from-home, or going "part time," law firms are changing their ways and opening the door to new policies that benefit both employees and the bottom line. With the right strategy, your firm can use this perk to make a real profit.
TABLE OF CONTENT
WORKING REMOTE: MORE THAN A TREND
THE BENEFITS OF REMOTE WORK FOR LAW FIRMS
THE CHALLENGES OF REMOTE WORK
5 STEPS TO GET STARTED WITH REMOTE WORK
NOW IS THE TIME
NETDOCUMENTS CAN HELP
SOURCES
Download Full White Paper Here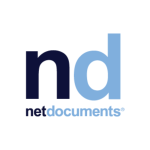 NetDocuments is the leading cloud-based document and email management solution to securely and easily store and organize documents on one secure platform. With NetDocuments, users can create, open, edit, version, and save documents in the context of projects or matters. Additionally, users can share and collaborate with others, or file email to a shared location. With 20 years of experience, 2,750 customers (companies) worldwide, and our ability to manage billions of files each day, NetDocuments is a critical component of any organization's digital workspace. Make the move to NetDocuments and get speed, mobility, and industry-leading security.