Having a trustworthy email finder tool that can help you build highly targeted and effective email lists for your campaigns is significant to the B2B sales ecosystem. One such tool is Hunter.io which is widely used and has managed to generate a whopping revenue of $7.7 million in 2023.
However, some small disadvantages of this tool have been a point of discussion among marketers, persuading them to look elsewhere. If you are up for exploring new options, we are here to help. In this blog, we will take you through some of the best Hunter.io alternatives. Read on to learn more about their intriguing features.
Why Should You Try Hunter.io Alternatives?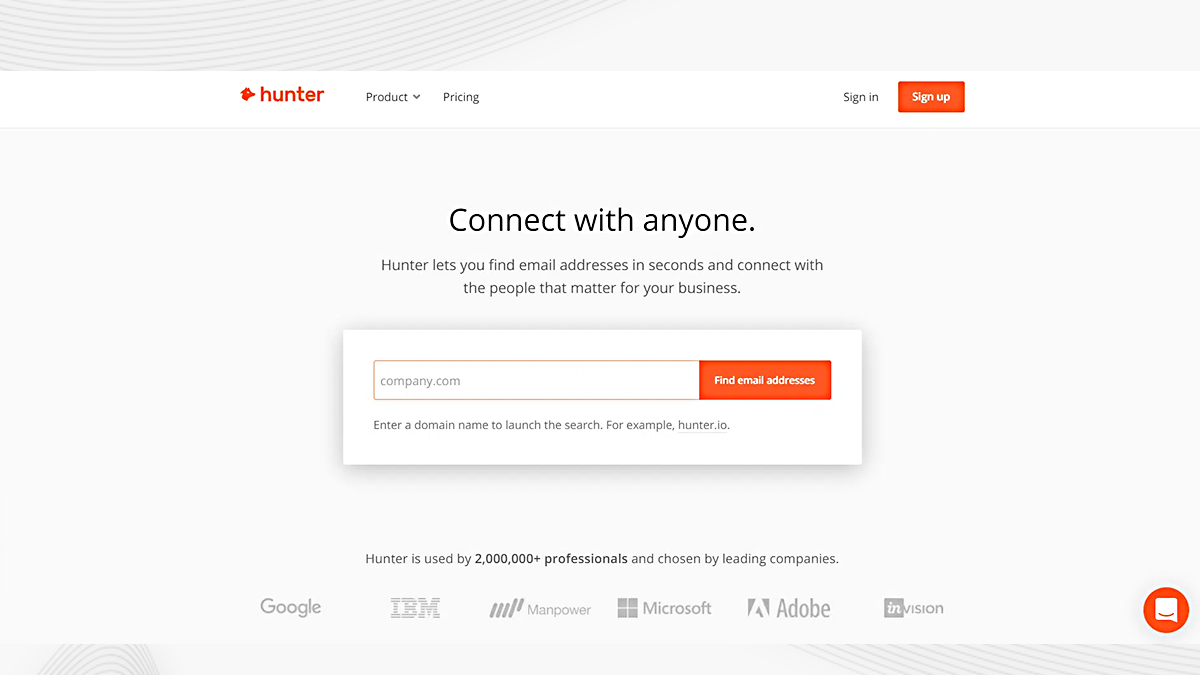 As a business owner and marketer, budget is always in your mind, so you must make purchasing decisions that keep the balance of your spending limit. To accomplish this, you look for the tools or software that are most affordable and have been equipped with all the desired features. Also, the tool you want, in this case, Hunter.io, may have different attributes than your business prerequisites. Sometimes, you may need a replacement after using a tool for a brief period.
It is imperative for businesses to look for the right tool that has all the matching functionalities to accommodate your firm requirements. Also, as a small business owner keeping budget in mind is not a sin. It is always advisable to get the 'affordable and the best.'
Hence, marketers need better options when it comes to lead generation and prospecting in B2B. Considering all these, generally naïve yet very important from business perspective, we have discussed some top Hunter.io alternative below.
8 Hunter.io Alternatives You Can Consider
There are plenty of alternatives to Hunter.io marketers can try to overcome the challenges discussed in the previous section and refine their campaigns with highly relevant data.
1. Blue Mail Media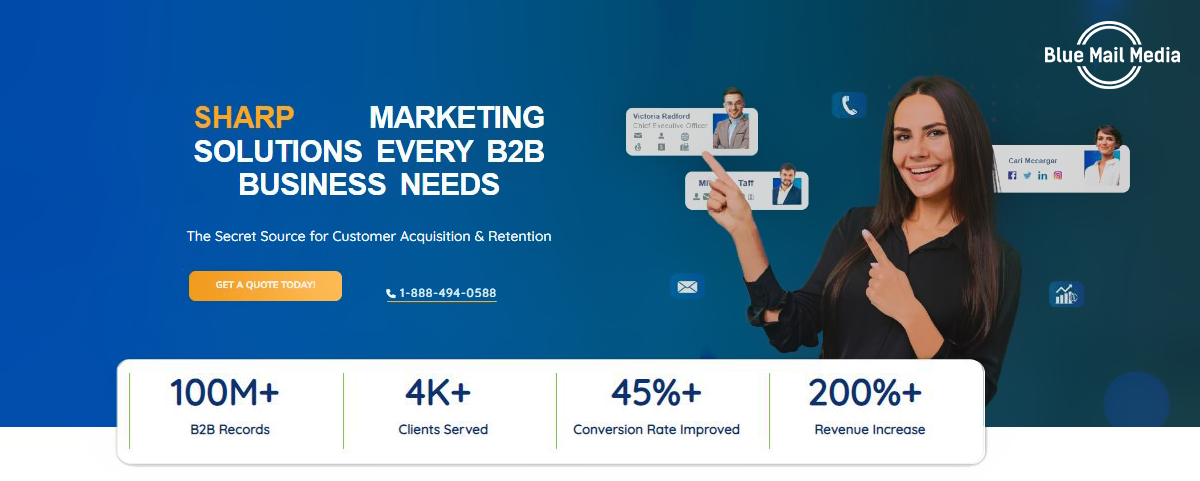 Blue Mail Media specializes in delivering custom databases to businesses. You need to submit a request mentioning all your targeting criteria and a dedicated data research team will collate an exclusive B2B email list enriched with targeted data.
Each data point in this list is verified multiple times to ensure the success of our outreach efforts. You can also rely on Blue Mail Media for your niche-targeting efforts They track specific industries and professions and provide vast email lists such as Aviation Industry Contact Lists, Healthcare Email and Mailing Lists, Manufacturing Industry Email List, and more.
What makes Blue Mail Media a better option than Hunter.io is its devoted campaign management team. Every client has a dedicated data expert who performs extensive research to design a database that suits their individual requirements.
2. Thomson Data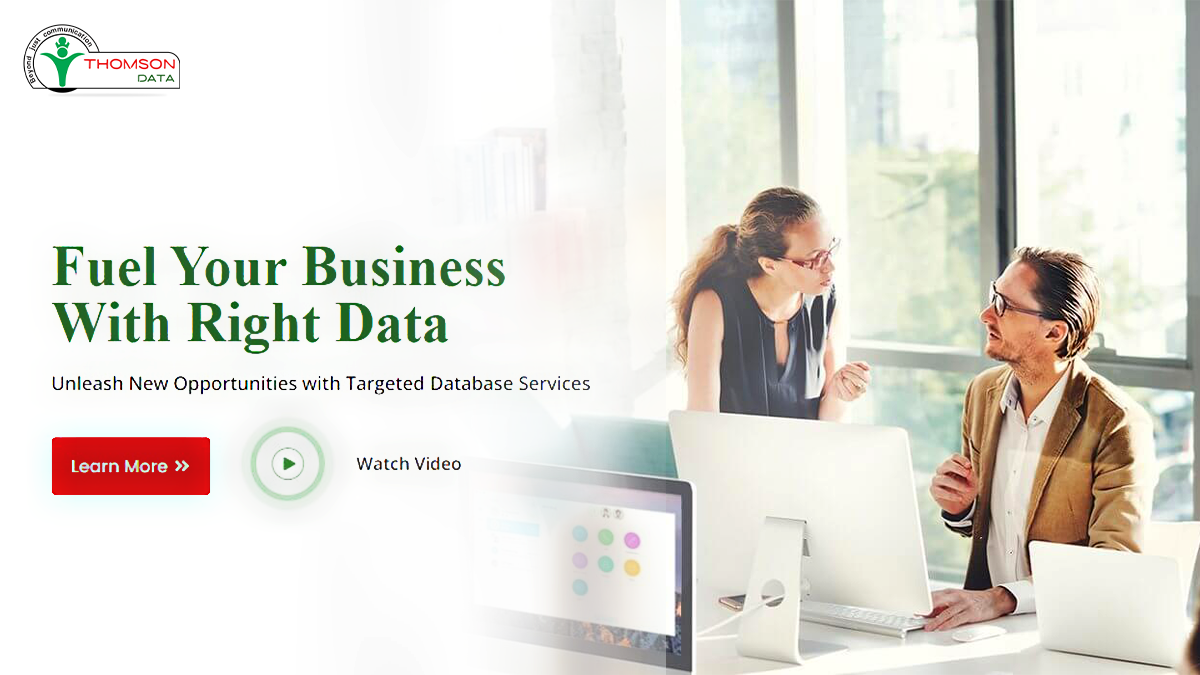 Thomson Data is amongst the major Hunter.io alternatives which makes B2B sales prospecting a smooth journey. With a large B2B database of over 75 million contacts, Thomson Data helps businesses target their ideal prospects using multiple filters.
A customized database that fits all your business requirements is among the key services offered by Thomson Data. Another noteworthy aspect is its technology insight feature that lets you identify leads who use a certain technology like ERP, CRM, Hardware tech, and more. Moreover, it also offers account profiling services.
A dedicated team of data experts mix the right amount of human intelligence with advanced technological tools to connect you with the right prospects with all their exclusive information. Additionally, all data offered by Thomson Data complies with data security laws like GDPR and CAN-SPAM, making it a reliable tool for your business.
3. UpLead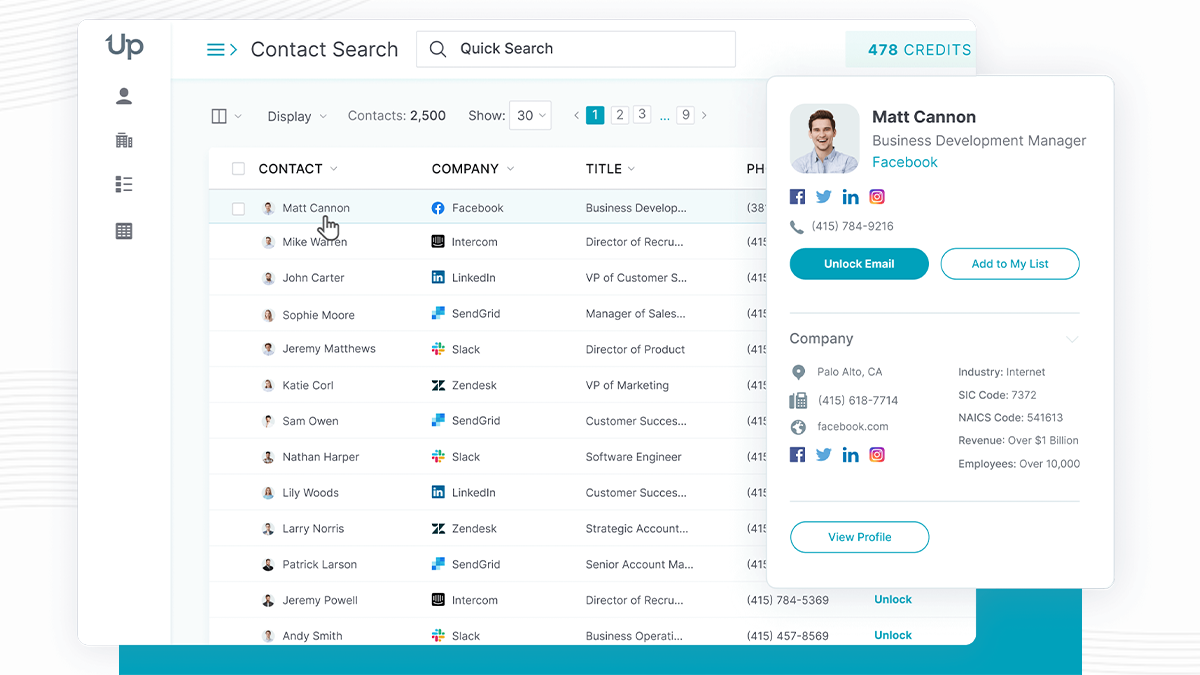 Uplead, with its vast database and detailed company profiles, is an excellent tool for B2B lead generation. It helps users filter their prospects using intent data and identify if any of them are already using their or their competitor's services.
It also uses advanced machine learning to offer details verified in real-time. This renders more accuracy to the database, helping marketers to launch their email campaigns without worrying about bounce backs and unresponsiveness.
While the database is smaller for UpLead when compared to Hunter.io, its diligent data acquisition methods make it a better tool. Additionally, it has a rating system for each contact which increases its trust quotient, thus helping marketers to make more informed decisions.
4. ContactOut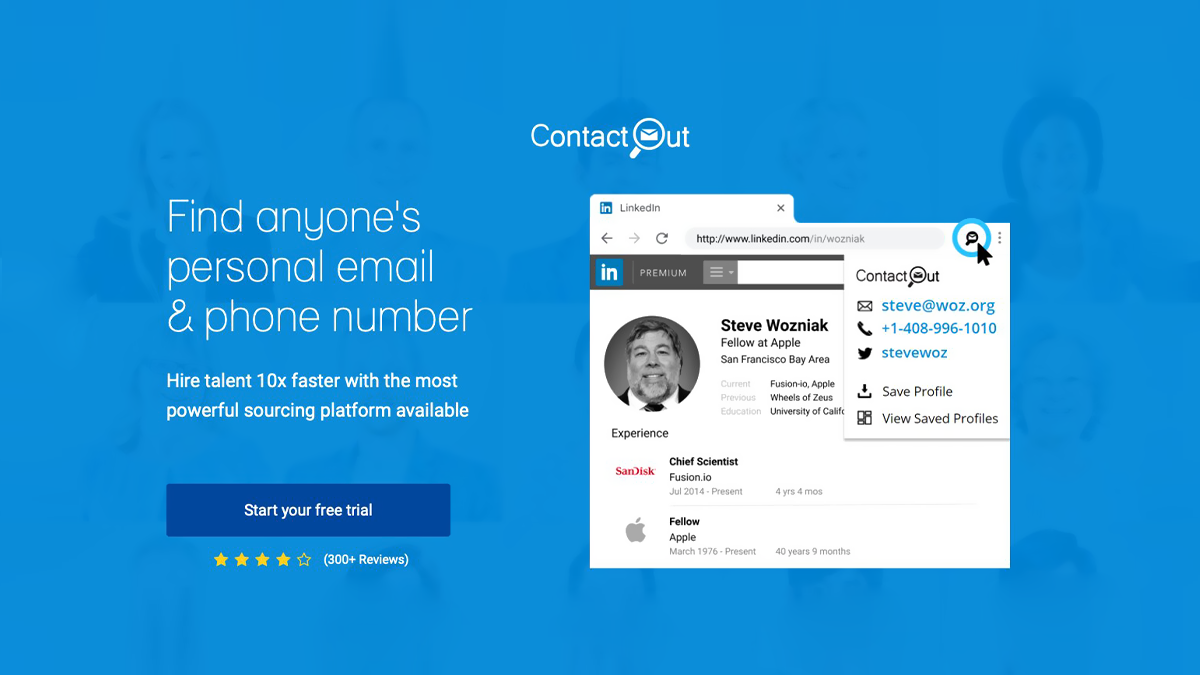 If you are looking for an easy-to-use sourcing tool for connecting with your prospects seamlessly, ContactOut can be your choice. This tool boasts around 200 million B2B email addresses, details of 30 million companies, and about 300 million professional portfolios.
ContactOut has similar features to Hunter.io, such as an email search and validation dashboard, an option to organize and manage your email lists, and a Chrome extension to ease your research. However, unlike Hunter.io, ContactOut also allows you to explore LinkedIn for email addresses, improving lead generation for your business.
Additionally, ContactOut features an AI compose option that helps you write email messages for your prospects and save time and energy. It also supports easy integration into ATS tools and email tools like Outlook and Gmail, making ContactOut a valuable and userfriendly sales-intelligence tool for businesses.
One thing to note about ContactOut is that its interface and onboarding system is more enterprise-focused, meaning you cannot sign into the portal on your will. You will have to contact their sales team for a quote. But overall, it is still considered a better option than Hunter.io.
5. GetProspect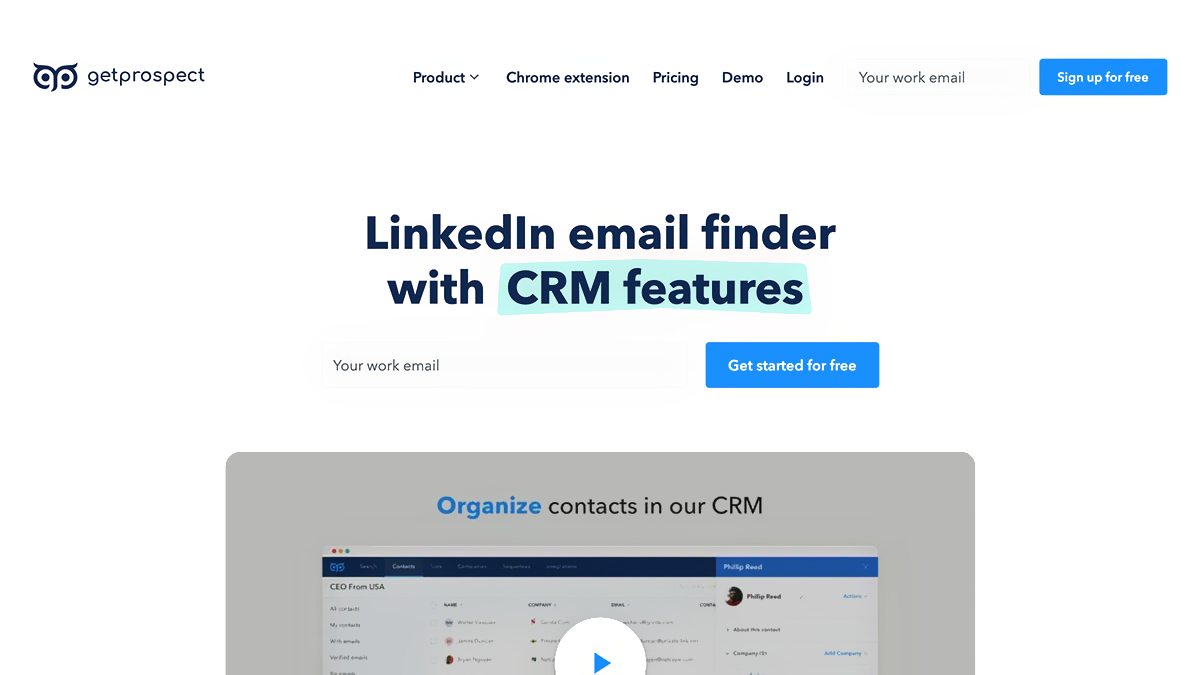 Another popular name among Hunter.io competitors is GetProspect. It is an affordable data solution for B2B brands and offers an extensive B2B database of more than 50 million business emails and 7 million plus company profiles. A LinkedIn extension is a key feature of this tool as well and lets you explore a mammoth professional database with more than 900 million members.
Apart from aspects common to both the tools, such as email search and verification, exploring data about contacts, etc. GetProspect's user-friendly interface is a significant feature that gives it an edge over Hunter.io. It also possesses more advanced prospect-filtering systems that make lead generation a swift endeavour. You can use filters like company name, job titles etc., to ease your search and also establish email campaigns within the tool.
6. Apollo.io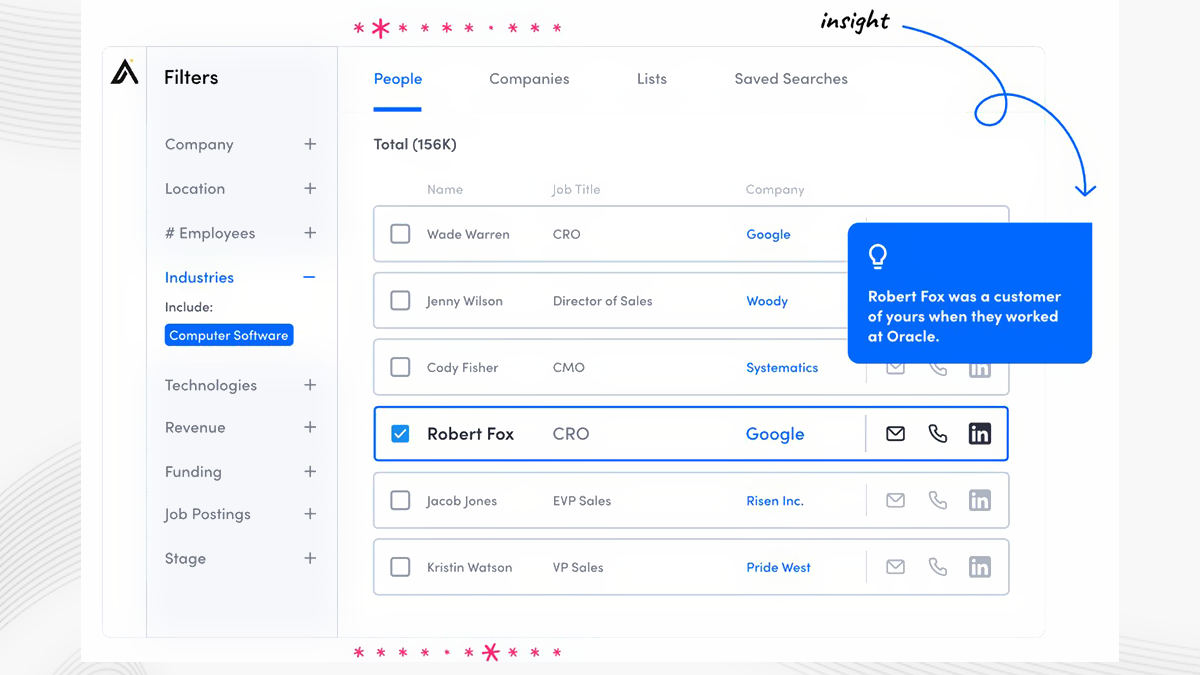 Apollo io is an all-in-one platform that improves sales engagement for businesses by offering an array of tools for lead generation, managing sales operations, and closing deals effortlessly. With Apollo.io, users can access over 220 million B2B contacts and find leads that match their buyer personas without investing much time and effort.
Contact data management, email automation, automated telecalls, management of contact data, process analytics, etc., are some valuable features of Apollo.io which businesses can use to streamline their sales processes for reducing sales cycles and ultimately generating better ROI. Unlike similar tools, Apollo.io is suitable for businesses of all sizes who intend to improve their efficiency. Moreover, they also offer 50 free credits to new users, all the more reason to try their services.
7. FindThatLead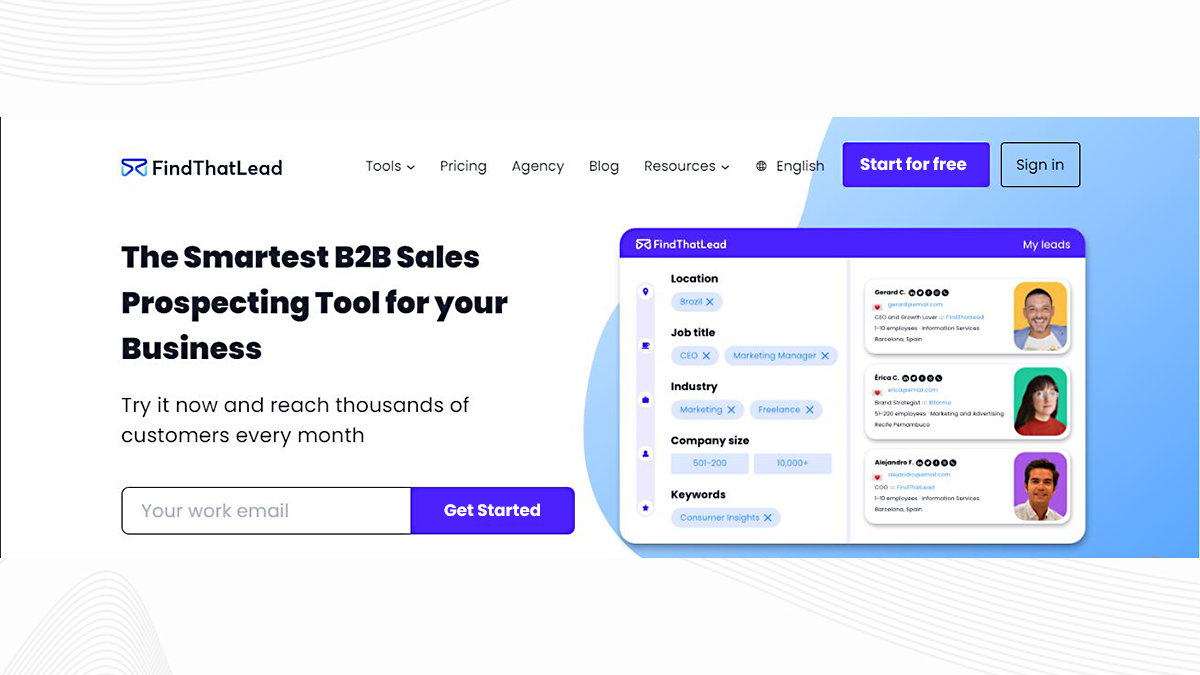 FindThatLead is another one of the raging Hunter.io alternatives, that is easy to use and helps businesses find significant details about their prospects like email addresses, social media details, contact numbers, and more effortlessly.
This tool is gaining popularity for its data accuracy as it uses a number of advanced algorithms to navigate the web and collect genuine data from various reliable sources. Businesses can rely on FindThatLead to acquire authentic sales-ready data to accentuate their campaigns and focus on other significant aspects like personalization and targeting.
FindThatLead also offers a simple user interface making lead search an easy job. You can locate ideal prospects using multiple filters like company, designation, location, industry, etc. Its economical pricing as compared to Hunter.io also makes it a better option for all budgets. Businesses can also opt for monthly or annual payments, according to their requirements.
8. RocketReach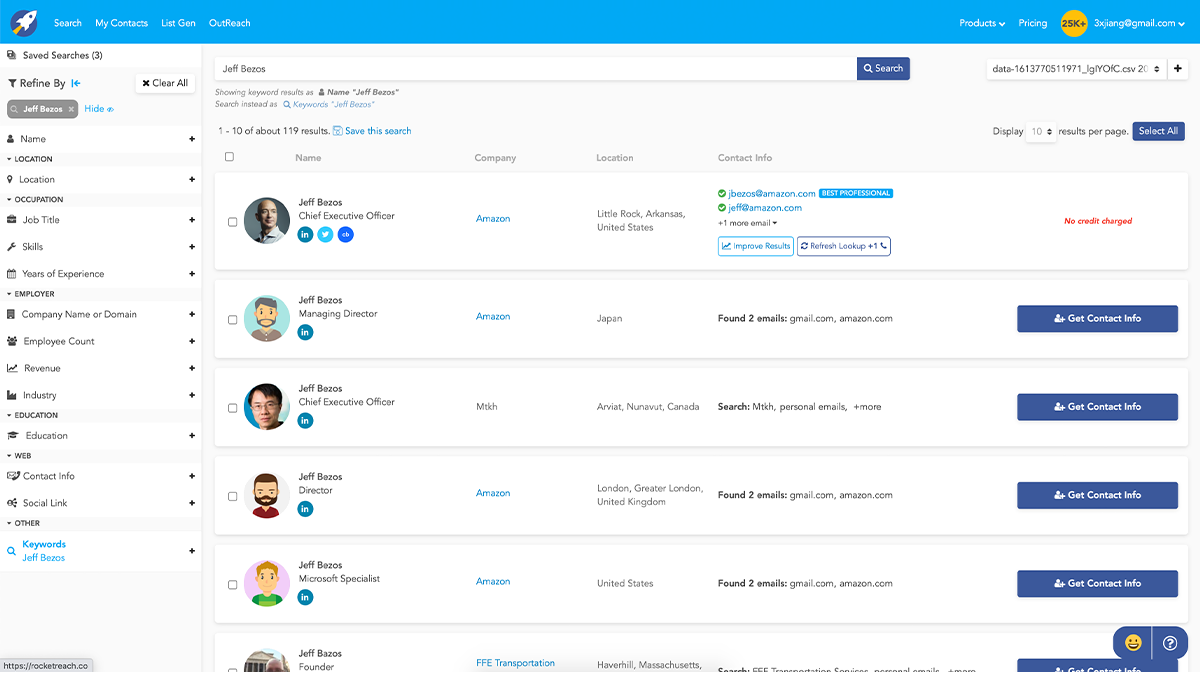 Another noteworthy alternative to Hunter.io is RocketReach. This powerful marketing tool lets you connect with your ideal prospects at the right places. Its vast database is a treasure of millions of data about top-tier professionals, including phone numbers. Email addresses, website and social media details, and more.
Using their extensive filters, businesses can connect with professionals across different industries operating from various geographical locations. Moreover, RocketReach uses top-notch data mining techniques to identify data and validate its credibility to ensure the complete accuracy of the database. Another key feature of this tool is that it marks personal emails, making it easier to decide if it is appropriate to connect with the person through this address.
RocketReach helps your sales team save time on lead search and trying to find credible information about the prospects by streamlining the process. You can directly connect with key decision-makers in your target markets without wasting much time on research.
Wrapping Up
Hunter.io, is undoubtedly an amazing tool for finding email addresses for your B2B campaigns, but it has its pros and cons. As such, there is no harm in exploring different Hunter.io alternatives offering similar or better features to the users.
If you are looking to switch to a new tool, then the above list of Hunter.io competitors can come in handy. You can try all these tools and test how they blend with your current workflow, before selecting the one that suits your needs and budget.