Labor accounts for 60% of the overall cost in healthcare organizations and is the most controllable expenditure. These providers of medical services face various obstacles while attempting to increase productivity, reduce costs and ensure patient satisfaction. However, such goals are impossible to achieve without a transparent insight into the medical workforce.
Several medical institutions initially deal with such challenges by making minor managerial and financial modifications. Nevertheless, it's often difficult to generate results as a healthcare organization's primary focus remains on extending medical services.
Medicus Healthcare Solutions offers cover for various staffing and career management needs to free you from this painstaking process. In addition, such services are provided by recruiting teams of only the highest skilled, certified medical practitioners. So, you and your patients don't have to compromise on quality!
Here's a detailed guide to Medicus Healthcare Solutions and how they can fulfill your medical staffing requirements.
Medicus Healthcare Solutions – A Detailed Guide
Medicus Healthcare Solutions serves to revolutionize the locum tenens staffing industry by establishing innovative partnerships throughout the USA. Nevertheless, upon realizing industry restrictions, they decided to pioneer project and resource management services to extend help to healthcare institutions.
Unlike other staffing companies, they take the time to analyze your challenges and gals and build transparent relationships to cater to your needs. Such an approach is advantageous to both the clients and medical practitioners, resulting in a mutually successful outcome.
The numerous services provided by this USA-based staffing company are the following:
Supplemental and Permanent Staffing
Project and Resource Management Services
Consulting Services
Furthermore, it continuously works to develop and deploy fresh services and divisions to better suit the client's needs. Whether you're a practitioner exploring locum tenens opportunities or a short-staffed healthcare organization, your demands are taken care of.
Medicus Healthcare Core Specialities
The staffing organization provides coverage for a wide array of specialties. However, it focuses primarily on the following specialty areas:
1. Anesthesia
Apart from tackling revenue loss arising from the lack of anaesthesiologists and ensuring the satisfaction of the surgery department, it supplies cost-effective supplemental anaesthesiologists. Besides, it also deals with the implementation and outsourcing of anaesthesiology models.
2. Emergency Medicine
Medicus assists healthcare organizations in sanctioning physician alignment, decreasing waiting time, increasing patient count, and calibrating department communication.
3. Government
Since the need for medical practitioners at federal practices is increasing steadily, Medicus Healthcare Solutions offers short and long-term jobs there as well.
You can expect jobs at federal facilities, such as VA hospitals, Indian Health Service and tribal facilities, Department of Defense facilities, and Correctional facilities.
4. Hospital Medicine
With hospital medicine being Medicus' one of the many primary focuses, it helps clients recruit top-quality hospitalists. It allows healthcare services to remain updated with today's competitive landscape.
5. Psychiatry
Similar to the specialty areas mentioned above, Medicus helps hire suitable psychiatrists. Additionally, it oversees the launch and development of psychiatry departments.
6. Radiology
The available services are dealing with implemented and outsourced radiology staffing models and recruiting supplemental radiologists.
7. Surgery
Under this specialty, you receive guidance to manage the financial ramification of lacking sufficient surgical staff. Moreover, Medicus teaches you how to retain quality surgeons while finding the perfect balance between the cost and quality of supplemental surgeons.
A few of the other specialties for which Medicus offers locum tenens and permanent staffing services are mentioned below:
Allergy and Immunology
Cardiology
Colon and Rectal Surgery
Dermatology
Family Medicine
Neurology
Nuclear Medicine
Obstetrics and Gynecology
Ophthalmology
Orthopedics
Otolaryngology
Pathology-Anatomic and Clinical
Pediatrics
Plastic Surgery
Radiation Oncology
Thoracic Surgery
Urology
Urgent Care
Vascular Surgery
Medicus Healthcare Facilities
In the upcoming section, let's take a detailed look at the different services offered.
1. Supplemental and Permanent Staffing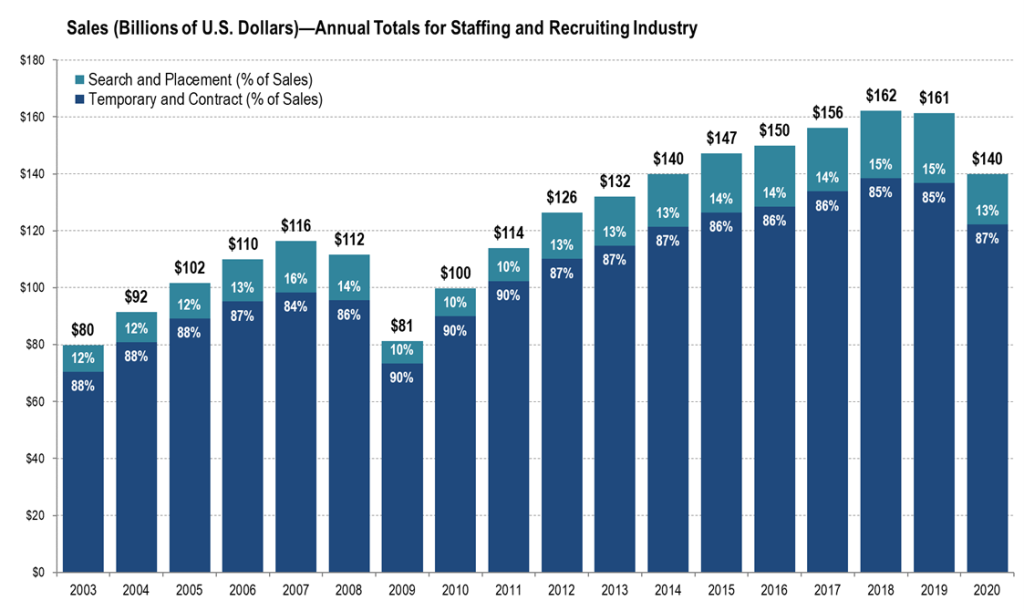 Medicus Healthcare Solutions excels in providing full-service staff solutions, including advanced practitioners, physicians, and CRNA staff. That becomes possible through a longstanding strategic alliance with Optimum Permanent Placement Services (OPPS).
This organization functions by creating potent relationships with authoritative figures at clinics, hospitals, and nationwide medical practices. Additionally, their team of skilled recruiters recognizes and qualifies candidates based on the client's criteria.
To top it up, Optimum masters the art of headhunting professionals from all medical specialties. The key to their success lies in thoroughly vetting every potential candidate to find the most suitable fit.
2. Project and Resource Management Services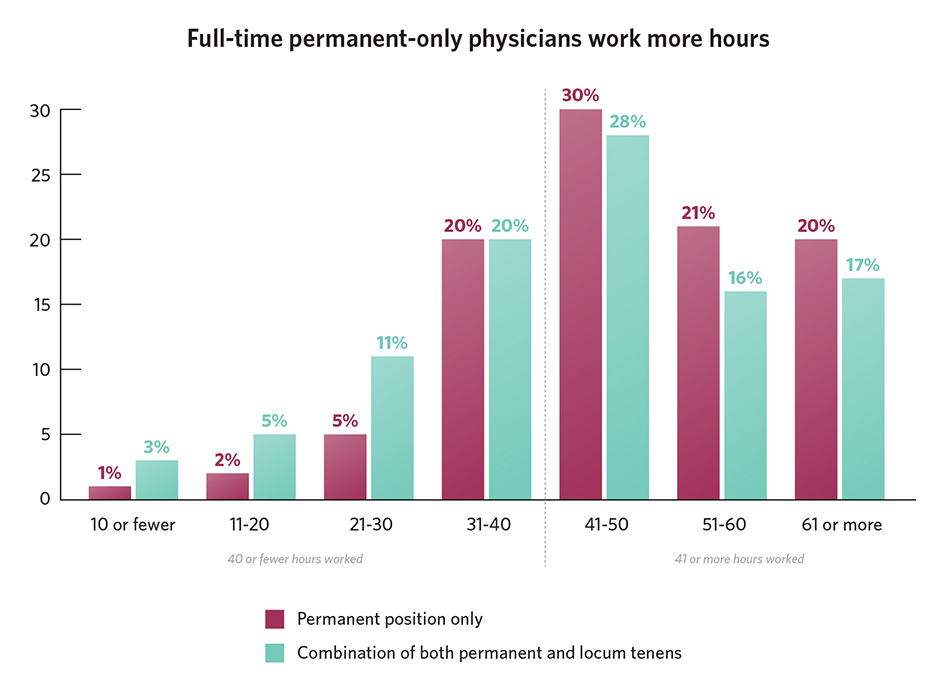 Source: Weatherbyhealthcare
Medicus Healthcare Solutions acts as a mediator by creating a symbiotic relationship between medical practitioners and healthcare organizations. It brings to the table one of the highest quality resource management services in the form of locum tenens staffing.
Locum tenens serve to temporarily undertake the responsibilities of other medical practitioners, helping a short-staffed institute. Such services arise due to the global physician shortage and demographic shifts in careers.
Hiring locum tenens is beneficial for medical practices as they're far more affordable and quickly hireable. Apart from that, exploring locum tenens is a good idea for practitioners meeting the following requirements:
Recently finished training are navigating various career possibilities
Retired from practicing as a full-time medical professional  but want to work still
Are willing to extract experience from a new subspecialty
Want more flexibility and freedom
Want optimum work/life balance
Before moving on to the next service, let's discover the following advantages of working locum tenens.
Flexibility in Frequency and Duration of Work
You can choose how long and how often you wish to work on a particular project. It could be a week every month, a month every 3 months, a few months every year, or six months ON followed by six months OFF.
While serving as a locum tenens staff, you possess total control of your schedule and job location. You can alter between many locations, including hospitals, office-based practices, government facilities, or rural health clinics.
Explore New Places
Since you've complete flexibility in choosing your work location, you can choose to practice in a place that supports your interests and hobbies. Furthermore, you don't have to restrict yourself to a single choice. You can go around checking off places from your bucket list while working and getting paid at the same time,
Discover New Horizons
Practicing as a locum tenens allows you to engage your intellect and discover new regions and cultures. Moreover, you gain exposure to numerous latest technologies and build your network of professional contacts and connections.
Added Financial Security
The income from locum tenens acts as a supportive source of money. You can utilize it productively by using it to pay student loans, save for further education or a family, cover immediate expenditures or add to savings.
Increased Focus on Patient Care
The lifestyle of a locum tenens practitioner is hassle-free and void of trivial day-to-day opportunities, such as recruiting and training new staff, buying malpractice insurance, managing overhead expenses, etc.
As a result, your sole focus remains on conducting adequate treatment and patient satisfaction.
Test-Drive Permanent Placement
Working as locum tenens permits you to test-drive a position before committing to it completely. Consequently, you get to compare the pros and cons of working in a certain environment and gain worthwhile experience simultaneously.
3. Consulting Services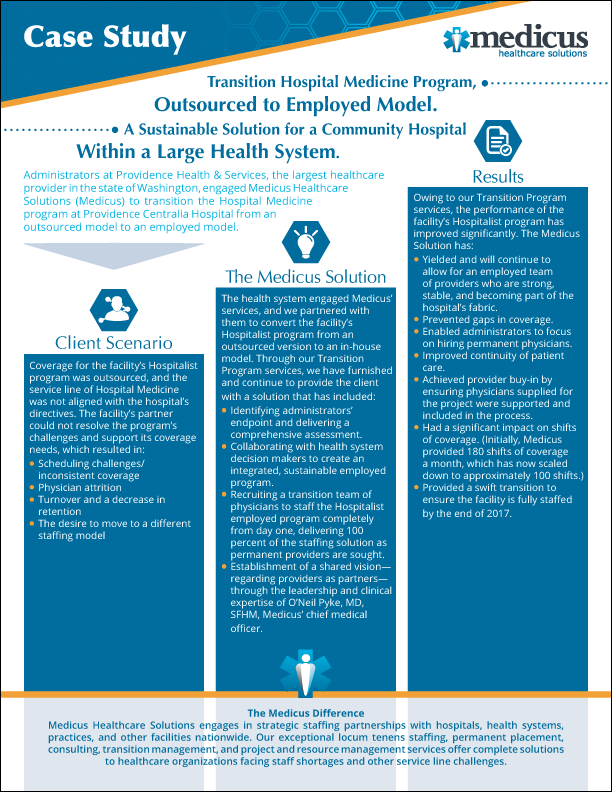 Source: MedicusHealthcareSolutions
Medicus Healthcare Solutions also specializes in extending healthcare consulting services. It's made possible via a thorough and detailed assessment of the organization. Analyzing the company's unique challenges allows them to identify opportunities and create a bespoke strategy to achieve the medical practice's goals.
The parameters on which the staffing company assesses a healthcare organization include Financial Performance, Patient Satisfaction and Excellence of Service, Quality of Care, and Engagement and Leadership.
Consulting services is an umbrella term consisting of many customized services to ensure your competitiveness in today's healthcare market. It comprises the following:
a). Restructure:
If a practice needs reorganization, Medicus uses advanced tools to curate an appropriate structure. Subsequently, it works in harmony with practice leaders to implement it.
b). Launch:
It boasts sufficient skills in facilitating the launch of a department or program. Also, it provides the organization with the necessary clinical resources.
c). Transition:
Medicus warrants smooth transition during changes like switching a contracted service from one vendor to another. It also offers advice and support during the upgradation of managerial healthcare models.
Medicus Healthcare Solutions follow a distinct approach to sanctioning the maximum effectiveness of its consulting services. It's called the Three-Pronged approach, and it encompasses the following:
i). Assessment:
This step mainly consists of a review of company data and intimate interviews with primary stakeholders to verify the accuracy of the data. It's followed by analysis and reporting of the observations.
ii). Implementation of Recommendations:
It involves working directly with the client over three to six months to produce preferred results.
iii). Advising:
Upon overseeing the successful implementation of the organization's goals, Medicus takes on a supportive and advisory role. It conducts regular assessments of the performance based on vital parameters.
Medicus Healthcare Reviews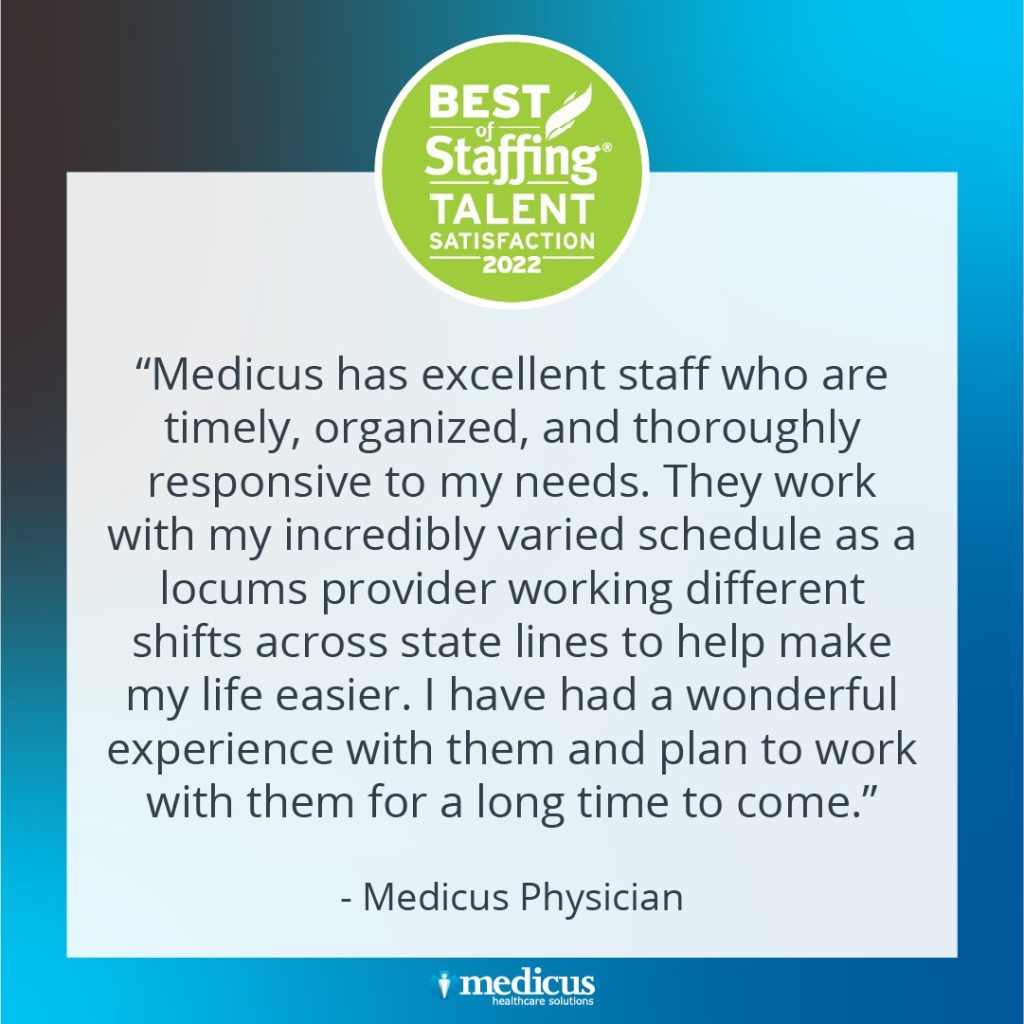 On Google, Medicus Healthcare Solutions LLC carries a rating of 4.8 out of 5 via a culmination of 288 reviews.
While a few people applauded the company's straightforwardness, accuracy, and reliability, others entitled them as accommodative and fastidious. All the clients who partnered with Medicus speak highly of its team of receptive recruiters and their professionalism.
Clients worldwide praise Medicus' brief response time and ability to generate solutions in a limited interval.
FAQ (Frequently Asked Questions)
1. Is Medicus a genuine company?
Yes, Medicus is a genuine, legitimate business with certifications from the National Association of Locum Tenens Organizations (NALTO) and the National Association of Physician Recruiters (NAPR).
2. Where is Medicus located?
The headquarters of Medicus is located at 22 Roulston Rd, Windham, NH 03087, United States.
3. Does Medicus cover malpractice insurance?
Medicus covers malpractice insurance and offers a $1 million/$3 million claims-made policy and tail coverage through an A+ rated insurance company, a subsidiary of Lloyds of London.
4. Does Medicus help with licensing?
Yes, Medicus has a team of licensing and credentialing coordinators to help you with issues related to licensing in a timely fashion.
5. Can Medicus be trusted with CVs?
Yes. Medicus has strict policies to inform you about vacancies. If you're interested, it presents your CV only with your permission.
Conclusion
Medicus Healthcare Solutions isn't merely a staffing company. Apart from supplying healthcare organizations with skilled medical practitioners, both locum tenens and permanent, it presents practitioners with career opportunities and increases employment.
It also serves to orchestrate the smooth functioning of medical practice by participating in reconstructing the structural framework. As a result, the revenue cycle processes, managerial irregularities, and labor force understaffing of the organization are tackled successfully.
Gracie Johnson is a Senior Content Writer at MyTechMag. She is an enthusiastic learner and loves to explore all the areas of technology.