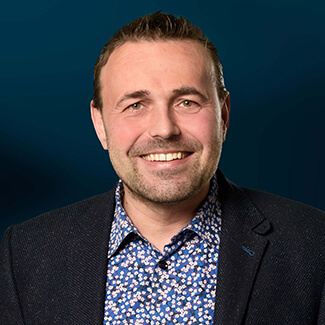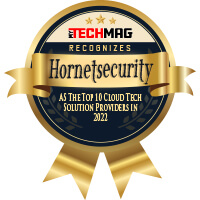 "Hornetsecurity's approach is to shape technological progress, rather than keep up with it. The company remains at the forefront of developing tools to combat the latest advancements in cyberattacks."
Companies and organizations worldwide need to protect their data against the ever-evolving slew of cyber-attacks that their employees can fall victim to. The bulk of these is sent by email. Therefore, it is critical for them to have a robust cloud security system that provides comprehensive email protection combined with backup, disaster recovery, and business continuity functionality. Hornetsecurity meets this need by providing a complete solution that sets their minds at rest.
Hornetsecurity is the leading security and backup solution provider for Microsoft 365. Its flagship product is the most extensive cloud security solution for Microsoft 365 on the market, providing robust, comprehensive, award-winning protection: Spam and virus filtering, protection against phishing and ransomware, legally compliant archiving and encryption, advanced threat protection, email continuity, signatures, and disclaimers. It's an all-in-one security package that includes backup and recovery for all data in Microsoft 365 and users' endpoints.
Hornetsecurity's goal is to allow customers to focus on their core business while providing the expertise needed to protect their systems through a portfolio of high-performance cloud security products to match the needs of different businesses. This is achieved through continuous innovation, in-house research, and development. This approach has proved successful, and the company is in growth mode, with more than 50,000 customers worldwide to date.
As CEO of the global Hornetsecurity Group, Daniel Hofmann aims to meet and exceed customer needs, delivering solutions that satisfy requirements that they may not yet be fully aware of themselves. Every Hornetsecurity development is there to help the customer and safeguard their operations.
Hornetsecurity's approach is to shape technological progress rather than keep up with it. The company remains at the forefront of developing tools to combat the latest advancements in cyberattacks. To do this, Hornetsecurity has its in-house Security Labs that conduct research and analyses. This gives a better idea of the what, how, and where and keeps the team on top of trends, business challenges, and market changes. It helps Hornetsecurity's experts to identify and predict the next steps so that the company can continue to protect its customers fully.
The team also researches new ways of doing things by evolving current technologies and approaches. Its Advanced Threat Protection, for example, secures companies against targeted and individual attacks via email, be they ransomware, spear phishing, CEO fraud, phishing emails, and blended attacks. In addition to industry-standard detection measures such as sandboxing and URL rewriting, Hornetsecurity also relies on high-quality engines like URL scanning, malicious document decryption, and AI-based detection mechanisms such as targeted fraud forensics.
The tech support team is another important part of the picture, and Hornetsecurity customers are reassured that a team of specialists is always at their disposal should they need tech support.
Hornetsecurity has adopted a particular focus on solutions for Microsoft 365. This is because Microsoft 365 is so widely used by businesses and is highly attractive to cyber-criminals because of the spoils they may gain. The problem is that many Microsoft 365 users think the built-in protection it provides is adequate. 365 Total Protection is the only solution on the market to cover all aspects of security, compliance, and backup for Microsoft 365. It is available in different editions to suit business needs and delivers state-of-the-art email security that protects against spam, viruses, phishing, and ransomware, plus email signatures and disclaimers.
Cloud security services like Hornetsecurity's apply to all companies and organizations, regardless of their size, location and focus. Individual requirements may vary to some extent, but the overriding need is the protection of users and data, be they their own – or in the case of managed service providers (MSPs) and value-added resellers (VARs) – their customers'.
For example, Konica Minolta started using Hornetsecurity services when their former anti-spam solution let them down. They sought a new solution that included multi-language capability, reliable customer support, and simple, efficient administration. Hornetsecurity's services checked these boxes and exceeded expectations. "We were thrilled with how quickly and competently they responded to our requests and expectations," says Christoph Wagner, IT manager at Konica Minolta.
Apart from developing offerings based on its customers' current and future needs, awareness-building is also important. To this end, Hornetsecurity publishes informative blogs and issues monthly and annual reports detailing the latest threats, describing trends and sharing insights.
The Hornetsecurity team operates in a friendly workplace that fosters personal development, with opportunities to learn and grow on the job, work with specialists in different areas, and take part in office exchanges. This in turn yields better customer offerings and service in every aspect of the operation.