According to research, 49% of the candidates say no to a job just because of the poor hiring process. While HR departments are shifting to recruitment technology, the adoption remains slow.
During the pandemic, companies had no choice but to use different software to complete tasks.  Every organizational activity saw digital penetration among the work processes, and talent acquisition is no different. Web portals, video interviews, document sharing, etc., have become a standard part of today's hiring process.
Statistics show that businesses, on average, use around 24 recruiting technologies to ease up the hiring process.
This article talks about the recruitment technology skills every HR needs to be aware of and use to streamline their workload. Being well acquainted with these skills gives an edge over others and helps the company recruit and retain the best candidates.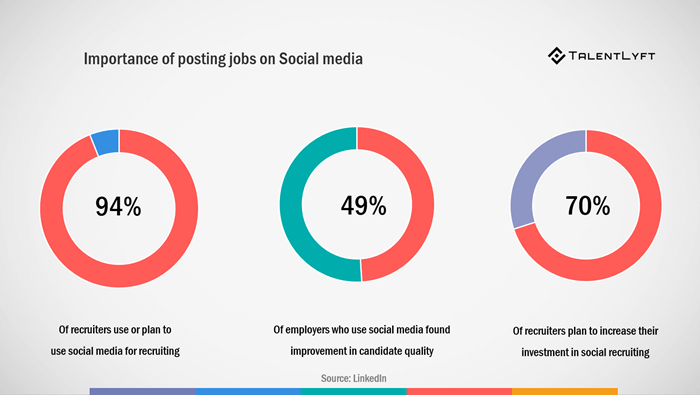 Source: Talentlyft
Leveraging the use of recruitment technology
Upgrades in technology and AI have transformed many companies' recruitment processes.
It has made hiring faster and helped companies shortlist candidates who fit their values and culture in real-time. Here are a few trends used in recruitment technology that have brought significant transformations in the process:
Source: Imocha.io
i). Social media
The use of social media platforms such as Facebook, LinkedIn, and Twitter enables HR professionals to find suitable candidates. Companies can network and spread information related to job openings by maintaining a social media presence.
Social media is supplementing the conventional methods of recruitment rather than replacing them. However, this method delivers benefits effectively in comparison to traditional methods of recruitment.
The few ways in which social media improved the hiring process are:
Posting about job openings
Evaluating candidate's social profiles to determine whether they are fit for the post or not
Enhance communication about a company's upcoming events.
ii). Human resource information system
Human Resource Information System is a widely used tool by HRM that makes everyday tasks by eliminating the chances of manual errors. HR can shift their paper load into a digital format, which not only makes work more accessible but also helps retrieve data.
Being well versed with HRIS will help professionals in the following ways:
Less paperwork as files can be stored electronically by recruiters
Enhances productivity and efficiency
It is easier to retrieve data electronically than in a manual format
iii). Talent Acquisition software
Recruitment can be a tiring process for both HR professionals and job seekers. This process can become smooth with the help of talent acquisition software.
The software involves a wide range of tools such as an Application Tracking System and recruitment marketing software for efficient data collection. The automated recruitment process can help in the following ways:
HR professionals can post on various career pages and social media platforms through a single platform
Minimize workload as automated features help in shortlisting candidates for interviews
Easier to find suitable candidates with intelligent filter options available in the software
Cuts down administrative and individual costs during the recruitment process
iv). Be tech-savvy with the cloud
A good understanding of cloud technology can be fruitful for HR professionals as it helps centralize work and daily tasks accordingly.
It improves transparency and consistency and enhances communication within the firm. Here are a few points that would compel HR professionals use cloud technology:
Centralizing information makes daily tasks such as organizing, managing, accessing feedback, and payrolls easier.
It will save inter-department communication time and work more efficiently.
Organizations with transparency retain employees. Moreover, it also increases engagement among employees.
v). Project Management skills are important
Knowing project management skills is a must for a company's HR department to perform efficiently in the workplace. Project management skills include learning software tools such as data analysis, training, assigning tasks, etc.
The few ways in which learning project management will help HR are:
HR is responsible for managing the whole team. From top to bottom, achieving goals on different levels is vital for the team's success.
It improves employee coordination and helps identify all strengths and weaknesses.
It helps to prioritize work tasks and minimizes distraction to get work done in a faster manner.
vi). Gamification Techniques
In today's world, companies must focus on employee wellness. Due to this, an HR professional's job is to build an environment that increases engagement and productivity.
Some of the ways to connect with employees using gamification techniques are:
Conducting games and quizzes for employees can help understand their perspectives and know if they fit for the job or not.
Through knowledge sharing and networking, employees increase their learning and development skills.
When employees connect, they tend to be more productive and feel motivated.
vii). Diversity
Diversity is a growing concept among companies in which they include people irrespective of their caste, gender and other parameters.
Many organizations have inculcated this trend. Recruiters are now constantly looking for a diverse pool of people to include in their workforce. Many big tech companies are already following the steps of bringing an inclusive workforce to achieve productivity.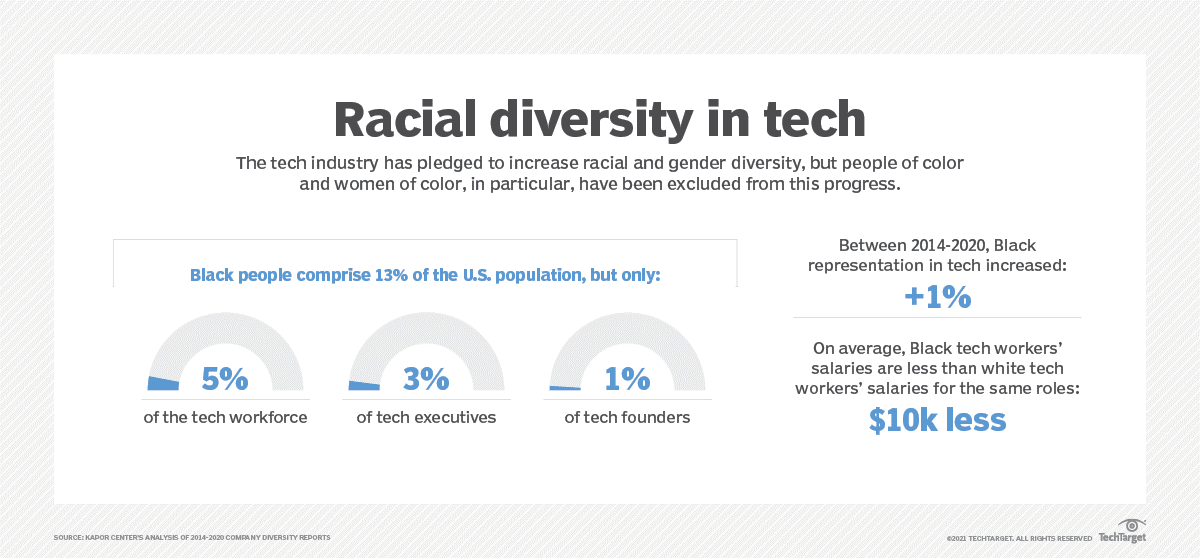 Source: Techtarget
Advantages for HR
Every HR must be aware of recruitment technology's various advantages and disadvantages. According to statistics, 86% of recruiters rely on software for recruitment and to find the best leads.
Leveraging professional recruitment technology speeds up the hiring process and reduces the inconvenience of going through manual recruitment.
Here are a few more advantages of embracing technology in the recruitment process:
With savvy filters, recruiters proactively hunt for candidates who seem to be an ideal fit for the company. Instead of going through individual resumes, using artificial intelligence, recruiters can prioritize resumes according to their needs.
With a fast recruitment process, the new candidates can start contributing to a company's goals without delay. Moreover, if more recruiters are working together, it enhances communication.
The chances of biased hiring are minimal as artificial intelligence only shortlists candidates who are an ideal fit. The automated screening process rejects or accepts applications based on the company's needs.
Disadvantages for HR
With pros come cons. Even though recruitment technology is used widely, it still has its disadvantages:
Receiving more applications doesn't necessarily mean you will find the right fit. Recruitment via technology has seen a surplus of unqualified candidates.
Many qualified candidates may not be confident enough to communicate via an online setup.
Companies cannot solely depend on technology for recruitment as many parts of the globe still have no or very little internet access.
Some excellent candidates might use a different keyword to describe a skill. The technology will filter out the candidate leading to the loss of a valuable asset.
FAQs
Q) What are the steps involved in the recruitment process via technology?
The following are basic steps of a recruitment process:
Posting job openings
Shortlisting candidates using ATS
Employment tests after clearing the screening round
Interview
Mandatory background check
Q) Will AI replace recruiters?
No, as AI still has a long way to go. Moreover, automated recruitment helps smoothen the process, but the recruiter persuades a candidate to take a role. Nothing can replace face-to-face human interaction.
Q) Does it help in reducing recruitment costs?
ATS is an investment more effective for big companies. Imagine if you have a small business and recruit one staff member yearly. It is not worth spending a considerable amount on ATS.
In the long run, it saves money. For a small business, software with flexible pricing structures is more desirable.
Conclusion
It is evident with changing times recruitment technology has taken ample space in the recruitment process. Its advantages are numerous, along with simplifying the workload for HR professionals.
This technology is impacting the market significantly and will benefit both recruiters and job seekers.