With the rise of digital transformation, massive changes have been noticed in the working process of organizations worldwide. Instead of manual operations, most tasks are now automated using workforce management systems.
Owing to the large-scale shift to remote or hybrid work systems, it has become crucial for all organization members to communicate from different locations. Workforce management makes it easy to schedule tasks, set up employee payroll, or plan the company's budget.
By 2027, the workforce management market is set to reach $9,391 million! Keep reading this article to learn about WFM and its effect on the company's working process!

Source: Asana
What is Workforce Management (WFM)?
Workforce management is how employees' productivity is strategically improved by providing the resources they require to function optimally. A company can deliver more value to its team and clients by supplying advanced tech tools beyond the traditional approach.
Generally, WFM revolves around various work operations like forecasting, scheduling, skill management, intraday management, employee empowerment, timekeeping, attendance, etc.
A workforce management system lets you utilize a strategic approach to gain insights into crucial business metrics, thus allowing you to adopt a more streamlined working process. As a result, any organization can build a highly productive and cost-effective workforce.
What are Various Workforce Management Components?
During the pandemic, the world witnessed a significant change in the working process of most industries on a global scale. Now, when most employees are settled for a long-term work-from-home situation, it becomes crucial for any company administrator to invest in workforce management solutions.
Doing so will help employees stay in the loop with the management team and adjust their working process accordingly. An ideal WFM solution will include different functions like:
i). Forecasting and Budgeting
Forecasting is the process of pre-determining the number of resources required by the company employees in a specific timeframe. Here, the final figures are calculated after considering various factors like increased demand in festive seasons, etc.
On the other hand, budgeting is essential as it helps the HR team determine the total number of staff members the company can afford to have on board. Workforce management solutions help companies calculate forecast figures to plan staff deployment and balance labor charges.
ii). Staff Scheduling and Time-tracking
For any HR individual managing the recruiting process for a company, it is crucial to ensure staff availability at all times. If not, the remaining employees might have to deal with overwhelming work during peak season. Staff scheduling helps you automate the staffing process based on factors like vacations, workload, sabbaticals, etc.
Time-tracking is delegating tasks optimally so that each employee works for the agreed-upon number of hours. It will help distribute work equally within a team, thus avoiding more workload on one member. Additionally, a WFM system will reduce payroll discrepancies based on the number of hours initially recorded.
iii). Mentorship
About a decade or two back, an employee's efficiency used to be measured based on their output. Their managers had no complaints as long as the day's tasks were checked off their working list. However, in today's digitized economy, things are changing fast.
Now, a company's productivity is measured by its team's overall EI (Emotional Intelligence) and ability to perform well as a team player. Therefore, companies have now prioritized mentorship and training sessions for all employees. Doing so helps add value to the workforce management process by facilitating the exchange of ideas between different departments.
iv). Employee Engagement
When working in a collaborative atmosphere, it is essential to keep engagement levels high at all times. A company's team environment can only be productive and sustainable when all employees contribute equally. A WFM system is based on the factor of motivating people to participate in group activities more.
The HR team can use workforce management software to ensure that people who contribute the most and display a positive attitude are rewarded for their efforts. Doing so will help the company leaders acknowledge the team's performance better.
v). Project Management and Communication
By 2023, the global mobile workforce will rise to 1.88 million. With an increasing number of people working out of the office, it is essential to maintain proper contact with the team. A WFM system creates a highly collaborative environment that keeps all employees in the loop.
Multiple applications like Slack, Trello, or Podio can establish an organization's cohesive work system. Managing the workflow gets more accessible with such team management platforms as real-time changes are updated automatically. As a result, people from different corners of the world can collaborate easily.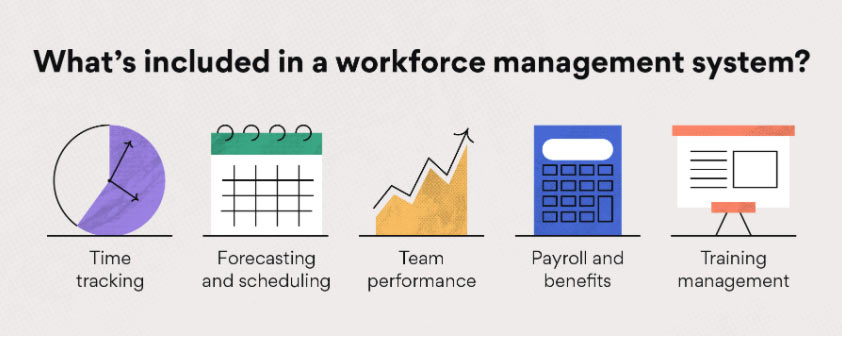 Source: Mark Info
How Will Workforce Management Impact the HR Industry
According to a Cedar Crestone ROI study, it has been found that an organization was able to save more than $600,000 in labor productivity by not processing the absence requests manually. The impact of a WFM system is widespread for any business.
Workforce management streamlines the way most operations are carried out in any company. It is responsible for considerable strides in the HR industry by optimizing technology and policy change and hugely impacting the employee culture. Some standard benefits you can expect are as follows:
i). Elimination of Human Error
When all data entries are made manually, human errors are always possible. As a result, accessing the actual statistics gets hard, and the information received is always flawed. With the implementation of WFM systems, HR can get reliable data to work with.
ii). Boosts Security of the Organization
To ensure an organization's security and maintain a proper time record for each employee, it is crucial to know who's in or out of the office. With manual attendance recording machines, the practice of 'buddy punching' (asking your friends to clock you in or out) can result in collecting irrelevant data. Therefore, using a workforce management system with fingerprint scanners is better.
iii). Saves Time
If you are not already using a WFM system, you know the hassle of planning a work schedule for each employee. As such, most billable hours are spent on the task, which can easily be automated. With the workforce software, you can manage tasks anytime from anywhere.
iv). Improved Employee Satisfaction
You can easily handle time scheduling or time-off requests with an automated system. When employees start noticing quick approval or review of their absence requests, they will gain more clarity regarding their work hours. As such, employee satisfaction will result in lesser turnovers. According to the ​​Aberdeen Group research brief, organizations using WFM systems notice an 11% improvement in employee satisfaction vs. 2% in other companies.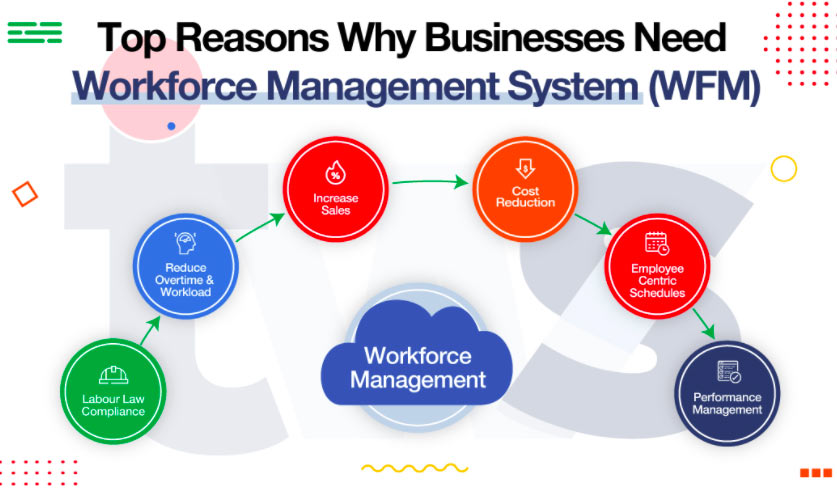 Source: Tekkiwebsolutions
Wrapping Up
HR leaders highly impact the working process of any organization and can help make or break the institution! As such, employees must gain access to accurate data to make the relevant changes around the company.
With technical advancements like predictive analytics and artificial intelligence, it has become easier for senior management teams to understand employee requirements. According to CIPD research, over 89% of organizations are looking forward to implementing data and analytics applications in their working process.
Workforce management helps simplify manual tasks and increase employee satisfaction. If your business has not yet adapted to WFM software, it is the right time to make these essential changes. Apart from saving time and effort, you will also be able to notice a significant growth in your ROI.
Frequently Asked Questions
1. What is workforce management?
Workforce management is a process including various activities that help improve the company's efficiency by targeting each employee's productivity. It is based on allocating the right resources to each department, ensuring the presence of sufficient workers in the company, and automating specific manual tasks. It also helps maintain proper coordination between employees working from different locations.
2. What are some essential processes in a workforce management system?
A workforce management system is a set of different processes like:
Keeping a proper record of employees' working hours and absence requests.
Forecasting and budgeting to ensure the company has enough resources to sail through rough times.
Create efficient work schedules for different employees.
Help employees coordinate to work on the same task from different locations.
3. Why should a company invest in workforce management?
In most places, people still use paper records or excel files to maintain proper employee payroll accounts or devise work schedules. Doing so consumes many billable hours and leaves the scope for human errors. Working with WFM software will ensure all such non-core tasks are automated.
4. Who benefits from the implementation of a workforce management system?
A workforce management system is helpful for:
HR managers taking care of payroll and absence requests
Managers with operational responsibilities
Senior leaders to determine accurate KPIs
Employees to keep track of their work schedule