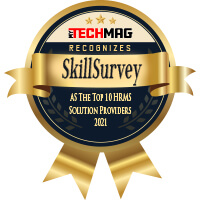 "SkillSurvey helps organizations build and nurture excellent sources of new job candidate leads and gain the data to hire employees who will stick."
Organizations face several challenges in today's competitive talent marketplace. The top concerns include ensuring the highest quality job candidates, finding new, talented candidates and engaging and retaining talent after hiring, amidst the 'Great Resignation.'
SkillSurvey's talent intelligence platform provides talent insights to improve hiring and reduce turnover. It can be especially beneficial for larger mid-market organizations who need a single platform to help them streamline hiring, reach and manage more candidates and obtain feedback throughout the employee lifecycle. To give clients a comprehensive picture of how healthy their recruiting, hiring, and engagement processes are, SkillSurvey delivers both pre-and post-hire data.
SkillSurvey Reference® is an online, automated reference check solution that speeds the reference checking process. References fill out digital surveys tailored to hundreds of job roles and created by a team of I/O psychologists—focusing on candidates' behavioral competencies. Data shows SkillSurvey Reference has reduced clients' first-year turnover by 35%. Its Predictive Analytics help clients make less risky, more informed hiring decisions. SkillSurvey Source® helps organizations build new, reliable talent pipelines. It provides organizations with digital tools to reach and manage more job candidates. It can also offer a new talent pipeline source. It works like this: When an employer contacts a job candidate's reference, it recruits with digital invitations and opt-ins.
Recruiters can automated emails and targeted messages to engage passive candidates and promote open positions continually. SkillSurvey Source helps organizations build and nurture excellent sources of new passive candidate leads.
It can be a challenge to engage employees in the new digital workplace—both new hires and existing employees. SkillSurvey Post-HireTM uses automated tools to gather ongoing employee and supervisor feedback at regular intervals during the employee lifecycle to assist in developing unique hiring processes, build epic onboarding programs, retain star performers, and create more engaging experiences for every employee.
SkillSurvey's solutions are cloud-based and digital, making them easy to use and producing fast results. I/O scientists also design them so users can feel confident knowing that they help reduce bias and deliver validated results. They give clients the information they need to make the smartest hiring and talent decisions. For example: With SkillSurvey Reference, a job candidate's reference receives an email or a text message from a trusted source (the candidate)—generated through the solution. The reference clicks a link (from any device) and completes a questionnaire assessing the candidate's skills. They can also include written comments on strengths and areas of improvement, which are confidential, along with other references' remarks in a report to the hiring manager. With SkillSurvey Post-Hire, the feedback collection and reporting dashboard are designed to help employers stay continually up to date on what's happening with new hires—as well as existing employees. It also helps employers find out how their hiring process is perceived. Surveys are automatically generated after hiring and can continue to measure onboarding, ongoing engagement, supervisor feedback, and exit feedback. SkillSurvey Post-Hire is an incredible engagement tool that helps employers better understand where and how improvements need to be made, e.g., during the interview, onboarding, the first 30 days, etc.
SkillSurvey is the only provider to help organizations connect pre-hire data (from references) to post-hire data (from new and existing employees). They are also the only reference checking solution that is patented and has validated processes and results to identify that feedback is predictive of performance and helps reduce first-year turnover by 35%.
The company is also working with colleges and universities to help students assess their career readiness. SkillSurvey Career Readiness® is the first consistent and digital method to obtain feedback from supervisors and co-workers following internships, co-ops, and other student employment. The employers give feedback on workplace behaviors mapped to eight National Association of Colleges and Employers (NACE) competencies. Among them are a proficiency in critical thinking, teamwork, and professionalism, the eight key behaviors mirror top soft skills sought by today's employers. The assessments also give insight into how well students demonstrate behaviors—essential for working remotely successfully.. The data helps higher-ed institutions analyze key outcomes, identify trends, and benchmark student performance to gain actionable insights for accreditation and to enhance their programs."