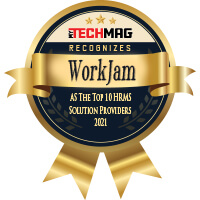 "WorkJam sets itself apart from other technologies because it's a comprehensive solution that delivers everything frontline employees need to be productive and engaged in their work. WorkJam offers a host of modules designed to work together or stand-alone— including communications, learning, and task management — as well as the ability to integrate with any 3rd party solution that needs to be in the hands of your employees."
Since its first store opening in 1990, this Fortune 500 retailer has grown to be the largest beauty retailer in the United States. Their vision is to be "the most loved beauty destination of our guests and the most admired retailer by our associates, communities, partners, and investors."
The visionary retailer partnered with WorkJam to deliver the ultimate frontline digital workplace and improve its operational efficiency. One of their main goals was to develop the perfect processes to meet the needs of the 21st-century marketplace and customers. They launched WorkJam with a focus on the employee experience offering schedules, shift swaps, and an open shift marketplace as its first phase in their WorkJam journey. Their overwhelming success – and massive adoption rates – of WorkJam spurred them to embrace the possibilities. They forged ahead, targeting employee engagement by way of WorkJam's communications and learning modules.
WorkJam has set a new standard for frontline digital workplace platforms, transforming how customers manage their frontline employees and day-to-day operations. Founded in Montreal, Canada, WorkJam connects enterprise workforces, enabling headquarters to manage and communicate with those working in the field, from health care professionals and manufacturing personnel to retail store associates – any employee not tethered to a physical desk. "Today, companies are looking beyond clipboards, paper management and outdated technology. They have realized that the legacy way of managing tasks at the field level does not lead to productivity.
They realize that they need to be able to communicate directly with their frontline employees. They realize that their employees expect to have a digital relationship with their employers and want to feel engaged and motivated.
With the introduction of technology in every stage of business, companies are looking for more sophistication and agility. We are offering what they need," says Steven Kramer, CEO of WorkJam. He is a technology entrepreneur with over 20 years of executive leadership experience in founding and scaling companies developing disruptive, enterprise-class technologies.
WorkJam sets itself apart from other technologies, point solutions, and consultants in the market, from their platform user interface, data security, and military-grade encryption to their team's industry experience. And it's all done in one app, not 2 or 3 like some other solutions where task management is separate from communications and different from employee self-service tools, shift tools, or learning tools. Companies like Shell,Ulta Beauty and other iconic brands have over 2 million frontline employees usingWorkJam's Frontline Digital Workplace across 40 countries and languages.
WorkJam's Frontline Digital Workplace is also modular in that businesses can address immediate needs first for example, communications, shift or task management; and journey onto addressing other needs such as learning or operations planning— all done from a single app. When all modules are implemented, WorkJam's Frontline Digital Workplace enables organizations to achieve what the company calls "Workforce Orchestration" – the ability for frontline workforce business processes to "self-heal" issues that inevitably occur every day, for example a store not having enough employees to cover shifts due to a staff shortage. Frontline Workforce Orchestration is essential given long-term trends in the labor market, but it is especially vital given the current labor shortage.
At its core, WorkJam is radically improving frontline "productivity and employee retention," explains Steven. "WorkJam empowers companies to utilize the labor they have more efficiently." He adds, "When frontline employees are connected to and heard by their employer, it encourages engagement. When employees feel like they have possibilities to find extra shifts, take training to develop their skillset and value, and be noticed for excellent work — all of these things sum up to a more involved employees that are more motivated at work."
For instance, with WorkJam's Task Management module, companies can broadcast and assign daily tasks directly to frontline employees with the skills needed for those tasks. And with its Open Shift Marketplace module, they can post all their available shifts to their frontline workforce — including open shifts at locations near them. "This allows powerful increases in labor utilization effectiveness," says Kramer.
The company also recently launched WorkJam Everywhere, which enables frontline employers to attach best-in-class capabilities to collaboration platforms including VMware, Microsoft Teams, and Salesforce, bringing the frontline digital workplace to where the users are. Your organization can now benefit from the flexibility and choice of where and through which systems they would like to deliver WorkJam functionality to end-users. This includes varying delivery methods from region to region, business unit to business unit, and role to role.
This evolution provides IT with delivery options, while Human Resources, Operations, Learning, and Internal Communications leaders benefit from the breakthrough productivity and retention rates made possible with Frontline Workforce Orchestration.
"By embedding WorkJam functionality into existing systems, businesses get the operational benefits WorkJam customers have enjoyed for years with limited change management," adds Kramer. "Prior to developing WorkJam Everywhere, customers could only use the WorkJam platform to deliver WorkJam functionality — now they have a choice as to how they want to deliver it."