Agility and innovation have never been more important to an organization than right now. This rings especially true in the government space, where digital transformation and seamless integration of versatile technologies can be a true differentiator while driving efficiency and growth.
Emerging and hyped technologies such as 5G, blockchain, automated and laser guided vehicles, AI and more have transformative potential for government entities.
However, to effectively use these new technologies, it's important to start with a strong foundational technology base. Government contractors who focus on the appropriate infrastructure first better position themselves to leverage new software and technology solutions down the road. They will always stay ahead of their competitors and likely their respective market as a whole.
Central to this foundational mentality is a focus on automated data collection, such as mobile barcode solutions. Here are three ways government contractors can utilize mobile barcoding to help improve operations as 2022 comes into view.
Quickly Adjust to Market Demands and New Legislation
Adjusting to new client projects or business demands is a top concern for government contractors, according to a recent survey. After all, government spending constantly fluctuates, based on demand, contract length and pending legislation.
This is why it's vital to have technology in place that offers flexibility to meet current and future needs. Mobile barcoding technology allows you to have a complete and up-to-the-minute view of inventory data, utilization and more. With full-picture visibility, you can quickly change course to meet market demand, deal with supply chain issues, and address labor challenges or fluctuation needs.
A high-performing mobile barcoding software will also interact with your ERP in real-time, so you'll always have accurate and reliable information. A transparent inventory view leads to better forecasting and more effective inventory and asset management strategies to minimize waste and shrinkage. This type of automation solution helps drive significant improvements to the bottom line while also reducing operational risk.
Ultimately, automated data collection leads to agility and significant time and cost savings.
Reduces Operating Costs and Prioritizes Compliance
Mobile barcoding software reduces operating costs by automatically streamlining inventory data collection. No longer will time be wasted on manual data entry and cumbersome paperwork.
In addition, mobile barcoding technology increases visibility and traceability, leading to better compliance across the production line. By combining mobile applications, barcode software, and handheld devices, you gain an accurate perspective into your inventory throughout your operation.
For VSE, a Department of Defense contractor, manual data collection for inventory tracking was common practice. By introducing mobile barcoding, VSE achieved lot-level traceability and 100% billing accuracy for contractual compliance.
Focuses on Security
It is estimated that cybercrime could cost the world $10.5 trillion by 2025. With so much sensitive and significant data existing within a government contractor's enterprise systems, it's never been more important to keep security top of mind.
Security is often a key concern when it comes to working with outside vendors, products, or contractors. That's why it's critical for government contractors to focus on security risk and prevention, both in their daily operations and when working with vendors.
When looking for a mobile barcoding partner, ensure that they enhance your data security and accommodate for a remote working environment. At minimum, they should be able to enact the following security restrictions:
The technology serves as a proxy, meaning it never allows employee users direct access to mission-critical systems
Single sign-on and traffic encryption are enabled across the entire software suite
Security protocols for "data at rest" when offline
Technology is designed to make our lives easier. But software and applications like mobile barcoding solutions also transmit highly sensitive data which must be secure against the latest threats. When looking to add mobile barcoding solutions, ensure they boost your data security measures rather than create risk.
How to Move Forward Into the Digital Future
While it's necessary to stay abreast of emerging technologies, a strong foundation is the first step to digital transformation for government contractors. Look for must-have technologies that focus on compliance, security, and agility. This will lead to increased visibility and efficiency, and will help reshape your operations into a state-of-the-art digital enterprise.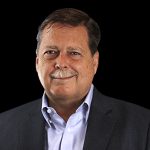 Rob Brice leads the RFgen team in delivering products and services that are at the forefront of the mobile barcoding and data capture (AIDC) industries. Additionally, he's also responsible for the design, development, and go-to-market strategies for the RFgen mobile technology solutions.