You must have heard about ZoomInfo. If not? Let us tell you a bit about it.
ZoomInfo is a prominent business intelligence tool with a market share of 80.0% that blends an extensive business database with state-of-the-art technology. Trusted by thousands of marketers, recruiters, and sales professionals, ZoomInfo charges marketing efforts from start to end.
However, it is also an expensive platform, making people look for other alternatives.
If you, too, are looking for the ZoomInfo alternative, you are in the right place. We have listed some of the best ones below.
1. UpLead
UpLead is an online B2B sales channel that connects you with legitimate and responsive leads. It has an existing database of around 46 million profiles.
This platform makes it easier to find leads and verify contact details in real-time. To locate your ideal leads, you can have around 50 filters for searching. Plus, you can download the information about contacts in minutes.
2. Blue Mail Media
Blue Mail Media is a leading international email marketing solutions and data appending services provider. Whether marketers, recruiters, or sales professionals, this platform offers accurate and relevant data for everyone.
It offers clients customized B2B marketing solutions with a structured and well-segmented list of leads.
More amazing is that right from building a mailing list to creating the content to scheduling and tracking progress, Blue Mail Media takes care of your overall email marketing needs. There is no need for you to go anywhere else.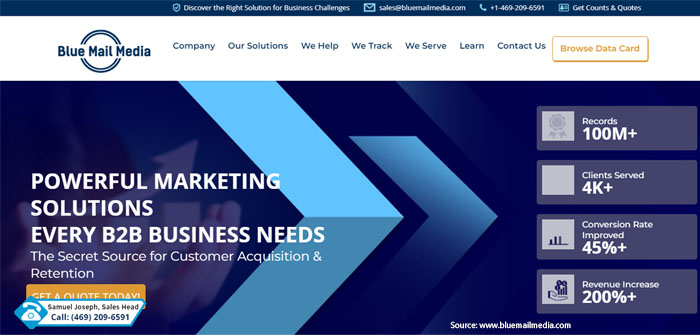 3. Medicoreach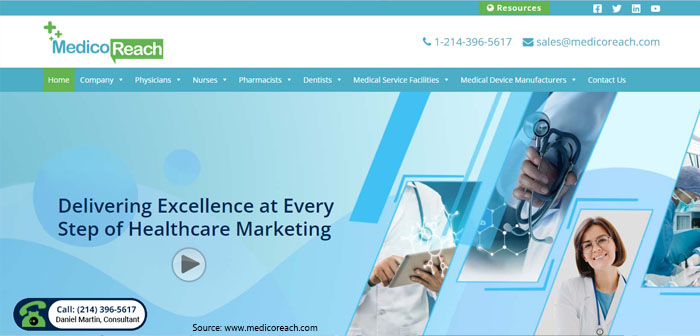 For all the marketers out there struggling to steal the spotlight in the competitive healthcare market, Medicoreach is your pick. It is a medical marketing company helping healthcare institutions in their marketing efforts.
The company gives you access to a variety of medical and healthcare list to deliver customized campaigns and make a significant difference to your bottom line. For instance, you have physician surgeons, nurses, and dentists' email lists through which you can build up your prospect list and generate better-quality leads for your business.
4. DNB Hoovers
The company rates highly among alternatives and is a powerful B2B marketing channel to grow your business and increase ROI. With it, companies can identify and target their ideal prospects. It provides detailed company and contact details for effective communication.
5. Thomson Data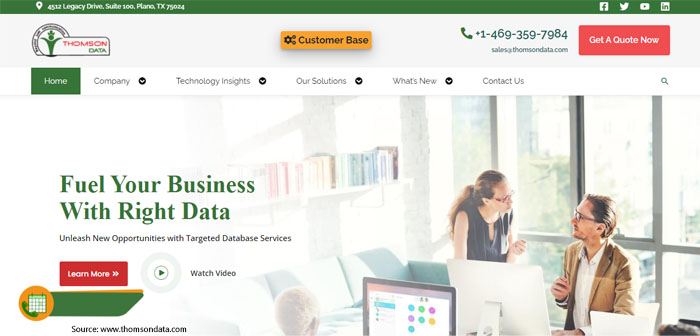 Another ZoomInfo alternative, Thomson Data, helps you identify and organize contact details. It delivers all relevant and accurate information about a company or a person to facilitate better decision-making.
What's more, the data solutions are created specifically to meet your B2B objectives and customized to meet your marketing requirements.
Since the information collected is opt-in, the contact list is highly responsive and compatible with multi-channel marketing. It takes you directly to your prospects and can be custom-built. Their data comprises:
• B2B Sales Data
• Firmographic Data
• Technographic Data
• B2B Contact Data
• Business ownership Data
• B2B Marketing Data
6. TD Insights
TD Insights is an online B2B email marketing platform that helps you connect with qualified leads. Its database solutions boost your sales campaigns and drive excellent growth.
Currently, its database comprises more than 76 million business contacts.
This makes it a lucrative platform to leverage by marketers and sales professionals as well as recruiting agents. Using this database solution, you can identify leads that will be ideal for your business. The company specializes in the following services:
• B2B Executive Lists
• Technology Lists
• Pre-Packaged Lists
• Email Marketing
• Direct Marketing
7. InfoCleanse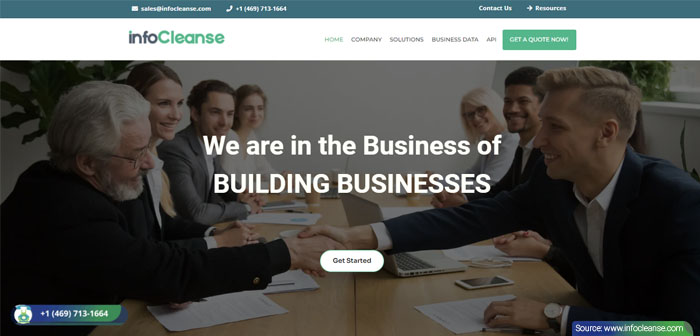 InfoCleanse is a powerful and leading database solution that can be used as a ZoomInfo alternative. Its expertise lies in revitalizing old marketing and CRM databases to fuel your business operations effectively.
The data they offer is highly relevant and reliable.
Other than accurate details, you can also request a customized database solution per your business requirements. It offers you thousands of mobile/direct dials and legitimate email addresses. A few of its popular services are listed below:
• Data cleansing and Data appending
• Phone appending and Email appending
• Data licensing and Data Validation
• Data verification and management
8. InfoClutch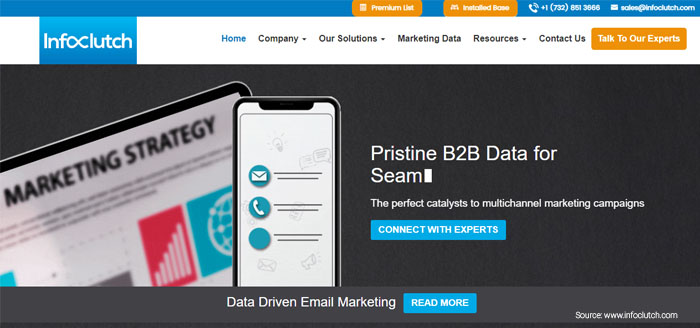 A digital marketing agency that also deals with providing custom marketing solutions to clients. With around 70 million data records, it provides intelligent business insights that fuel your marketing and sales campaigns towards successful outcomes.
You can trust the data to be highly accurate and reliable owing to the company's stringent verification process.
Some key features of InfoClutch include targeted contact lists, opt-in information, regular database updates, segmented results, and much more.
9. BizInfor
BizInfor is a good data-driven marketing solution provider to B2B companies.
The B2B database of the company is ideal for multi-channel marketing and helps businesses of all scales to create targeted marketing campaigns. The solutions offered help companies face competitive marketplaces and deal with low engagement and inconsistent sales growth.
The entire data is compiled with the motive to help your business reach its clients on time and sign off deals.
10. eSalesData
eSalesData is another great ZoomInfo alternative.
It is a leading and profusely growing market specialist in delivering sales leads, application development, and online marketing solutions. The company provides a list database service defined by simple management, fast delivery, opt-in information, and high responsiveness.
The data solutions offered spread to the market of healthcare, technology, C level, and prominent professionals of other fields.
11. Lead411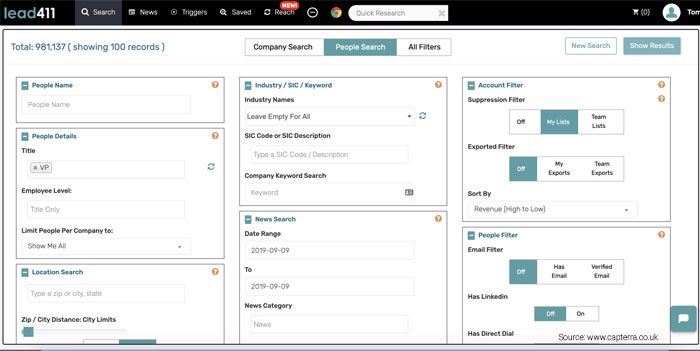 Lead411 is a strong sales intelligence channel that offers a database to help sales, marketing, and business development professionals perform better. It provides you with thousands of verified emails and other contact details, which are also highly accurate.
Besides, it helps you target customers right when they are planning to purchase with the help of buying signals, sales triggers, and competitor data.
12. LeadFeeder
Another alternative of ZoomInfo that helps to find qualified leads irrespective of niche. It is not exactly a contact database but helps you to identify companies visiting your site. Plus, the company helps you figure out how they found you and their interest, thus helping you discover how to pull customers into your sales funnel.
13. Lusha
Being 120,000 companies worldwide, lusha is great for finding and organizing contact information. It offers accurate details about a person or a company to help you make better decisions.
That said, it features a plugin that scans people's social media profiles when you open them and gather all essential details from there. It can be used by businesses irrespective of their scales and types.
14.  ScopeLeads
ScopeLeads is one of the most trustworthy ZoomInfo alternatives for B2B lead generation and email marketing. This tool allows you to automate your sales processes, from converting quality leads to following their progress.
In a Nutshell
Undoubtedly, ZoomInfo is an effective tool for growing your business. However, you don't need to shed lots of money from your pocket to generate quality leads.
Specifically, when you have strong alternatives for ZoomInfo.
All the 14 alternatives will help you find ideal prospects and eventually boost your ROI. Plus, they are more cost-effective.