Cloud computing has become integral in facilitating operational efficiency for almost all industries. And, with its focus on eliminating the restrictions of on-site legacy systems, these solutions are quickly becoming popular with many of the organizations you know and cherish.
Yet, one service provider stands out amongst the rest: Amazon Web Services (AWS)
And the companies that use AWS are some of the most successful brands in their related sectors. But what's driving their growth? Well, it's the scalable and unique ways AWS has managed to solve their challenges.
Let's dive right in!
What exactly is AWS?
To put it simply, AWS is an amalgamation of several different cloud services, including:
• Computing
• Storage
• Analytics
• Database
• Machine Learning (ML)
Now, the listed elements also serve as a glimpse into the functions of AWS. Essentially, they streamline organizational operations by leveraging the power of cloud-backed solutions. Hence, some of the most popular products under its line include the Amazon Elastic Compute Cloud (EC2) and the Amazon Simple Storage Service (S3).
Currently, AWS holds a 33% share in the global cloud infrastructure market. And part of that reason is how Amazon packages these services in a 'pay-as-you-go' model. In other words, it's reliable and, more importantly, cheap.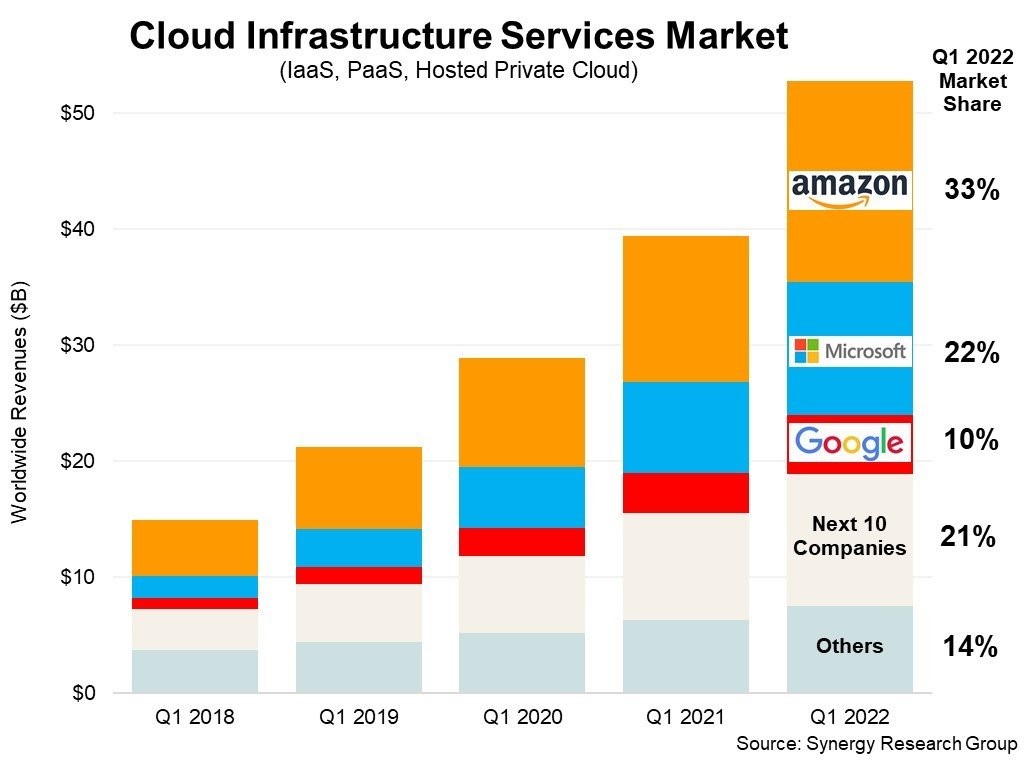 AWS is the leader in the cloud infrastructure market
The companies that use AWS benefit not only from its scalable solutions but also from its useful application programming interface (API) functionality. Due to the same, AWS isn't available directly to end users but is hosted on server farms.
This also brings the focus back to the burning question: Who uses AWS?
The simple answer is everyone. From healthcare to streaming service providers, almost all organizations now base their foundation on Amazon's unique solutions.
Ten most successful companies that use AWS
It's not helpful to merely list the organizations that leverage AWS. There must also be an examination of how corporations utilize such services to solve their existing challenges.
| | | |
| --- | --- | --- |
| Company Name | Revenue | Location |
| Airbnb | $5.99 billion | San Francisco, CA |
| Kellogg's | $3.86 billion | Battle Creek, MI |
| Netflix | $29.7 billion | Los Gatos, CA |
| McDonald's | $23.22 billion | Chicago, IL |
| Pfizer | $27.74 billion | New York, NY |
| Twitch | $65.13 million | San Francisco, CA |
| The Guardian | $29.84 billion | United Kingdom |
| Twitter | $1.18 billion | New York, NY |
| Epic Games | $6.27 billion | Cary, NC |
| Nordstrom | $14.79 billion | Seattle, WA |
So, take a look at how AWS has helped some of the most recognized companies:
1.  Airbnb
Airbnb has the most straightforward objective: streamline user searches. That is the only way for them to help their customers access their preferred rental space.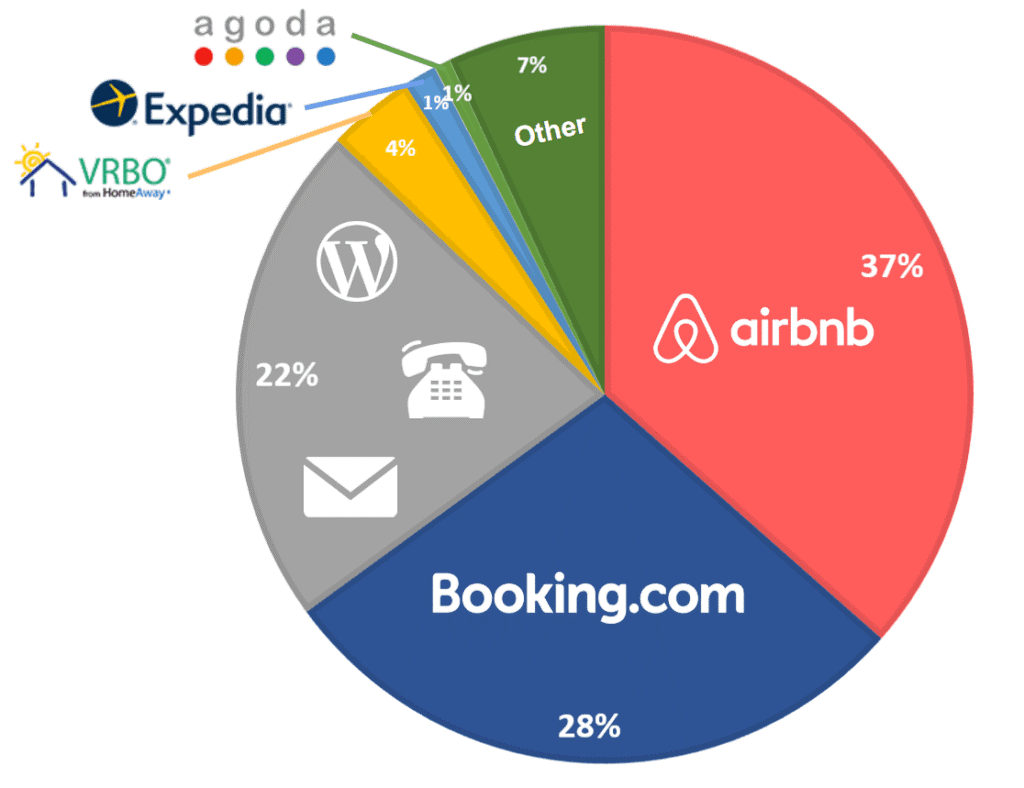 Airbnb holds a majority share of the on-demand platform market
Now, the hosting service provider leverages three specific elements of Amazon's cloud services:
• EC2
• S3
• Amazon Elastic MapReduce (EMR)
The EC2 enables Airbnb to automatically distribute site traffic by balancing it between multiple server instances. Meanwhile, the EMR helps process and analyze approximately 50 gigabytes of user searches daily.
Finally, the S3 houses the site's static and backup files, alongside ten terabytes of property pictures.
2. Kellogg's
The Food & Beverage industry struggles with its margins. Kellogg's was not any different. The company's operating profits were a mere $1.75 billion, while its ad spending amounted to $790 million in 2021. In short, Kellogg's was in a dire situation.
Then, Amazon provided the cereal manufacturer with its Accelerated Trade Promotion Planning (ATPP) program. Powered by AWS SAP Hana, ATTP is designed to streamline resource allocation in the context of marketing.
The company now runs multiple instances of the EC2 to simultaneously process terabytes of sales reports and promotional expenses.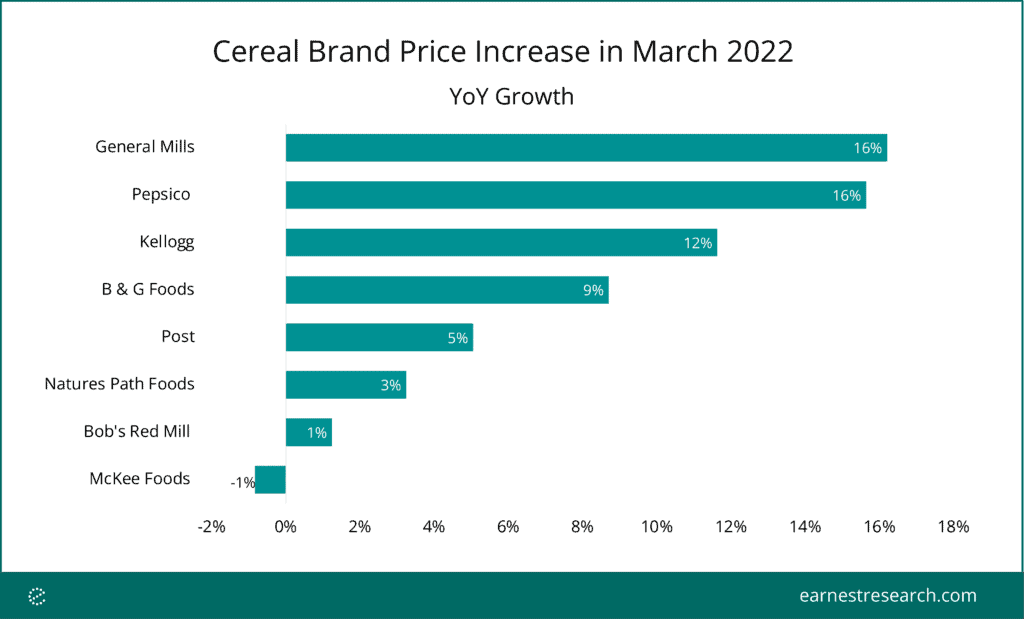 Kellogg's is experiencing a steady growth in its brand price
That enables the organization to analyze any discrepancies in expenditure. Following this, Kellogg's executives use the gathered information to allocate budgets across multiple branches
3.  Netflix
From video transcoding and recommendation engines to database storage and customer analytics, nearly all of Netflix's operations leverage AWS products. Yet, a unique way that the streaming service provider relies on AWS is through the Kinesis Data Streams (KDS).
Internally termed 'Dredge', the system centralizes traffic flows in real-time. That enables Netflix to enrich user IP addresses to:
• Integrate application metadata
• Comprehensively analyze the networking environment
This collaboration between Netflix and Amazon happened back in 2017. Since then, the organization has been using KDS to scale its growth to unprecedented levels. As of 2021, Netflix's annual revenue sat at $26.7 billion.
4. McDonald's
McDonald's was looking for a solution to speed up the drive-through ordering process. Yet, the global fastfood chain realized that this entailed the risk of hampering customer experience.
Consequently, the company turned to AWS to solve this issue. And in partnership with Dynamic Yield, McDonald's was able to integrate a scalable program that utilized machine learning (ML) and data management to achieve the desired results.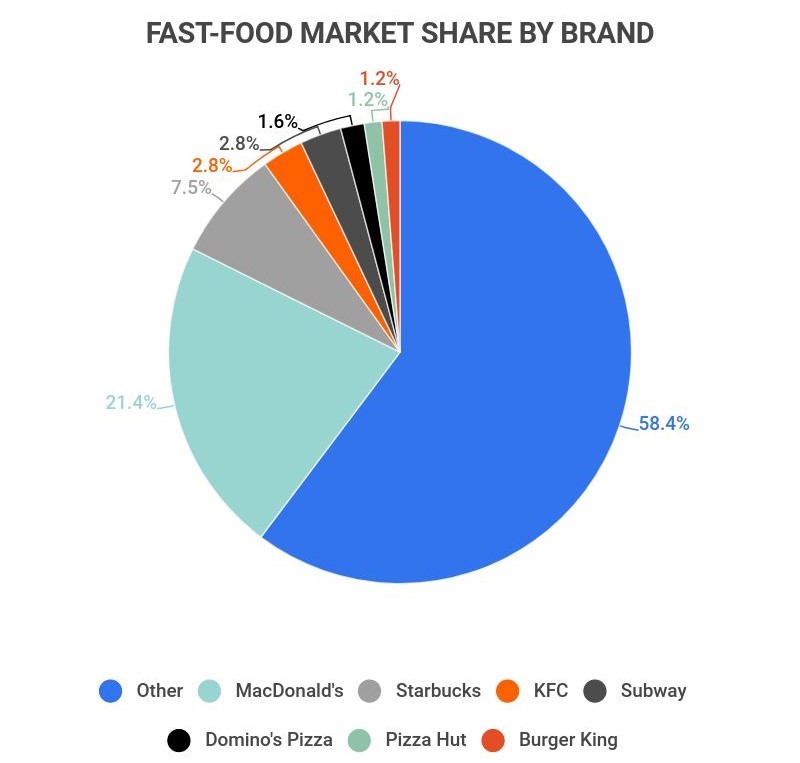 McDonald's holds 1/5 of the global fast food market
In fact, the My McDonald's reward program, launched in 2021, runs on the same cloud services. Through it, customers can access a digital menu and get recommendations based on their previous orders. And, each time they select a particular item, the data returns to the central directory.
5. Pfizer
Amongst the companies that use AWS, Pfizer is one of the prominent ones in terms of revenue. A report puts the healthcare giant's 2021 earnings at $81 billion.
As such, the Pfizer Amazon Collaboration Team (PACT) seeks to leverage cloud technology to streamline drug development in three specific areas, including:
• Manufacturing
• Clinical trials
• Distribution
Since the project has just started, the details aren't publicly available. However, the ultimate goal, as evident from the announcement from Pfizer, is to integrate ML, analytics, and cloud storage into the company's laboratories.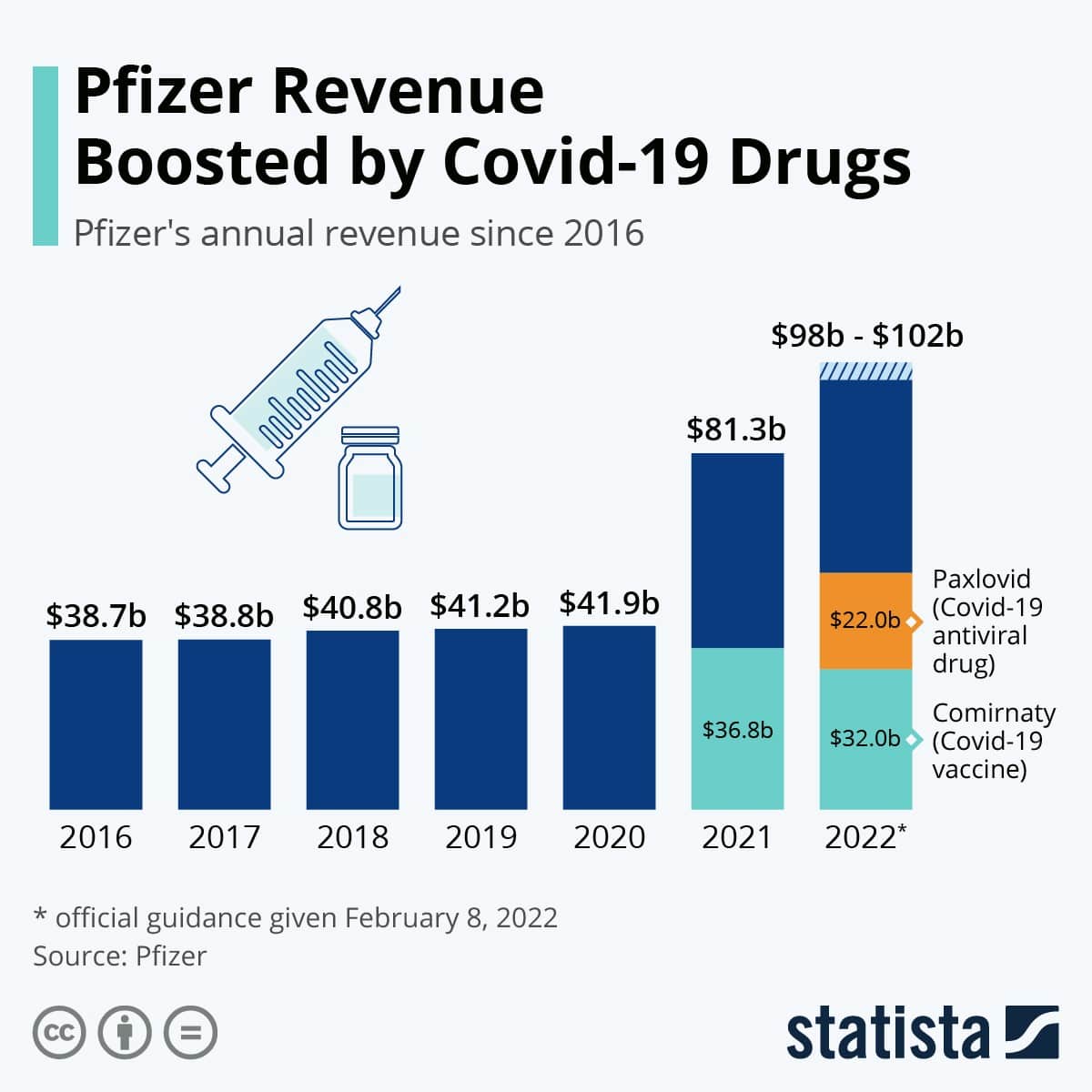 Pfizer experienced a surge in revenue during the pandemic
Essentially, this could mean new drugs gain approval from the regulatory authorities and hit the market faster.
6. Twitch
Being a subsidiary of Amazon, Twitch has always relied on AWS products. Since the merge in 2014, the streaming service provider has been hosting and delivering its content to users through the AWS cloud.
In addition, the platform's television and mobile portals have leveraged the same technology to a similar effect.
However, the most exciting bit about this isn't Twitch's use of AWS. Instead, it's how Amazon plans to bring the streaming functionality of the channel to businesses and corporations.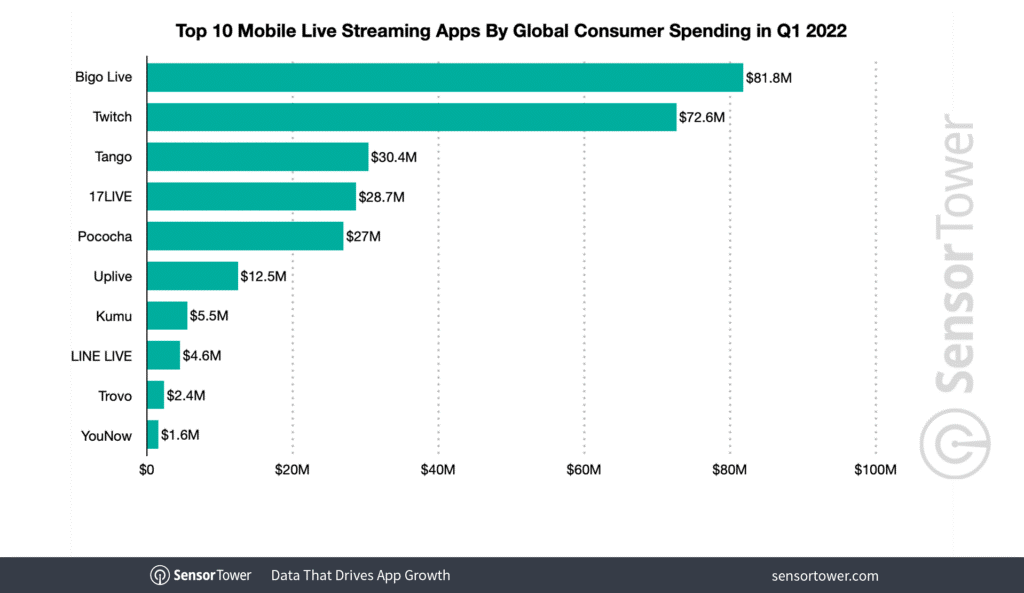 Twitch is the second-ranked channel in terms of user spending on the site
Simply put, marketing and product promotion could become an interactive experience where customers directly engage with the brand.
7. The Guardian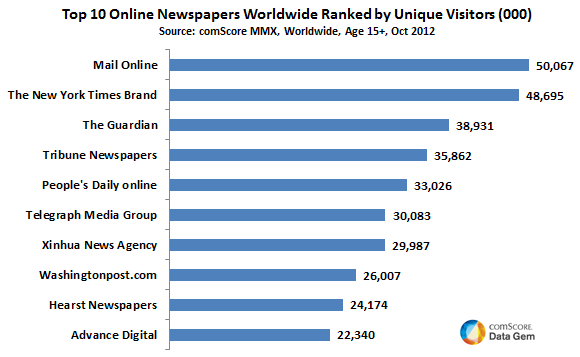 The Guardian is the third most popular online news channel in terms of unique visitors.
So, how did the organization manage this? Well, it trained its editors to analyze and review topic and article performance in real-time using Amazon's Redshift line.
The first thing that the media organization did was conduct a thorough analysis of user comments through a Postgres database. The directory ran on a cloned version of the agency's production system.
Then, by identifying the author moderation patterns and the engagement levels on different topics, the editors conceptualized a strategy to publish more relevant articles,
The result? Better readership.
8. Twitter
If you look at all the companies that use AWS, Twitter is, perhaps, the one that benefitted the most from it. In a manner of speaking, Amazon saved Twitter.
Twitter is one of the most commonly used social media sites.
The social media site suffered from multiple performance issues, including launching fleets due to a system overload. Besides causing severe application lag, the problem also led to users being unable to view tweets on their respective feeds.
The AWS Graviton 2 variant of the EC2 enabled Twitter to accelerate its backend workloads by running it through multiple data containers. Similarly, the Amazon Cloud front enabled the delivery of tweets, videos, and other posts through an external API with low latency.
This was critical for delivering Twitter's paid advertisements, which generate close to $1.17 billion every fiscal quarter.
9. Epic Games
When Epic Games first released Fortnite, the company immediately experienced a surge in popularity.
Fortnite had already built a player base of over 300 million by 2020 (Source)
However, soon enough, the developers recognized that to scale the game's user base, they would have to maintain a central database. Subsequently, they looked towards one of Amazon's most popular services, the EC2.
Using the cloud database, Epic Games now analyzes and stores all player data in one server. That enables it to make informed decisions regarding future game updates by leveraging feedback on player engagement and the models that work best.
That data also helps them grant licensing permissions to the company's internal asset, the Unreal Engine.
10. Nordstrom
Nordstrom is a little disparate in its utilization of AWS products. The American department store franchise relies on some of the most common variants in the Amazon product line, like EC2 and EMR.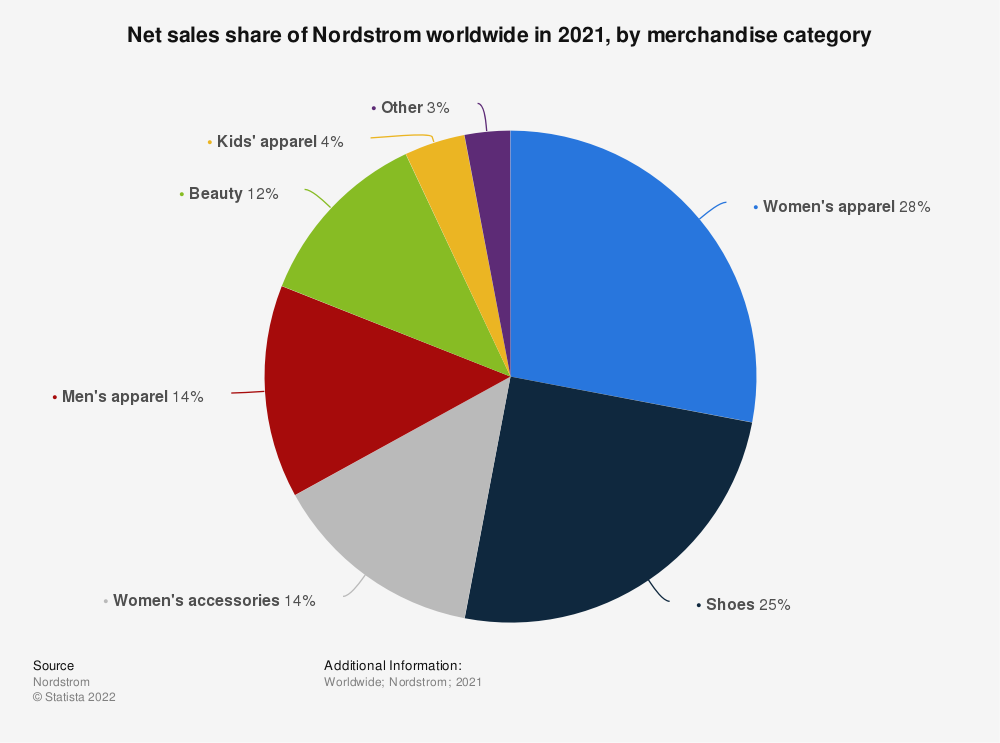 Nordstrom's most popular product is its footwear
However, Nordstrom is singularly revolutionizing the retail industry through its cloud-backed online store.
The basic premise here is that AWS hosts the data for the portal while catering to user security management. In addition, the store's mobile version runs on the same server, enabling customers to enjoy a seamless experience, regardless of the device they use.
Now, online retail sites are nothing new. But Nordstrom moving toward cloud services instead of hosting the product data itself implies that the brand wishes to scale. In other words, it wants to focus on growing its customer base rather than tending to its legacy infrastructure.
A growing digital world
From Netflix and Twitter to Twitch and Epic Games, the companies that use AWS are leaders in the digital sector. This could indicate the industry's growing reliance on cloud-backed services. And with all the expected trends in cloud computing, this can revolutionize how modern organizations operate.
Jeffrey Bezos, the former CEO of Amazon, has an excellent way to summarize that sentiment. To quote:
"Inventions come in many forms and at many scales. The most radical of them all are the ones that empower people to unleash their creativity—to pursue their dreams."
AWS, at its most fundamental level, does precisely that.