Content is king in today's marketing world, so you must use a new strategy to attract your audience's attention and demonstrate your expertise visually when creating video content. This is where videos come into the picture.
Besides increasing organic reach and engagement, video content can boost your SEO and convert better than static images. It's a proven way to grow a brand's audience base and increase sales through video marketing.
Creating engaging videos can result in higher engagement rates than creating other types of content. Here are some compelling reasons marketers should incorporate video marketing into their content strategy.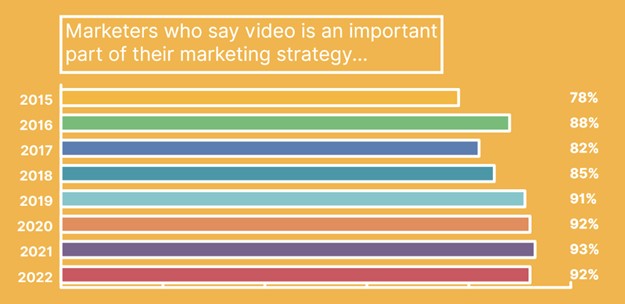 Source: raindance.org
1. Videos Help to Enhance Understanding
There is no denying that video content is the future of marketing. It has been proven that a one-minute video is better than thousands of written words.
The audience will surely be blown away by what you can convey in a video. The audience's understanding may be significantly enhanced by including visual aids such as charts and graphs.
2. Increases Search Engine Ranking
Videos can help you get people to stay on your site for longer. This is because more time spent on it fosters confidence and signals to search engines that the information is helpful. Video has become a much more significant factor in determining where you land in search results since Google bought YouTube.
You need engaging, well-produced video content to rank higher in Google's search results and attract more visitors. When it comes to search engine optimization, videos are crucial. If put to good use, they can significantly impact your business.
3. The Use of Videos Increases Leads and Revenue
There is a lot of value in video. Including a video demonstrating the product on a landing page can increase sales by as much as 80%. In addition to increasing revenue, video can have a noticeable impact on customer retention. About 84% of consumers purchase the marketed product or service after watching an explainer video.
Your product videos should engage viewers and include a call to action so they can act after watching your video. The success of video is expected if you consider how it is used. If static images can significantly increase interaction for your company, imagine what a video can accomplish.
4. Mobile Users Enjoy Video Content
It is becoming increasingly common for people to take information through their mobile devices instead of desktop computers and laptops. In the world of mobile devices, people are increasingly watching videos and reading articles while doing errands or picking up their kids from school.
Most consumers watch videos on their mobile devices. Mobile video consumption accounts for over 60% of the market. Over the next few years, your video viewership will grow as smartphones become more popular.
To cater to the individual needs of consumers when it comes to watching videos, marketers need to keep in mind the rise of mobile video. Note that with the power of technology, we can now connect with people worldwide through videos. Therefore, it is vital to have top-notch video editing skills to ensure it's engaging and creative.
5. Video Builds Trust and Credibility
For organizations to succeed, building and maintaining customer trust is crucial. That's why it's so significant for businesses to focus on building trust among their customers. You can reach out to a broader audience and emotionally connect with them using videos.
According to a study, a video-rich website allows users to get to know your brand better, as they spend 88% more time there. Trust and credibility are built through emotional connections, leading to more engagement. Instead of trying to sell anything, provide customers with what they want.
The most successful promotional videos introduce the promoted items in a conversational style, which is still an issue for most people because they worry about being scammed when making online purchases.
6. Video Content Fosters Human Connection
An emotional connection is formed when a customer sees the face behind the brand, hears the heart behind the product, and understands the concept of video communication. As a result, video marketing differs from other types of advertising.
Investing in video marketing campaigns that build trust and long-term relationships will prove beneficial in the long run.
7. Investing in Video Has Great ROI
It is reported that 83% of companies that use video report a positive return on investment. Making videos isn't the simplest or cheapest work, but it pays a huge dividend.
There is an increase in the quality of online video editors and the capability to record professional-quality videos with just about any smartphone. A second good news is that videos don't need to be professionally shot. What matters is the substance of your message.
8. Using Video to Promote Social Sharing
Video sharing has become essential to social media platforms, and the newly developed features cater to this. However, video marketers should remember that emotions, not facts, get shared online. People are twice as likely to share videos with their friends than other types of material.
To increase the chances of your videos being shared online, ensure they are entertaining and informative. While emotions don't always provide a return on investment (ROI), social shares can boost traffic to your site, which can then be utilized to your advantage.
9. Videos Are Preferred Over Reading by Consumers
As consumers demand more videos, the use of video content in content promotion has skyrocketed. Videos have become a more critical part of the conversion and lead-generation processes.
Many prospective customers prefer to avoid dealing with salespeople in person. If you want to succeed in attracting people to your business, including explainer videos, video advertisements, etc., as part of your marketing plan is crucial.
10. Videos May Educate Prospective Clients About Your Business's Services
If visitors to your website need clarification about what you offer, they are more likely to leave without purchasing. A video may be helpful in these situations.
As a marketer, you need to incorporate videos into your marketing plan since they help your brand, product, or service be recognized by your intended consumers. In addition, showing your potential customers how your product or service might help them resolve their issues is a brilliant marketing move.
By providing clear information and an understanding of your offering through video, you can aid potential customers' purchasing decisions and build a lasting relationship with them.
Conclusion
The reality is that video is one of the most popular content types in the world and isn't going away soon. To produce successful brand videos, originality, creativity, and effort are required. Video advertisements that are both emotionally engaging and inventive have the potential to become viral within days, garnering millions of views.
This is why only original ideas succeed in video marketing. Creating videos for your website can seem like a lot of extra effort, but it's effortless and can have enormous benefits for your company.
In addition to being a lot of fun, video is one of the easiest ways to get your audience into action and show them exactly what you and your company or customers are up to. Customers are more likely to remain loyal if they know and appreciate your company's policies.