The picture of healthcare being confined to the four walls of a hospital building is rapidly blurring now. Even a decade ago, the thought of drawing a blood sample at the kitchen table instead of making another trip to a nearby hospital or diagnostics center would have been unthinkable.
However, the "hospital at home" model has turned things on their head. Let's see a few examples:
Maccabi Healthcare Services of Israel has deployed an AI-powered system that can easily identify people at most risk of developing COVID-19 complications. The emerging monkeypox? They'll soon enough have a system for that too!
Mayo Clinic has launched autonomous vehicles that deliver COVID-19 tests to homes.
The almost overnight shift to telemedicine due to the pandemic proves that most healthcare can be practiced remotely today.
All of these point toward the "hospital of tomorrow" driven by Artificial Intelligence, IoT, and Machine Learning. However, where technology has been a boon for healthcare, it has also been a bane.
This article will explore the many advantages and disadvantages of technology in healthcare.
Advantages of Technology in Healthcare
One of the critical drivers of advanced technology in healthcare is the rising costs of treatments. In fact, the Centers for Medicare and Medicaid Services (CMS) have even predicted that by the year 2028, the cost of healthcare will reach a mind-boggling $6.2 trillion! So, tech companies are responsible for meeting this challenge by taking "The doctor will see you now" to "Please turn on your camera." That is just one example.
Besides, there are many healthcare tech trends that have the potential to transform your lifestyle. Let's check them out in detail.
1. Wearable Tech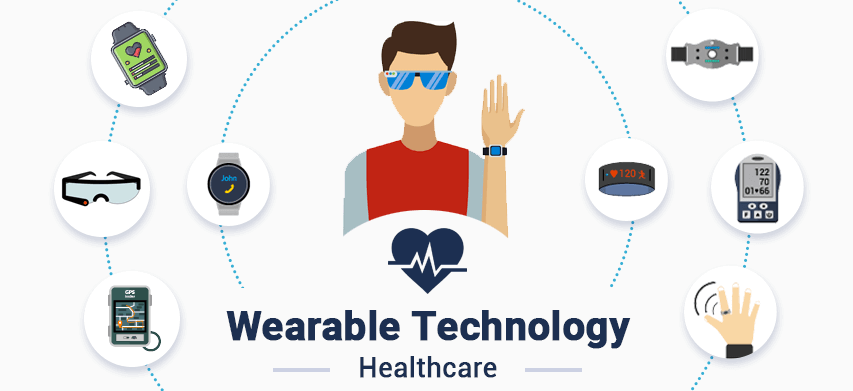 Source: Mobisooft
Modern technology has introduced healthcare technology that can be worn or attached to the human body. Just like smartwatches or Fitbits, these techs are designed to draw data on the wearer's exercise levels and personal health.
Other than that, these techs can transmit healthcare information to a doctor or healthcare professional, all in real-time. Given below are some examples of wearable healthcare tech:
Wearable Fitness Trackers – These look similar to wristbands and are equipped with sensors to monitor the heart rate and physical activity. Through smartphone app synchronization, these offer wearers different health recommendations.
Smart Health Watches – Smartwatches are no longer just used to tell time and count steps. In healthcare, these have evolved to monitor heart rhythms. They are mainly for those with atrial fibrillation. Apple launched its Series 7 Model in 2021, which includes features like sleep-tracking, faster ECG, blood oxygen saturation, etc.
Wearable Blood Pressure Monitors – Similar to a smartwatch, this wearable healthcare tech can measure blood pressure and monitor other daily activities such as distance traveled, steps taken, etc.
Biosensors – This is more of up-and-coming wearable tech. Unlike a smartwatch, a biosensor is an adhesive patch that attaches itself to the body and collects data on respiratory rate, heart rate, temperature, etc.
Such IoT-powered healthcare wearable tech reduces instances of severe terminal conditions like cardiac arrest or respiratory failure. They also enable healthcare professionals to manage patients' safety and health better.
2. Lower Instances of Medical Errors
According to the American Institute of Medicine, medical errors are the third leading cause of death in the US, with nearly 98,000 annual deaths recorded due to this reason. That is tragic, to say the least.
Most deaths associated with medical errors are caused due to insufficient information about the patient and their ongoing medications. Then, there are other errors such as inaccurate order records, medication swaps, etc. Thankfully, technology is showing promise in reducing instances of medical errors.
Of the many advantages and disadvantages of technology in healthcare, let's see how technology helps in reducing instances of medical errors:
Computerized Provider Order Center – This computer-based order entry system analyzes a prescription and offers accurate and readable order instructions. Some top ways this technology helps reduce medication errors include patient costs, assisting physicians in designing appropriate treatment plans, and sorting out laboratory and radiology tests.
Clinical Decision Support System – This software integrates with a patient database to offer complete, real-time patient information. The main aim is to deliver safe patient care. The medication errors this software helps with include reduced nosocomial infection rate, reduced adverse effects of antibiotics, lower costs, etc.
Barcode Medication Administration – With the use of electronic health records has emerged the need for barcode identification. Patients receive a barcoded wristband that helps in easy identification. Such technology can reduce medical errors by lowering the instances of incorrect dosages, eliminating medicine administration time errors, and bringing down errors caused by wrong medicine prescriptions.
3. Remote Monitoring Tools
These tools are classic examples of the "hospital from home" model that Mayo Clinic and other companies have introduced. Their purpose is to enable healthcare practitioners to monitor their patients' progress outside a hospital or clinical setting.
This also helps patients by reducing unnecessary instances of hospital visits. For instance – Let's consider the example of the modern-day IoT-powered pacemakers. These remote monitoring devices monitor the patient's heart condition and send real-time information to the telemedicine center.
Other remote monitoring tools (RMT) examples include Bluetooth-enabled blood pressure cuffs that measure blood pressure and send real-time data to the clinician for review. Then there's the glucometer that measures a patient's blood sugar, the non-invasive pulse oximeter that transmits information about the blood oxygen levels, and the ECG + digital stethoscope that virtually captures the patient's lung and heart sounds.
As opposed to an in-person visit, these remote monitoring tools allow the healthcare practitioner to deliver better patient care by gradually understanding the patient's symptoms over time. This gives a more accurate picture of the underlying condition.
4. Genome Sequencing
Genome sequencing high-throughput technologies are one of the hottest topics of discussion circulating the healthcare space today. Genome or DNA sequencing is a rather complex process of identifying the entire genome of every human chromosome or virus.
Once the specimens have been taken, sequences from both the virus and the human chromosome are compared to track the virus' spread, challenges involved, and mutations that might pose greater risks in the future.
Being a relatively new field, genome sequencing has its perks and limitations. Speaking about the advantages and disadvantages of technology in healthcare, let's start with the benefits of genome sequencing:
Makes it easy to obtain crucial scientific information with potential medicinal implications
High level of technical accuracy
A greater degree of information protection
Lifetime usage available
The testing can be easily cascaded to other family members
It makes it possible to stay a step ahead of non-genetic healthcare providers
Reduction in costs
On the other hand, certain limitations may be involved, such as testing failure, privacy issues, discrimination, and other limitations surrounding prenatal tests. However, as technology evolves, these limitations are expected to dissipate gradually.
5. 3D Printing
Gone are the days when a broken bone meant an inevitable and painful amputation. Today, 3D printing has enabled healthcare professionals to reproduce almost realistic-looking models of bones and other organs. These models greatly help surgeons when it comes to replacing bones and other diseased areas.
Surgeons often take the help of 3D printing to get a better understanding of what is happening within a patient's body. First, the surgeon can have almost a real-life look at the key problematic areas. Not only that, but they can try out different treatments and surgeries on these models before performing the actual surgery on the patient.
This makes it easier to perform life-saving surgeries in the quickest and most efficient manner. Likewise, physicians can prescribe their patient's personalized medical products, develop low-cost prosthetics, especially for patients from underdeveloped nations, and more.
Surgeons even use 3D printing models to train interns to perform surgeries. These work just like car driving simulations. Such a training practice enhances intern skills in record time.
Disadvantages of Technology in Healthcare
Just like every rose has its thorn, technologies like AI and IoT, advanced as they may be, have their own set of drawbacks and challenges. So, what are the disadvantages of the Fourth Industrial Revolution in the healthcare sector? Let's find out –
1. Cybersecurity Risks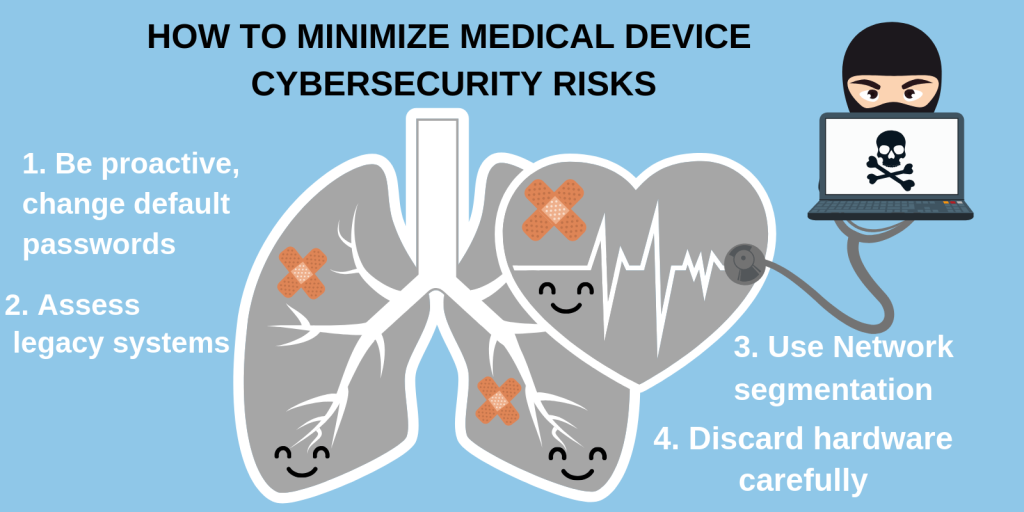 Source: 24by7Security
Data in today's day and age (especially in the healthcare sector) is generated in gargantuan volumes. Not only is this data challenging to handle, but it's also almost too easy to transfer and store in systems and third-party integrations.
When all parties strictly adhere to HIPAA Compliance, this easy generation, storing, and transfer of data becomes a boon, facilitating better healthcare management. The same holds, right from the initial diagnosis until final treatment and recovery.
However, there are risks involved, mainly the risk of all this data being easily accessible to (notorious) third parties. Cloud connectivity has connected billions of devices today, and at least millions of them would belong to the healthcare sector.
If data breaches occur due to accidental leakage or intentional hacking, patients to whom the data belongs may be at risk. Healthcare professionals today depend on these devices to relay accurate datasets for medicine prescription, treatment planning, etc. One can only imagine the extent of damage a single data breach, alteration, or removal can cause.
2. Empathy Lacking in Doctor-Patient Interactions
Telehealth has undoubtedly allowed physicians and patients to stay connected with each other despite the distance. One-off consultations are gradually becoming a matter of the past as more and more clinicians adopt the telehealth approach.
However, in all of this, technology is acting as the mediator. Though this makes sense from an efficiency and cost reduction point of view, it doesn't make so when it comes to the human touch of treatment.
Connected devices and dashboards cannot offer the personal touch of an empathetic human that patients crave. This is especially true of elderly patients and the vulnerable – they may face problems in understanding the treatment plan, confusion may arise regarding the diagnosis of their condition, etc.
3. Frustrations Revolving around Poor Tech implementation
Technology is great, but only if it works well. According to this study conducted by Asurion, 80% of Americans encounter at least one frustrating experience with poor tech implementation every day.
Since healthcare is one industry where things become a matter of life and death in the blinking of an eye, it is critical that the technologies involved work accurately, without glitches, and ultimately improve the quality of patient care provided.
However, technologies like AI and ML rely heavily on historical data and may struggle to adapt well to operational data, leading to significant mismatches. Since these issues do not take place in all cases, clinicians may find themselves a tendency to become complacent.
Complacency may lead to a failure to cross-check the system's predictions with alternatives. The rest is a waiting game on whether the overreliance worked in the clinician's favor or otherwise – that is super risky!
The Bottom Line
Based on the above advantages and disadvantages of technology in healthcare, can we write off healthcare technology as unprofitable, too risky, and unusable ultimately? Definitely no! If we were to weigh it all on the scales, the benefits of healthcare technology far surpass the drawbacks.
Plus, as the sector evolves, tech companies are rigorously working toward coming up with solutions to the many challenges involved. In the upcoming years, we shall witness heightened cybersecurity, better tech implementation and reviewing, and greater physician awareness of offering personalized patient care.
The Fourth Industrial Revolution has taken the healthcare sector by storm, and it's a storm that's here to stay!
FAQs
1. How has technology changed the healthcare sector?
Ans: Technology has enabled healthcare professionals to offer better patient care, made it possible to get in touch with doctors from anywhere, and provided easier access to accurate patient information. This saves treatment costs, makes patients more confident, and enables physicians to care for each patient more efficiently.
2. What are the leading technologies involved in changing the healthcare sector?
Ans: Some of the major technologies involved in changing the face of healthcare include Artificial Intelligence (AI), Machine Learning (ML), the Internet of Things (IoT), and Augmented and Virtual Reality (AR & VR).
Read Also:
Gracie Johnson is a Senior Content Writer at MyTechMag. She is an enthusiastic learner and loves to explore all the areas of technology.