In 2020, the world came to a complete halt as the Covid-19 pandemic swept through the globe. Discussions of death and disease became the norm, but no one knew of an Albert Bourla yet.
On August 23rd, the following year, a ray of hope in the form of the Pfizer-BioNTech Covid vaccine was approved by the FDA. It became the first fully approved Covid vaccine and was made immediately available across the globe.
The world now started taking notice of the figure that led this monumental initiative. Albert Bourla – the CEO and Chairman of Pfizer – became one of the most influential people in medicine.
As of May 8th, 2022, almost 342 million vaccine doses have been administered in the US alone. The vaccine remains one of the most efficient, with a 95.3% efficacy.
This feat was not an easy one for Mr. Bourla. His journey entailed a 25-year-old association with Pfizer in various positions across 5 countries.
If you want to learn more about his age, early life, career, net worth, salary, etc., continue reading the following article.
Who is Albert Bourla, and What is His Age?
Albert Bourla, the 60-year-old CEO and chairman of Pfizer Inc., was born on October 21st, 1961. He grew up in the Greek city of Thessaloniki. He started his journey with Pfizer when, at the age of 32, he decided to pursue a career in the development of animal vaccines.
Right off the bat in 1993, he was made Technical Director of the Pfizer Animal Health Division, now known as Zoetis, in Greece. Since then, he has lived in 8 cities on 5 different continents.
He held high-ranking positions throughout and led several research innovations in animal and veterinary medicine at Zoetis. Mr. Bourla is often credited with Pfizer's current "Patient First" approach. He restructured Pfizer into a smaller, R&D-oriented organization focused on branded and patent-protected prescription medication.
During his tenure at Pfizer, he took strategic decisions to shift the firm's primary focus to new pharmaceuticals and removed all non-drug assets.
Eventually, Albert Bourla oversaw Pfizer's work on cancer and heart medications, among other things. He was also influential in creating and launching Eliquis, an anticoagulant, and Ibrance, a breast cancer treatment drug.
Albert Bourla's Life: Career, Early Life and More
Mr. Bourla's parents were of Sephardic Jewish descent. They were among the meager 2,000 of the 50,000 who survived Hitler's terror over the city of Thessaloniki during the Holocaust.
His family is said to have migrated from Spain several centuries ago to Greece's free and fair island. Albert Bourla comes from a family of jewelers. Furthermore, they are credited with constructing two notable structures, including the Moroccan Mansion.
Mr. Bourla completed his primary education in Greece. He even pursued higher education at the Aristotle University of Thessaloniki. He holds a Ph.D. in Biotechnology of Reproduction from the Veterinary School of Aristotle University. Mr. Bourla briefly practiced as a veterinarian before joining Pfizer in 1993.
He moved to the US in 2001 with his wife to pursue more significant opportunities at the Pfizer headquarters. While he did not stay put for long, he made quite the mark in the veterinary and medical fields.
He was head of Pfizer's Animal Health division for Europe, Africa, and the Middle East from 2005 to 2009. After that, he took over Europe, Africa, and the Asia Pacific divisions from 2009 to 2010. He was also the Group President of Pfizer's Global Vaccines, Oncology, and Consumer Healthcare divisions.
After 25 years with Pfizer, on January 1st, 2018, he was appointed Chief Operating Officer (COO). And one year later, on January 1st, 2019, Pfizer named him CEO.
What is Albert Bourla's Net Worth and Salary?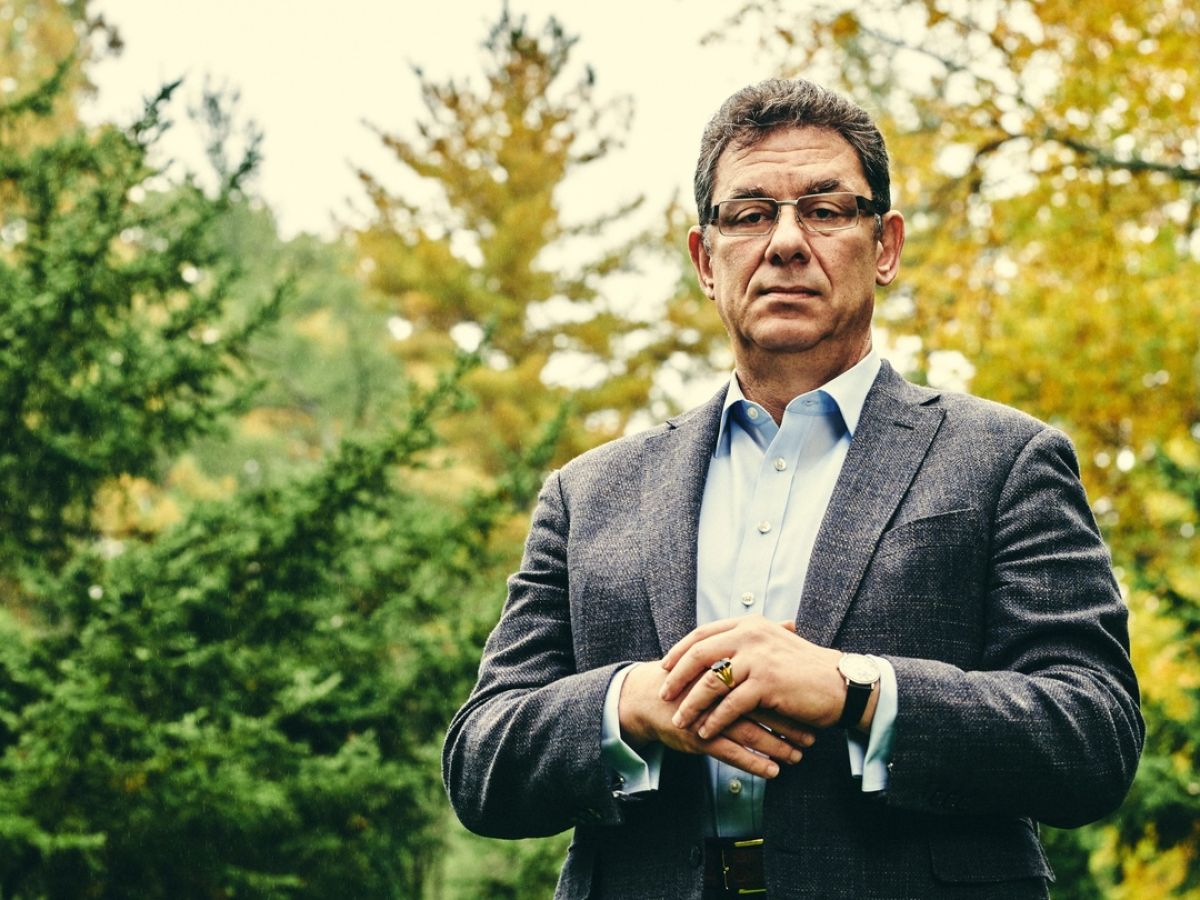 Source: Irish Times
In 2019, when he assumed the CEO role at Pfizer, his compensation package shot up a whopping 82% from when he was COO.
Various news agencies have reported that his current net worth equates to a cushy $35.7 million at least. Sources made this assumption based on his stock holdings and several filings made over the previous financial year.
In 2021, he made over $17.9 million as the CEO of Pfizer alone. This figure is inclusive of his salary of $1.62 million and a cash incentive of $8 million, according to Wallmine.
In addition to this, Albert Bourla owns approximately 123,055 units of Pfizer stock worth over $12.2 million. Wallmine reports that he has sold PFE shares worth over $5.5 million in the previous 8 years. Hence, as reported by the news agencies, the ballpark number seems fairly accurate.
Lesser Known Facts About the CEO of Pfizer
Now, you may know about Albert Bourla's incredible presence as the leader of Pfizer. But, the man with a million and a half accomplishments to his name remains a mystery to most.
In fact, those who know him are also a little intimidated by his stature as the CEO and chairman of Pfizer Inc. So, here are a few lesser-known facts about Mr.Bourla.
i). He is Exceptionally Proud of His Greek Heritage
Albert Bourla remains a true patriot and a proud Greek. In fact, he owns a summer home in his native town of Thessaloniki, where he spends a few days every summer.
When the Aristotle University awarded him for his contributions to science, the awardee and Professor of Medicine Dimitris Kouvelas said about Bourla, "I praise our own Akis, our peer, our compatriot, the Salonika dude, the child that used to play like all downtown children at Navarinou Square."
All of his friends, family, university teachers, and alums still refer to him as "Akis," his Greek moniker.
ii). His Efforts During the COVID-19 Pandemic
Albert motivated his colleagues to provide a safe and effective vaccine in only eight months without sacrificing quality or integrity by refusing to take public financing and instead investing more than $2 billion to the cause.
Riding on that momentum, Pfizer released the first FDA-approved oral antiviral medication for COVID-19 only a year later.
iii). He Pushes for Affordable Drug Pricing while Maintaining Manufacturing Incentives
Given his humble beginnings, he has a strong set of principles, and they often lean towards benefiting the people. To illustrate, he testified before the Senate Finance Committee in February 2019 regarding growing prescription drug prices.
Like other pharmaceutical CEOs, he criticized the insurance system and appeared to be the most inclined to broader change.
In addition to this, Mr. Bourla has advocated for a cap on senior out-of-pocket expenditures, particularly under the Medical Direct Program.
iv). He Contributed to Greece's Economic Recovery
Albert Bourla oversaw Pfizer's attempt to aid Greece's economic recovery. He helped organize vaccine donations, provided medical aid to refugees, and donated more than a million dollars in pharmaceuticals to uninsured patients.
Moreover, he has established the Pfizer Artificial Intelligence Center in his hometown, which will create around 200 jobs.
Furthermore, he collaborated extensively with his longtime friend Geoffrey Pyatt, former US Ambassador to Ukraine, to send Pfizer's leadership team to Greece to speak with Prime Minister, Mitsotakis.
v). He Serves on the Board of Various Pharmaceutical-Related Initiatives
Bourla has served on a few different boards in addition to Pfizer and the Pfizer Foundation. The Biotechnology Innovation Organization, the Pharmaceutical Research and Manufacturers of America, and Catalyst, the Partnership for New York City, to name a few.
In addition to that, he is a member of the Business Roundtable, the Business Council, the Council on Foreign Relations, and the New York City Mayor's Corporate Council.
Pfizer under Bourla's Leadership

Source: Atlantic Council
In addition to his work over the past couple of years, Bourla, as a lover of animals, made great strides in veterinarian medicine. He contributed significantly to the development of Improvac, a vaccine used to eradicate boar taint.
Pfizer has also reinforced its commitment to Environmental, Social, and Governance (ESG) values under Albert Bourla's leadership. This includes:
Issuance of the biopharmaceutical industry's first Sustainability Bond addressing investments in both environmental and social initiatives.
Release of the company's first ESG report.
Completion of an assessment of how Pfizer can have a long-term impact.
He was awarded the Genesis Prize in January 2022 for his role in the groundbreaking development of the Pfizer-BioNTech Covid vaccine.
Frequently Asked Questions
1. Who is the CEO of Pfizer?
Albert Bourla is the CEO of Pfizer Inc., who stayed with the company for over 25 years before being promoted to the post. He started as a Technical Director of the Pfizer Animal Health Division and rose through the ranks over the years.
He saw rapid progress once he settled in America in 2001 with his wife. Since then, he has transformed the structure of Pfizer while making tremendous contributions to research and development.
2. What is Albert Bourla's net worth?
According to reports, Bourla's net worth is approximately $35.7 million. This figure is based on his 547,000 stocks and $1.62 million CEO compensation. Pfizer awarded him an additional $8 million in cash incentives in 2021.
Out of the 7 CEOs at Pfizer, he remains the best compensated, given his efforts during the Covid vaccine development.
3. What is Albert Bourla's educational qualification?
Bourla embodies "turning your passion into your profession." He had an innate love for animals, so he pursued veterinarian studies.
By qualification, he is a veterinarian with a Ph.D. from the prestigious Aristotle University of Thessaloniki. He received his Ph.D. in the biotechnology of reproduction in 1985.
4. Where is Albert Bourla from?
Albert Bourla is from a small town in Greece named Thessaloniki. He grew up in a Sephardic Jewish family of Holocaust survivors. The media frequently portrays his active collaboration with a German corporation to manufacture the Covid vaccine as an ironic but legendary stance.
He remains a true patriot and endorses Greece in every way possible. In fact, he owns a summer home in his native town, where he spends his time every summer.
Final Words
A veterinarian by training, the man of Jewish-Greek origin labored for 25 years to be ready to lead the fight against Covid.
What started as a wish to explore bigger, brighter niches in veterinarian medicine snowballed into a transformative vaccination that saved the world from its own demise.
Albert Bourla has now spent almost 30 years with Pfizer, where he has held many top roles across various markets and specialties. His work across so many continents has improved his awareness of the requirements of patients and medical healthcare systems worldwide.
Furthermore, it has increased his dedication to ensuring fair access to medicines and vaccines.
He continues to advocate for the fairer pricing of pharmaceuticals and champion the giant cause of "patient first," and he does it all while holding his Greek heritage close to his heart.
As we emerge from this pandemic, among all the frontline heroes, scientists, and essential workers, we also have Bourla to thank. While he may not have formulated the vaccine, he created an environment conducive to collaboration with the German BioNTech.
He continues to share Pfizer's developments and his own thoughts on LinkedIn. Moreover, the pride for his company beams off his writings – something most people only wish to replicate. Having explored his journey to the top, it is worth taking inspiration from.
Read Also:
Gracie Johnson is a Senior Content Writer at MyTechMag. She is an enthusiastic learner and loves to explore all the areas of technology.