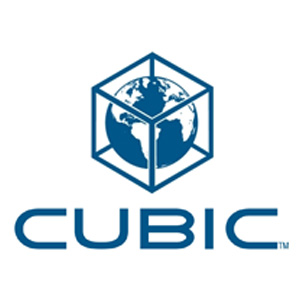 "Our teams innovate to make a positive difference in people's lives. We simplify their daily journeys. We promote mission success and safety for those who serve their nation."
Cubic Corporation's Cubic Mission and Performance Solutions (CMPS) business division was awarded the Small Form Factor (SFF) Radio Phase 2 task order worth over $10 million under the United States Air Force (USAF) Data Links Enterprise (DLE) indefinite-delivery/indefinite-quantity (ID/IQ) contract. Cubic will develop two prototype variants, an SFF Software Definable Radio (SDR) for a dismounted warfighter and a generic Open Mission Systems/Open Communication Subsystem (OMS/OCS) 3U VPX Air Data Terminal (ADT), enabling the exchange of multiple information types and formats including Full Motion Video.
"Cubic's innovative and high-performance offering features a novel protected waveform that uniquely meets the Air Force's needs for conducting air to ground communications without risking warfighter safety," said Mike Knowles, president of Cubic Mission and Performance Solutions. "We are thrilled to have been selected to support Small Form Factor Radio, Phase 2. This opportunity expands on the successful work we have accomplished in previous developmental efforts for the Air Force."
As an industry leader in protected communications, Cubic's portfolio of products includes the Multiband Miniature Transceiver (MMT) and Nano Modem Transceiver (nMT) Software Defined Radios (SDR); Halo™ Software-Defined Antenna; and the Merlin™ Protected Waveform. Cubic will leverage its expertise in protected communications solutions and develop and demonstrate a leading-edge capability for the USAF that features significant size, weight, power, and cost (SWAP-C) reduction.
Cubic Corporation's Cubic Defence Australia has been reselected to deliver contracted civilian simulation support staff to develop and deliver local and distributed simulation-enabled training events for the Royal Australian Navy (RAN).
The two-year contract, valued at approximately AUD 8 million, provides a wide range of simulation planning, technical support, and professional interactors to enhance RAN's multisite synthetic training events at the Navy Synthetic Warfighting Centre (NSWC).
Since August 2017, Cubic has been embedded in the NSWC organization using live, virtual and constructive (LVC) simulation technologies and contributing to research and development of future simulation technology. This will enable major and minor fleet units to conduct distributed mission exercises.
"NSWC Cubic continues to foster strong customer relationships at all levels ensuring the team continues to deliver on the Services," said Miles Macdonald, general manager Cubic Defence Australia.
In addition to its contract with the RAN at NSWC, Cubic contracted support to Fleet Force Generation Directorate (FFGD), located at Fleet Headquarters, Potts Point, NSW.
The purpose of FFGD is to enable Fleet Command to deliver the Navy's warfighting effect by designing, planning, and executing exercises necessary to train and deploy a Task Group.
Cubic is a technology-driven, market-leading provider of integrated solutions that increase situational understanding for transportation, defense C4ISR, and training customers worldwide to decrease urban congestion and improve the militaries' effectiveness and operational readiness. Our teams innovate to make a positive difference in people's lives. We simplify their daily journeys. We promote mission success and safety for those who serve their nation.
Acquisition By Veritas Capital and Evergreen Coast Capital
Cubic Corporation (NYSE: CUB) ("Cubic" or the "Company") today announced the completion of its sale to Veritas Capital ("Veritas") and Evergreen Coast Capital Corporation ("Evergreen"), an affiliate of Elliott Investment Management L.P. ("Elliott"), in a transaction valued at approximately $3.0 billion, including the assumption of debt.
The go-private transaction, which was announced on February 8, 2021, and the terms were amended on March 31, 2021, received approval from Cubic shareholders on April 27, 2021. As a result of the completion of the transaction, Cubic shareholders will receive $75.00 per share in cash, and Cubic's common stock will be suspended from trading on the New York Stock Exchange ("NYSE") before the opening of business on May 25, 2021, and will be removed from listing on the NYSE.
Cubic will remain based in San Diego, California, and the transition is expected to be seamless for customers and employees across Cubic's businesses.
J.P. Morgan Securities LLC is acting as lead financial advisor to the Company, and Sidley Austin LLP and Faegre Drinker Biddle & Reath LLP are acting as the Company's legal counsel. Raymond James & Associates, Inc. provided the Board with an opinion regarding the fairness of the consideration offered to Cubic shareholders from a financial point of view.
Partners with CVEDIA to Enhance AI
Cubic Corporation today announced its Cubic Transportation Systems (CTS) business division has partnered with CVEDIA, an artificial intelligence (AI) solutions company, to enhance its GRIDSMART products.
CTS will utilize CVEDIA's synthetic data technology to continue to rapidly scale deep learning models for GRIDSMART omnidirectional cameras and other intelligent transportation systems (ITS) solutions. The GRIDSMART product pioneered horizon-to-horizon, computer-vision tracking for ITS applications and is installed in nearly 10,000 intersections in more than 1,500 communities globally.
"Safety is the most fundamental need for all drivers and vulnerable road users traveling through intersections. CVEDIA's AI and synthetic data expertise allow us to both augment our existing AI models and rapidly iterate for new applications," said Jeff Price, vice president, and general manager of Cubic Transportation Systems' ITS unit.
GRIDSMART is a complete omnidirectional-imaging, real-time computer vision product comprising hardware and software that works with traffic controllers to actuate intersections and provide rich analytics data. GRIDSMART uses real-time computer vision technology and deep neural net classification to track and discriminate vehicles, bicyclists, and pedestrians as they approach, enter, and exit intersections. The system improves safety for bicyclists and pedestrians while simultaneously allowing for improved intersection efficiency with multimodal traffic.
NVIDIA will enhance and build new AI models for object detection and classification, support vulnerable road users (VRU) and safety efforts, and improve vehicle detection and high-resolution localization.  CVEDIA's synthetic technology puts an end to the need for training data, thereby eliminating training bottlenecks such as manual labeling while dramatically improving algorithm performance.
"CVEDIA is excited to expand our relationship with CTS and GRIDSMART," said Arjan Wijnveen, CEO and co-founder of NVIDIA. "We are the only company that has solved the 'domain gap' issue of synthetic versus real data performance. By using our technology for GRIDSMART products, we will further our mission to create a new generation of AI."
The partnership began as a consultancy in 2019 after Cubic acquired GRIDSMART Technologies, Inc.
Cubic Corporation today announced chairman, president, and chief executive officer Bradley Feldmann was named 2021 CEO of the Year in the category of Public Company – Large by the San Diego Business Journal.
The San Diego Business Journal seeks leaders whose exemplary work provides a model for utilizing best practices, leading organizational change, and making outstanding contributions. The SDBJ CEO award categories acknowledge those who have made a significant impact leading within and outside their organization, including philanthropic contributions, community outreach, workplace culture, sustainability efforts, strategic vision, inspiring and transformative leadership.
"It's a privilege to serve at Cubic. As Cubic enters in the next phase of growth as a private company, focusing on our people, our customers and our communities remain top priorities," said Bradley H. Feldmann, chairman, president, and chief executive officer, Cubic Corporation.
Cubic Corporation today announced it received a top score on the 2021 Disability Equality Index®, the leading nonprofit resource for business disability inclusion worldwide, strengthening Cubic's commitment to diversity, equity and inclusion.
The Disability Equality Index (DEI) is a comprehensive benchmarking tool that helps companies build a roadmap of measurable, tangible actions to achieve disability inclusion and equality. Each company receives a score on a scale of zero (0) to 100. Those earning 80 and above were recognized as a "Best Place to Work for Disability Inclusion." Out of the 319 participants, Cubic is proud to be one of 191 companies to receive a score of 100.
The DEI is a joint initiative of the American Association of People with Disabilities (AAPD), the nation's largest disability rights organization, and Disability: IN, the global business disability inclusion network, to advance people with disabilities collectively.
"The Disability Equality Index offers valuable insight into Cubic's current disability inclusion efforts and provides guidance on how we can continue to evolve. As an organization that values diversity, equity, and inclusion, we want to minimize barriers – whether they are physical, mental, visible, or invisible – standing in the way of our disabled community. By upholding this commitment, we can help reduce stigmas associated with disability and promote a workplace that leads to higher engagement, productivity, and innovation," said Brad Feldmann, chairman, president, and chief executive officer, Cubic Corporation.
"We have collaborated closely with CAN, our disability employee resource group to adjust our practices and policies to better serve our disabled workforce. We recognize the need to educate and empower our global teams with skills and resources to cultivate a diverse, inclusive environment. Disability awareness, accommodation and related initiatives are critical to an environment where everyone can thrive and grow their careers," said Grace Lee, chief human resources and diversity officer, Cubic Corporation.
"We are so pleased to partner with 319 companies this year on the Disability Equality Index. Part of corporate commitment to disability inclusion is recognizing your stance and using it as an 'aha moment' to drive the business investments needed to scale change. Inclusion and accessibility cuts across the enterprise from cultural representation in the workforce, to technology acceleration, to incorporating supply chain diversity. These are tangible opportunities that leading companies can leverage to create sustainable impact for their business and brand," said Jill Houghton, president, and chief executive officer, Disability: IN.