Fintech provides many new opportunities, such as e-trading, that make investing simple and convenient for everyone. The digitization of financial services, like fintech, has made things more accessible to everyone across the world.
Also, working alongside technologies like artificial intelligence, machine learning, Big Data, etc., has helped it transform into the investment management of today.
With the global e-trading market standing at USD 8.28 billion at the moment, there is ample opportunity and competition.
But, one entrepreneur has managed to make his mark even in this scenario – Vladimir Tenev.
He co-created a software application to help invest and make better financial decisions for the regular Americans.
Say hello to Robinhood! His trading platform offers commission-free investing and trading opportunities in ETFs, stocks, and cryptocurrency.
Due to its simplicity and efficiency, the software grew its user base from half a million to 22.8 million in just eight years. With 3.23 million monthly downloads, it is one of the largest online trading apps globally.
Now all this was possible due to the genius mind behind it – Vladimir Tenev.
Want to know how a simple Stanford graduate could build a net worth of around $13 million? Keep reading to learn about his biography, career, salary, and more.
Who is Vladimir Tenev, and How Old is He?
Vladimir Tenev is a 35-year-old entrepreneur of Bulgarian-American origin and the brilliant mind behind the widely popular trading platform, Robinhood. He was born on February 13, 1987, and began his entrepreneurial journey much early. According to Robinhood's company page, he is the co-founder of the company Robinhood Markets, Inc., which built the app.
That means he is not the only one behind the project that witnessed unprecedented success over the years. So, who was the other person who helped him develop this software application? Who helped him merge social investing with the mobile application and democratized investing?
Surprisingly enough, the journey of the trading app began almost a decade ago.
It all started when Vladimir, a mathematics graduate freshly out of Stanford, decided to start a finance company with his classmate, Baiju Prafulkumar Bhatt.
So, Baiju and Vladimir were long-time friends, classmates, and roommates who dreamt of building finance companies. Way before Robinhood, they already established two companies that used to sell trading software to various hedge funds.
Their first company, Celeris, made high-frequency trading (HFT) software. Eventually, they dropped that project and built their second company, Chronos Research.
Here, they sold low-latency software to large investment banks and trading firms. They decided to close this business too in 2012.
During these experiences, Vladimir realized the mindless gap in mobile marketing and an unaddressed consumer market.
So, in April 2013, he decided to shift his focus to the regular people, mainly the young generation. He and Baiju felt that the younger population was not entirely against the stock market but did not know how to enter it.
Therefore, to make the stock market more accessible and fill the investing gap, they created the virtual trading platform, Robinhood. The app was published on AppStore in 2014 and finally launched in March 2015.
Vladimir Tenev's Biography – Career, Early Life & More
Born to Bulgarian parents, Vladimir migrated to the US with them at the tender age of five. He did not belong to any business family, and both his parents were working professionals. In fact, they were employees at the World Bank.
He had a comfortable life because of their high-paying jobs, but he did not consider becoming an entrepreneur. That was because his parents had always instilled the value of being employed in a large organization from an early age.
He met Baiju while working on his PhD in Mathematics at the University of California, Los Angeles (UCLA). That was when things took a turn for the better, and Vladimir's view of the world expanded when the two became friends. He eventually dropped out and began his journey of becoming an entrepreneur with Baiju.
As the two started working on high-tech trading software, they realized the true potential of their programs. At this point, the thought process for Robinhood started. Together, they planned to find a way to disrupt the monopoly of the retail brokers and make trading accessible for everyone.
Along with Baiju, he co-founded the company Celeris in 2010 and Chronos Research in January 2011.
Vladimir lives a simple life with his family despite having so much success. In an interview with the American magazine Entrepreneur, he admitted that he loves spending time with his wife Celina and daughter Nora after work. He also makes time for simple things, like his daughter's nightly bath routine.
This shows the kind of appreciation and care he has for his family.
Also, he is an avid reader. His favorite books are 'The Republic' by Plato and 'The Art of War by Sun Tzu. He also follows the modern authors and considers 'Antifragile' by Nassim Nicholas Taleb, the writer of 'The Black Swan,' amongst his favorites.
What Is His Net Worth and Salary?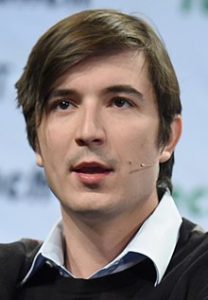 Source: Wikimedia
Now, there is no conclusive answer to how much Vladimir Tenev's net worth is. However, some sources claim it to be at least $12.6 million as of May 2022. Of course, if he happens to own indirect stocks through various trusts, the number can increase significantly.
As opposed to this, some other sources suggest that he may have an estimated net worth of $1 billion as of 2022.
Even though these are simple speculations still, there is a way to derive this estimation. You can run a number by just looking at the compensation Robinhood provides to its executive-level employees.
Comparably is a platform that provides compensation data on all public and private organizations. Its report on the "most compensated executive" is an excellent way to calculate this.
According to its report, the highest annual compensation in Robinhood is around $427,000, and the lowest is around $65,000.
Also, according to Forbes, Vladimir owns a 10.5% stake in Robinhood, which had a valuation of $11.2 billion in 2020. Due to this, many people speculate that the company may be worth around $32 billion.
This is estimated based on when the company went public with the valuation, with its IPO price being $38 per share. This was just the first day of trading, and it catapulted Vladimir to the billionaire club.
Fun fact: Vladimir and Baiju have been on the 'Forbes 30 Under 30′ and 'Forbes Under 30 Hall of Fame list.
The Persisting Issues for the Company Impacting His Net Worth
However, Robinhood has landed in a lot of trouble lately after going public in July 2022. The company IPO reached the peak price of $85 per share. Since then, its stock prices dropped by 15%, and its monthly active user number also reduced to 17.3 million in the last quarter.
When asked about the same, Vladimir replied in an interview, by saying:
"Due to high-collateral requirements, and the regulatory deposit requirements the need for us to put up cash as a firm, we had to temporarily restrict buying certain securities that were very popular on the internet, and that disappointed customers greatly."
However, in the 3rd quarter, the number rose to 18.9 million, and the company's stock prices have been showing some rise.
As a result, the results for the first quarter of 2022 do not appear bright, as the company's net revenue dropped by 43% to $299 million. This is even less than the net revenue of $522 million in the first quarter of 2021.
Overall, the company has faced a net loss of $392 million. The company even had to pay a fine of USD 70 million for allegedly misleading its customers. Other allegations were regarding technical failures and trading malpractices.
This was the biggest financial penalty in the history of the Financial Industry Regulatory Authority (FINRA).
On June 30, 2021, FINRA announced that Robinhood Financial LLC would have to pay USD 57 million, with $12.6 million approx. in restitution.
Overall, this gloomy revenue outlook makes the $1 billion net worth seem a bit outrageous. Instead, $ 12.6 million seems like a more legitimate net worth for the CEO of Robinhood.
Fun fact: Between 2016 and 2021, 50% of all new retail funded accounts in the US were created on Robinhood.
Top Things You Did Not Know About the CEO of Robinhood
Apart from his fame as an entrepreneur, Vladimir has many sides that the audience may be unaware of. A few events and facts of his life will help you better understand the man behind the success.
1. He Has a Brilliant Revenue Plan
When Vladimir and his co-partner Baiju launched the Robinhood app, the plan was simple — to provide investment opportunities free of charge.
Instead of taking commissions from the customers, they would make money off the interest from their cash stored in the accounts.
This was a risky business plan, but it worked pretty well for them. Eventually, they both became billionaires.
2. He Was Open About the Launch of the App
Vladimir launched the app in 2014. However, he was always open about it and went live to test the app to see whether it worked or not. This is a rare quality in an entrepreneur as most refrain from public sharing.
However, Vladimir's honesty and transparency have built him the reputation he has today. He is also very popular among the tech-savvy younger generation.
3. He Was the First to Be Vocal About Fraudulent Social Networking
Vladimir has always been vocal about the frauds in social networking. This is highly commendable and relevant since one must be cautious while investing. That is why those who offer information regarding this on the platform have a scorecard in the Robinhood app and network.
This acts as their identity, and the accuracy of their predictions is recorded accordingly to maintain transparency.
Frequently Asked Questions
1. Does Vladimir Tenev have a net worth?
There are many speculations ongoing regarding the net worth of the CEO and co-founder of Robinhood. It ranges between $12.6 million and $1 billion.
However, with the recent turmoil surrounding Robinhood, experts feel the value might be less than a billion but much more than $12.6 million, given the company's actual net worth.
This type of speculation was only possible since the company has been immensely popular and has lately been in the news, even if for the wrong reasons.
2. How did Vladimir Tenev become rich?
Vladimir co-founded the commission-free trading platform Robinhood along with his old-time friend and classmate Baiju Bhatt. They made the mobile app public in 2015 and raised funding in 2018. After that, the company valuation increased to $6 billion, making both co-founders billionaires.
3. What is Vladimir Tenev's educational qualification?
Tenev has a Bachelor's Degree in Mathematics from Stanford University. He later got his Master's Degree in the same subject from the University of California, Los Angeles (UCLA). This is his highest qualification since he dropped out of his Ph.D. program to focus on building trading software with Baiju.
4. What nationality is Vladimir Tenev?
Vladimir Tenev is a Bulgarian-American immigrant. He was born in Bulgaria and came to the United States with his parents when he was young. Being the son of two employees of the World Bank, Tenev grew up in the city of Washington, DC, and has spent most of his life in the US.
5. What did Vladimir Tenev do before Robinhood?
Even though Robinhood has been Vladimir's most successful and well-known venture, it is not his first endeavor. Before this, he set up two other finance companies in New York City with his co-founder Baiju Bhatt.
The first company's name was Celeris, established in 2010 and closed in 2011. It was a high-frequency trading software company.
The second company was called Chronos Research. Established in 2011, the company provided low-latency software to various leading investment banks and trading firms. He closed this company in 2012 before starting Robinhood in 2013.
The Endnote
Now you know everything there is to know about Vladimir Tenev — his biography, age, career, and net worth. Despite losing so many active users, and experts predicting a bottom line for Robinhood, Vladimir still seems optimistic about his product.
He has said, "we have a suite of new products and services slated for release that we believe will excite and delight our customers."
Although he did not have an entrepreneurial mindset initially, his upbringing had a lot of positive impact on him. For instance, his parents working in the finance sector must have affected his understanding of the finances.
Meeting and working with Baiju, however, had an immense influence on him and totally shifted the paradigm of his career. The most interesting thing about his journey is that he strived to bring something new to the industry instead of just focusing on money-making.
Vladimir has experienced success and failure equally, but he has never lost hope. This truly makes him an inspiration for the young generation who think entrepreneurship is solely about financial success.
Despite all the hurdles, he is still a millionaire and a true leader who is striving to regain his company's reputation. His never-say-never attitude definitely establishes him as someone to look up to.
Read Also:
Gracie Johnson is a Senior Content Writer at MyTechMag. She is an enthusiastic learner and loves to explore all the areas of technology.