Technology has long played an essential role in advancing the education sector to where it is today. As the higher education paradigm shifts due to the global democratization of knowledge and development, digital natives deserve better. That means more intuitive learning experiences for better outcomes.
With faculty and students embracing new technological advancements, 2021 witnessed the adaptation of various new methods, such as digital wayfinding and HyFlex classrooms.
If you are wondering about the importance of smart campus technology, it has tremendous scope for enhancing the experience, efficacy, and overall education. Any innovative organization cannot deny the significance of smart campus technology in the true transformation that enables a frictionless digital experience within the community.
So, what makes a campus a smart campus?
Standard Features of a Smart Campus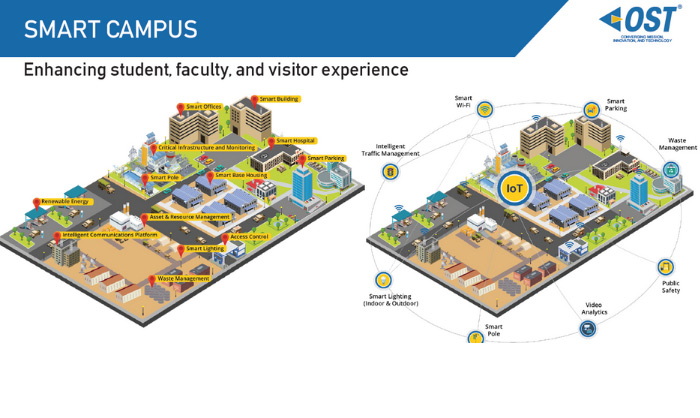 Source: Ostglobal
An advanced network infrastructure, along with the presence of various devices connected via the internet, is a modern necessity for today's university students. Also termed digital natives, they cannot be satiated with a simple library and blackboard. A smart campus is also a merging point between smart cities and smart homes.
While a smart campus enables better execution of the existing technologies, it also results in:
Improvement in student services
Reduced waiting times
Better financial aid
Removing scope for compliance errors
Improved energy conservation
The overall automated workflow ensures better communication within the university campuses, more insight-driven decisions, better security, and the betterment of the student experience. Its importance is so high that even Gartner acknowledged smart campus technology as one of the top 10 strategic technologies that can influence higher education.
Now, the common examples of smart campus technology include:
Directing the visitors towards parking spaces and using campus mapping technologies
Detection of leaky pipes or any malfunction within the faulty appliances
Finding better opportunities to place employees in more suitable positions
Use of self-service technologies for better education and monitoring attendance and resources
Increasing productivity by combining automation with a human-centric approach for the betterment of the faculty and the students
Therefore, the basic features of a smart campus can be categorized as the following:
Persona-centric design: Using various interfaces, such as gestures, contact, and videos, for more smooth communication.
Ease of application: Use of simple platforms that provide an easy-to-use user experience via true intelligence and utility.
Modular, adaptable, and versatile: Domain-driven conceptual framework that can stay relevant to the ever-changing campus demands.
Highly scalable: The smart campus technology should be scalable to provide the educational institutions with the scope for expansion.
Smart Campus Technology: Examples
There have been many successful instances of smart campus implementation across the world. Many global higher education facilities prioritize the smart campus design for its many benefits. Various amenities, like wireless and wired services, can provide endless opportunities.
A good example of this would be the graduation ceremony held by Arizona State University with the help of the ASU commencement app. The AR (augmented reality) experience of the virtual ceremony made students feel like they were on the stage at that moment.
The University of Nebraska-Lincoln is also a pioneer in this aspect, as it received global recognition as the most intelligent campus of 2020. The facility has successfully implemented operational automation systems for more technology-enabled and cost-effective hybrid classrooms.
Let's look at another example: the California State University Long Beach. Its smart campus initiative, launched in 2016, implemented various technology, such as emergency broadcasts, digital wayfinding, and digital signage for making announcements.
2019 witnessed the Portland State University devising the DCTC or Digital City Testbed Center as part of its network of testing sites. The university also partnered with the city of Portland to test smart technologies.
The University of Wisconsin-Madison prepared a testing zone for autonomous vehicles. The place has everything from smart traffic lights to sensors to address all driving challenges within the campus.
The Challenges of Designing a Smart Campus
The smart campus is nothing more than a smaller version of the smart city. With changing times, the popularity of smart campuses is gaining momentum, much like the trends of a smart city.
Due to its higher demand for creativity, learning, and social communication, a smart campus requires a more demanding framework than a smart city.
There is also a need for an uninterrupted, secure operation that will look over the daily activities within the campus. Therefore, the role of a robust surveillance system is also undeniable in such an environment.
In fact, an IoT-enabled smart campus opens up new research grounds for:
Enabling technologies: The brilliant infrastructure of a smart campus incorporates intelligent sensors and actuators. The collaboration of these technologies enables better interaction and information-gathering within the machinery.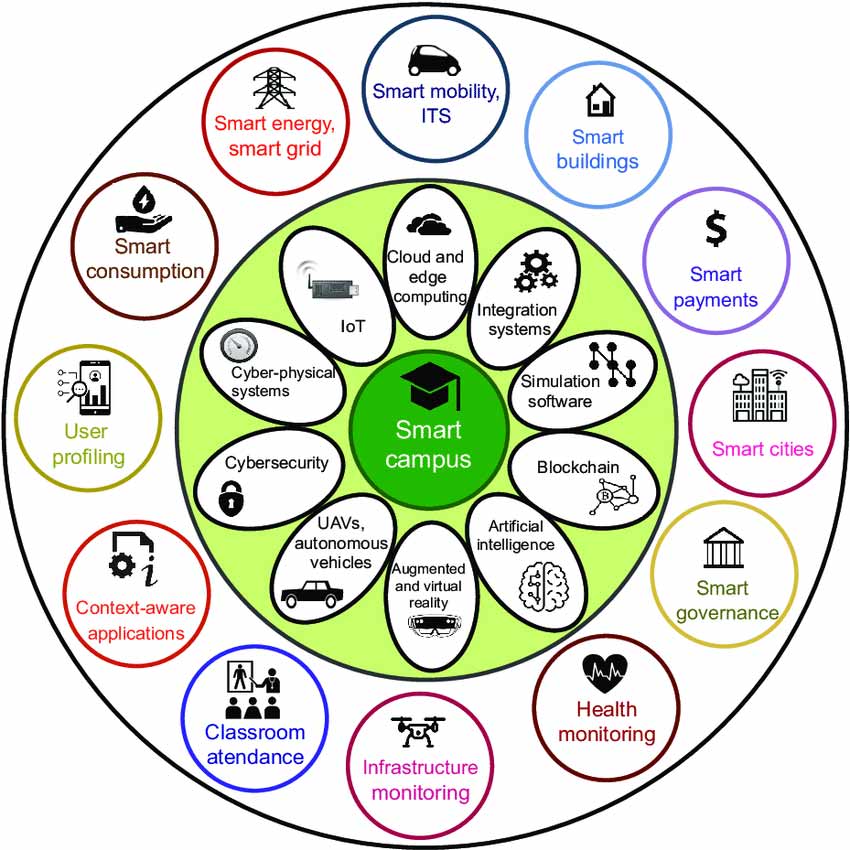 Source: ResearchGate
Physical infrastructure: The infrastructure of the smart campus is of immense significance as it can aid in blended learning. For instance, a HyFlex classroom can combine blended and hybrid learning elements for more flexibility.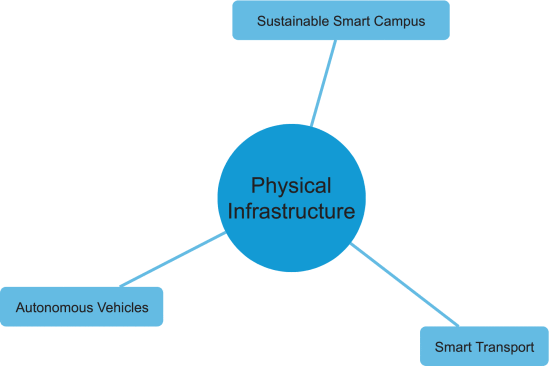 Source: IEEEXplore
Research methodology: There is ample scope for research in smart campus technology as the field is still growing. From real-time environment status reports to cloud computing, there is still the need to organize the information more effectively.
Software analytics: Due to the vast faculty and students, proper analysis is needed for teaching, learning, research, and production. Therefore, practices like big data analytics can help understand the user perception better for framework modification.
Source: IEEEXplore
System security: even in a well-connected environment, such as a smart campus, factors like tracking and security are essential. It not only helps in better monitoring but also helps in the evacuation during emergencies.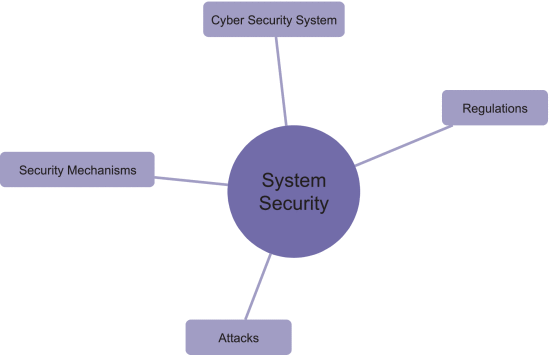 Source: IEEEXplore
From a technology perspective, all of these requirements pose challenges for the existing smart campus systems.
The Solution
How can you ensure which technology to implement for a successful collection and generation of the real-time data? Also, managing alerts and space planning is vital for running a smart campus.
Your system should be able to make changes as it interprets data in real-time. Various aspects, like traffic data, historical use of the space, and weather conditions, also play an essential role in designing a smart campus.
1. Standard Process and Tools for Data Collection
First and foremost, all the basics need to be in place for the smart campus technology to be successful. For better space utilization, the smart campus tools should be able to acquire reliable data and implement it. That means universities would have to create and maintain a standardized strategy for internal data collection about the available spaces.
Simultaneously, there needs to be proper integration within the internal and external data sources. Real-time data analysis will be possible by making the data available on all platforms. The use of machine learning and algorithms will further fortify the process with valuable predictions.
2. Robust Campus Management System
Universities need to integrate a proper campus management system if they intend to run the campus efficiently. With an integrated system such as this, it will be easier to standardize the entire data monitoring and analyzing process.
Managing data about the space to real estate and maintenance can help in better functionality, configuration, and cost recovery.
3. Proactive Approach
Along with a reliable management system for the smart campus, there is also a rise in complicated new technologies that help students with their daily tasks. So, instead of looking at the smart campus tools resulting from technological advancements, it is better to use the technology to initiate the digital transformation.
Various immersive technologies are influencing education these days. From centralized access to information to next-level personalization, there are many aspects to cover. Implementing facial recognition on campuses and using AR and AI-based guidance for students and visitors is one good example of this.
Frequently Asked Questions
1. How to implement a smart campus?
It takes time to build a smart campus, and universities need to acquire a shared understanding and vision. Smart technology requires a holistic approach when designing a plan. For this, proper IT examination of the present school or university and campus infrastructure is needed.
2. What is the need for a smart campus?
A smart campus has many benefits and can enhance three significant factors:
Experience
Education
Efficiency
Proper utilization of the smart campus technology can help students learn faster and better. It also ensures a better overall experience for them within the university campus while allowing the faculty to monitor their needs and issues better. It can also enhance the level of communication between an organization and its students.
3. How can universities become smart campuses with IoT?
IoT provides various solutions for higher educational institutions. Organizations can collect data on wearable devices, sensors, and actuators much more efficiently with the help of IoT solutions.
It also allows the implementation of QR cords and embedded sensors within the campus that let students better explore the environment around them. IoT can enhance something as simple as occupancy control in the parking space which will be immensely beneficial for the campus users.
Wrapping Up
The future of smart campus technology is pretty bright, with data having a considerable role in many building applications. This will even help integrate the existing independent systems into a centralized hub.
However, as the number of students increases, the need for simpler and more efficient innovations will rise. Therefore, a proactive approach can help institutions set new grounds to blend technology into education.
It may seem complex at first, but the future of smart campuses can make communication easier than you ever thought was possible.
Gracie Johnson is a Senior Content Writer at MyTechMag. She is an enthusiastic learner and loves to explore all the areas of technology.